Entertainment
Joel Embiid Dating Game Is Real Strong! Engaged With Super Hot Girlfriend?
Cameroonian professional basketball player Joel Embiid shares romance with his girlfriend...He has been dating...since the rumors of the romance surfaced the media in...addding to it, the rumors of them getting engaged also surfaced the media after...posted a picture of Joel kissing his girlfriend...revealing their engagement through....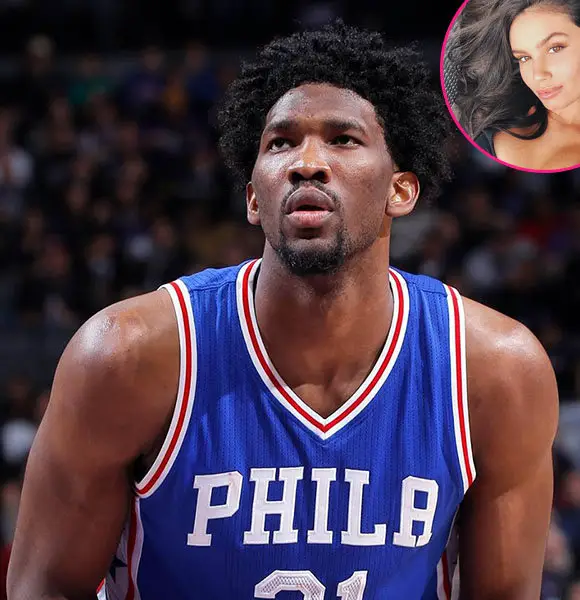 Cameroonian professional basketball player Joel Embiid plays for Philadelphia 76ers of the National Basketball Association. While Joel adds numbers to his stats as center player of the team, the Sixers big man now has a new love interest on focus.
Joel shares low-key romance with Sports Illustrated swimsuit model. The duo is not only dating but there have been tittle-tattles of their engagement as well. Well, the truth behind the swirling romance of Joel has been justified below. Keep reading!
Joel Embiid Dating Life - Who Is Girlfriend?
While Joel is determined to win an NBA Most Valuable Player award, he secretly dates his girlfriend. And, she is the beautiful Anne De Paula, a swimsuit model, who is represented by Wilhelmina modeling agency.
Similar: Kemba Walker Found Wife To-Be? Here's What Mystery Girlfriend Looks Like
The relationship between the two first surfaced through several media outlets in 2018. The outlets claimed romance between the two after Joel did a cover story with GQ where he shared bits and parts of his love life.
Even though he did not exactly reveal the name of his girlfriend but he sure praised her saying that she is "pretty big at what she does." According to Page Six, the duo was also spotted at the same club in Miami.
Likewise, in early October, Anne was seen standing next to Joel when his team played overseas during the preseason. The same month, a pic of Joel kissing Anne surfaced the media. 
Two months later, Joel confessed his absence from the social media was because he is busy cuddling and watching Netflix with his girl instead of trash talking in the social media. Well, supposedly, the duo couldn't be happier. 
Joel Embiid Engaged?
Both Joel and Anne hardly talks about the romance that they share. While they have most of their love life under the veil, the owner of 76ers Michael Rubin posted a pic of them kissing on his social media.
You May Also Like: Here's How Dawn Staley Won Second Basketball Coaching Award 2018
He posted the picture and revealed that they were engaged. He sent out congratulations to the couple saying it was their engagement. The post by Michael started the engagement rumors but as neither Joel nor Anne has made any statement regarding the matter.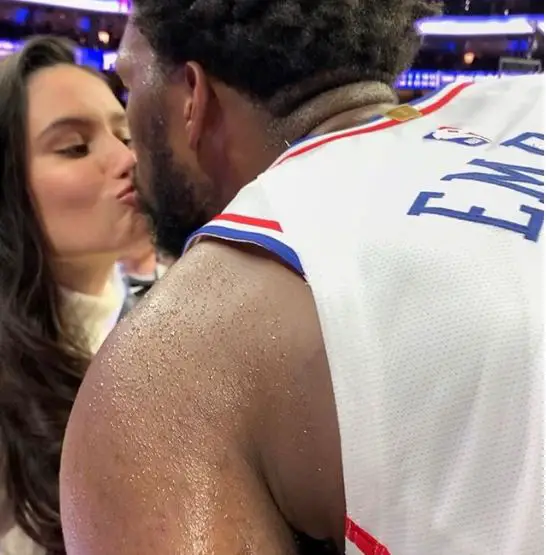 Joel Embiid placing a kiss on his girlfriend Anne during a basketball game back on 21 October 2018. (Photo: Michael Rubin's Instagram)
Nevertheless, Joel often opens up about the romance he shares with his girlfriend. During an interview with GQ, he stated that he had a background check before they started dating.
Turns out he wouldn't prefer marrying someone, who has been with another member in NBA.
"You gotta do your background check. You don't want to be that guy marrying a girl that someone else in the NBA has been with. I'm sure some guys end up getting married to women that have been around. And maybe on the court, they also get told – 'Hey, I f**ked your wife'.
Well, by the looks of it, it seems that Joel has got the perfect partner to exchange the wedding vows very soon. 
Bio Revealing Salary And Family Details
While Joel has his love life on the peak, his career and family life is no further. Joel, who stands at the height of 7ft ½ in (214.6 cm), is blessed with a family who backs him in his career.
Don't Miss: Victor Oladipo & Girlfriend, Who Is She? Age 26, Parents Details & Facts
Joel was raised under the wings of his competitive handball player father alongside his sister and brother. His brother, Arthur passed away in 2014. However, Joel found his way up from the tragedy of losing his brother and started adding numbers to his stats as well as his net worth.
Now, at the age of 24, Joel, whose weight is 250 lbs, earns a salary of $25,467,250. He has a net worth of $35 million.