When a child is born to ultra-famous parents, the expectations are enormous. Only a few celebrity kids go on to achieve what their parents did, while the rest can only try.
Likewise, it was not easy for John David Washington, who was born to Hollywood's A-lister Denzel Washington. He had large shoes to fill in. But with his talents, over the years, he has proved that he is much more than an actor kid experimenting in Hollywood.
Is John David Washington Married? Dating Info
With his increasing fame, John David has garnered a significant number of admirers over the years. Needless to say, his admirers are always curious about his relationship and dating affairs.
Well, good news to all his fans! The actor is not a married guy. And, it may be pretty hard to digest, but the handsome actor does appear to be single at the moment.
John David's Co-actor From Ballers:- Jazmyn Simon & Dulé Hill Secret's Out, They're Expecting Baby Boy
As per his interview with Ellen DeGeneres on The Ellen Show, he described his relationship status as "single AF." Further, when the host asked him about his date for award shows, he quickly answered that he would be bringing his mom.
Since John is pretty much at the peak of his career right now, he is probably more focused on his career. However, the 35-year-old actor could also be looking for someone who could be his girlfriend and possibly wife someday.
The actor could also be dating someone secretly, away from the prying eyes. Whatever be the case, any woman who ends up with John David Washington is going to be a lucky one.
Short-Bio, Career
John David Washington was born as the first child of actress-singer Pauletta and actor Denzel Washington.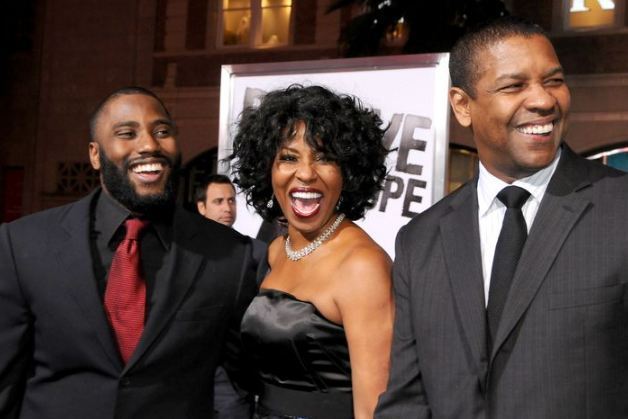 John David Washington with his parents Pauletta and Denzel Washington (Photo: Getty Images)
He has three younger siblings; two sisters named Katia and Olivia, and a brother, Malcolm.
Since film stars raised him, John David fell in love with acting at a young age. His first big-screen appearance was in the 1992 movie Malcolm X when he was just eight years old.
But, as he grew up, he became more passionate about football. It became his escape as no one compared him with his father's achievements in the field. He was good at the sport and also won a football scholarship to Morehouse College.
You May Be Interested:- Julio Jones Salary, Net Worth, Contract, Trade, 2019
During his college days, John David had a very successful football career, setting multiple records. After college, David went on to be a professional football player and played for teams like Rhein Fire, California Redwoods, and the Mountain Lions.
Then in 2010, keeping his sports career on hold, the actor made his come back in the showbiz as a co-producer of the movie, The Book of Eli.
But, his breakthrough in the industry came in 2015 when he was cast as one of the leads the HBO's Ballers alongside Dwayne Johnson and Rob Corddry.
In the show, he portrays the role of Ricky Jerret, a highly competitive NFL player and very much like his real self.
After Ballers, John David appeared in Spike Lee's 2018 film BlacKkKlansman for which he earned both Golden Globe and Screen Actors Guild Award nominations. As of now, the actor is literally at the peak of his career.