Entertainment
John Tavares Massive Hockey Contract Adds To Bliss From Girlfriend/Wife-To-Be
Weeks after signing to the National Hockey League (NHL), Canadian center John Tavares, age 28, penned a four-year partnership with sports brand CCM Hockey.
The Mississauga, Canada native's decision to leave New York Islanders - his former team - has spurred a nation-wide outrage among the franchise's fanbase.
While financial experts were quick to point out financial aspects behind his decision to leave Islanders, some have suggested that the move is a ploy to spend more time with his wife-to-be, who resides in Toronto.
Mouthwatering Contract Despite Minute Salary
John had remained a fan favorite among New York Islanders supporters ever since he joined the NHL franchise's first overall pick in the 2009 NHL entry draft.
Other Athlete In Our Vault:- Jerome Boateng Fears Wife & Family Safety! Displays Height Of Care & Love
His nine season stay - five of them as the team's captain - playing for Islanders saw him become one of the league's most efficient centers. The 28-year-old's stats are as impressive as they come.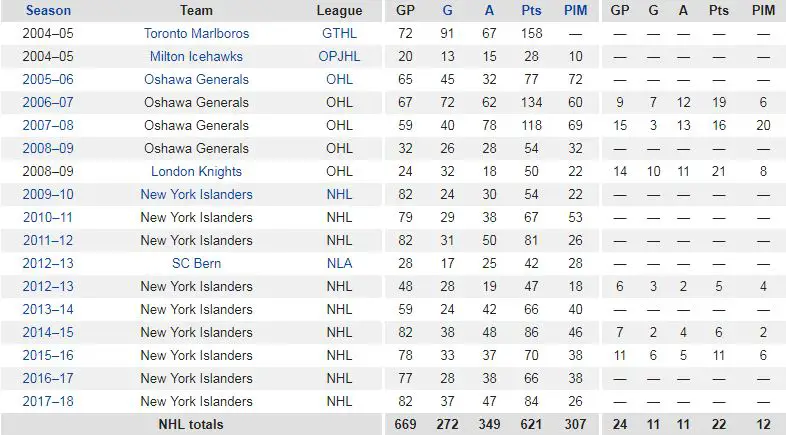 John Tavares' NHL stats (Photo:- wikipedia.com)
Between 2009/10 to 2017/18, John played 669 games including 24 playoffs ties. He has 272 goals and 349 assists under his belt. His playoffs stats are equally impressive, if not better.
The Mississauga, Canada native's amazing stats easily places him at the upper echelon of most consistent hockey players in the league. No wonder New York Islanders supporters were left perplexed when he left for Toronto Maple Leafs after nine seasons.
Discover:- Olly Murs Dating Status Now: Who Is Singer's 'Troublemaker' Girlfriend?
The fact that the hockey ace left as a free agent as opposed to being traded with another player seemed to have annoyed them the most. Enraged with John's decision to leave, few of them showed signs of discontent by burning his New York Islanders' jersey.
Islander fan burning John's jersey after the latter's decision to leave (Photo:- espn.in)
John, for his part, defended the move citing the need to look for new adventure. Speaking to Prime Time Sport, hours after penning a new NHL contract with Toronto Maple Leafs, he said:
"I don't ever want to look back and think, 'Oh, I didn't take the opportunity to see what else was out there and you start to think about some teams that could possibly be good fits'"
Following his decision to sign a seven-year, $77 million contract with Toronto Maple Leafs, John tweeted a childhood picture of him sleeping on his new team's bedsheet with the caption that read:
"Not every day you can leave a childhood dream."
The Mississauga, Canada native's $77 million contract has its perks. Pundits believe that John's multi-million contract could save him up to $12 million in taxes.
Interesting:- Jeff Brazier Gets Married; Wedding To Kate Dwyer In Secret Paradise
According to the newly signed contract, he will receive $70.89 million as a signing bonus to be paid over the seven-year term. That leaves John with earning the league's minimum salary of $650 thousand in the first year and $910 thousand in years after that -- a far cry from $6 million per annum salary he was paid while playing for New York Islanders.
Dating With Wife-Like-Figure; "Want To Have Family And Raise Children"
All in all, no one will be happier with John's move to Toronto Maple Leafs than his wife-to-be, Aryne Fuller, a Toronto native. Many have accredited the 28-year-old's decision to leave New York to his desire to be closer with his wife-to-be.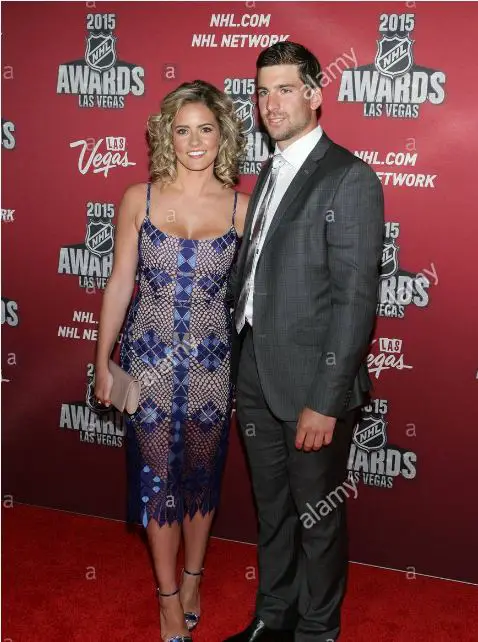 John and his then-girlfriend, Aryne attending the 2015 NHL Awards (Photo:- Alamy.com)
John - who is of mixed ethnicity with Polish and Portuguese heritage - had asked his then-girlfriend, Aryne to marry her in the summer of 2017. The news of him proposing to Aryne didn't come as a surprise at all.
A month before the engagement with his longtime girlfriend, he gave an interview at the Scouting Combined professing a desire to start a family of his own:
"I want to be successful, eventually have a family and then raise children. I want to get that joy out of life."
John's decision to sign with the Toronto based NFL outfit seems to have stemmed from his desire to be close to his wife-to-be and not the otherwise suggested gossip -- a ploy to enrich his net worth.