Entertainment
Jerome Boateng Fears Wife & Family Safety! Displays Height Of Care & Love
Bayern Munich and German national team's center-back Jerome Boateng, age 30, knows a thing or two about defending. His defensive prowess on the field mirrors his nurturing nature off of it.
When he isn't busy defending the attacks of the Bundesliga rival's finest offenses, he makes it a point to look after the well being of his family.
This concern for his family's safety compelled Jerome to ban his family from traveling to watch him during a major European tournament. To him, well being of his family takes precedence over everything else.
Jerome Boateng: "I feel better if my family is not sitting in the stadium."
The German native's fears are justifiable though.
The summer of 2015 saw Europe get ravaged by a string of terror attacks. More than 130 people had lost their lives in coordinated terrorist attacks in Paris and its surrounding suburbs.
Sports Personality In Our Vault:- Nick Fairley: The NFL Star Whose Stats and Career Justify Net Worth and Contract
One of those attacks targeted the Stade de France stadium where a friendly international between France and the Jerome-led German side was taking place. Call it sheer luck or good security set-up at the Stade de France, but Jerome and his teammates left the stadium unscathed.
The incident left a permanent mark on him, so much so that he advised his family to not travel to France to cheer him and his teammates in the Euro 2016.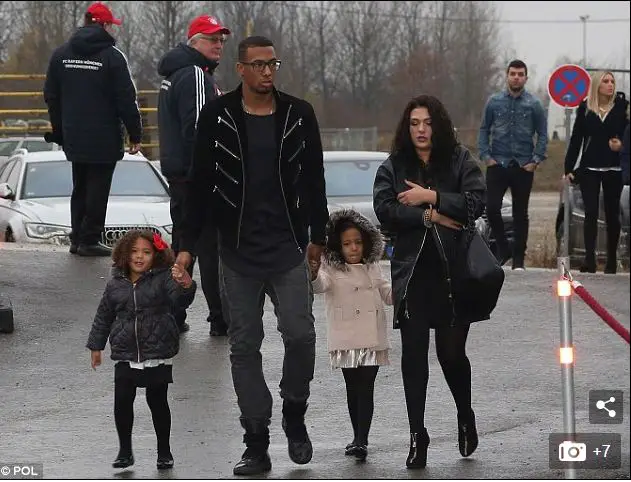 The Boateng family outside the training facility at Bayern Munich (Photo:- dailymail.co.uk)
Talking to the German sports outlet Sports Bild, just days before the start of the tournament, Jerome - who stands 6 feet 3 inches in height - explained the reasons as to why he wouldn't want his family to travel. He quipped:
"I for one just want to concentrate on the football at the European Championship and I feel better if my family is not sitting in the stadium."
All things said and done, Jerome, whose contract is supposed to net him a weekly salary of $90k, represents a dying breed of family man who would go to war for his country's honor just so his twin daughters and wife-to-be take pride in his achievement, albeit from a distance.
Longtime Girlfriend/ Wife-To-Be: Jerome's Tumultuous Dating History
Speaking of things to be proud of, Jerome's seclusion of his wife-to-be, Sherin Senler from the public gaze should be lauded.
Discover:- Luciana Barroso Bio Details Age, Ex Husband, & Content Family With 'Martian' Star
Jerome and his wife-to-be, Sherin began dating when they were in their teens. Aside from the fact Sherin and Jerome are the proud parents of twin girls - Soley and Lamia, aged 7 - there remains a mysticism about the soccer star's longtime girlfriend turned fiance.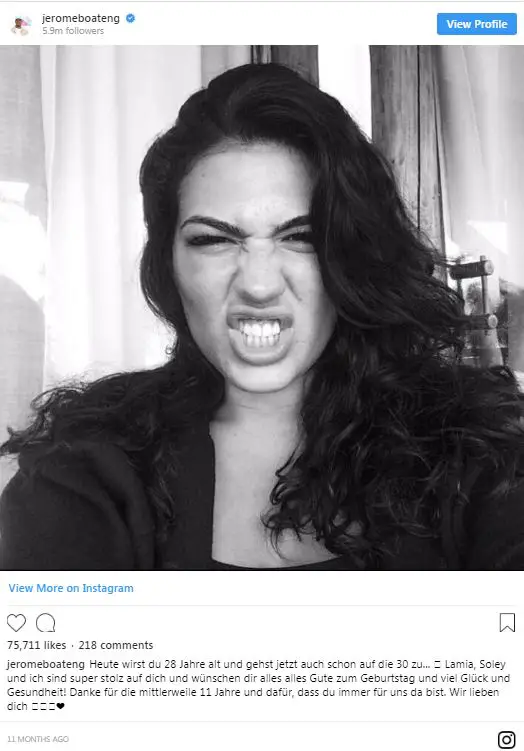 Jerome wishes his longtime girlfriend/ future wife a happy birthday (Photo:- Jerome's Boateng's Instagram)
It was Jerome's consultant, Nicolai Schwarzer who first broke the news of his engagement to his longtime girlfriend in 2014, three years after the birth of their twin daughters in 2011. Talking to the German sports media giant Sports Bild, Nicolai said:
"Yes, that's right. Jérôme and Sherin got engaged. In silence, even before the World Cup, which is now his whole concentration."
The news of their engagement came as a surprise: especially to those, who are acquainted with the on-and-off nature of their relationship.
Many believed that the birth of the twins would bring an end to the on-and-off nature of their relationship. But it didn't, as the couple parted soon after the birth of their daughters. Recognizing the need to respect their daughters' privacy, Jerome and his then-girlfriend didn't make their split public.
Interesting:- Boy George, 'The Voice' Judge Married In Secrecy? A Different Kind Of Gay
Their separation was only brought to light once Jerome began dating nude model Gina-Lisa Lohfink at around 2012.
However, Jerome and his ex-flame Serin couple could not remain separated for long because of their daughters. Not only did they get back together, but also their engagement further solidified that Jerome and his wife-to-be were now ready to put their past transgressions behind them.
The Bayern Munich defender - whose net worth is reported to be in eight digits - may not be as lethal in front of the goal as he would like. But his "family goals" is something he should cherish.