Entertainment
Olly Murs Dating Status Now: Who Is Singer's 'Troublemaker' Girlfriend?
From working at a local recruitment agency to make ends meet to becoming one of the biggest pop acts from the British Isles that the world has ever seen, British singer Olly Murs' ascent to fame personifies your typical Cinderella story.
The cost of fame, in turn--a toll on his personal life; his relationship with women to be more specific.
How The Quest For Fame Almost Cost Olly Murs His Relationship With His Other Half?
Born on 14 May 1984, in Witham, Essex, Olly grew up alongside his twin brother, Ben, and sister, Fay. After two years of playing semi-professional football, the Witham native was forced to retire, and as a result, Olly shifted his focus to music.
Olly, aged 26, became a household name after his audition and ensuing performances at the 2009 X Factor, which wowed the judges and fans alike. Despite coming up second at the famed singing competition, he signed a record deal with Epic Records, and the rest is history.
You May Like:- Does Neal Brennan Actually Have A Girlfriend? The Comedian Jokes On Having A Dating Affair
While he was entertaining X Factor audiences with his incredible vocal performances, Olly's relationship with his other half(read as twin brother), Ben had hit the troubled waters after the former opted to rehearse instead of attending the latter's wedding.
In retrospect, the 34-year-old Brit sensation's public fall out with his twin brother was a precursor of his relationship with future girlfriends.
Split With Girlfriend Of 3 Years Leaves Olly Murs Heartbroken
The Troublemaker hitmaker and his ex-girlfriend, Francesca Thomas began dating in 2013 after connecting at the 2013 V Festival. Despite Olly's burgeoning profile as a musician, the ex-flames managed to maintain a low-key relationship. Almost three years after they had begun dating, the pair called it quit in September 2015.
Shortly after their breakup, Olly spoke to Loose Women on his split with ex-girlfriend, Francesca and said:
I've just gone through a break up with my girlfriend, which has been quite sad, quite a difficult couple of weeks.
His breakup with Francesca would come to hunt him again in the future.
Similar:- Matt Cardle New Girlfriend After Dark Days, One Who Cares Like Wife
In November 2017, the news of Francesca's engagement made headlines of various British tabloids. 2 months later, the That Girl singer finally commented on the report in an interview with The Sun reporter, Beth Neil. In a doleful tone, Olly said:
God, you hear your ex has got engaged to someone else… it hurts. I mean, it's never a nice thing to hear.
Olly would follow up by claiming that his ex-girlfriend left a significant mark on his heart. According to Olly, age 34, it took some time for him to accept the fact that Francesca had moved on.
Isn't it ironic that his ex-girlfriend has a fiance named Ollie?
Olly Murs: "I'm 20% Gay."
The Dance With Me Tonight crooner would make the news once again after claiming to be 20% gay in March 2016 just six months on from his separation. while speaking to The Sun. After the interview was made public, Olly's 20% gay remark received backlash from several Twitter users. In retaliation, the 34-year-old singer explained through a tweet on 16 March 2016 stating he had been misunderstood:
Don't just read the headline you plonkers.
In February of 2018, Olly would double down on his gay rhetorics by posting a snap of him and British actor Leigh Francis kissing on Instagram.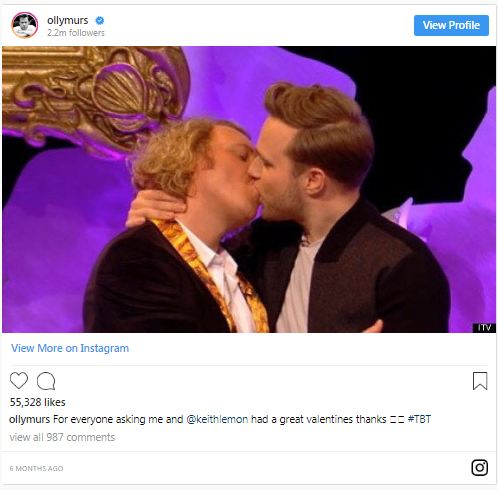 Kiss Of Death:- Olly shares a kiss with Leigh Francis on a post dated back to February 2018 (Photo:- Olly Murs' Instagram)
Judging by the comment section of the post -- Olly's fans are as gullible as they come. They couldn't even realize that the post was a Valentine's Day gag.
Who's Olly Murs Dating Now?
Olly has had one rich dating history which has earned him the coveted tag of the serial womanizer.
Discover:- 'Bad Things' Singer Machine Gun Kelly & Halsey Dating? Relationship Rumors As Diva Splits
In 2018 alone, he has been linked with two different women. According to various reports from British tabloids, Olly and fellow X Factor host, Caroline Flack were secretly dating after being introduced in 2015. The rumors died out eventually after Olly commented that they were just good friends. He told Loose Women:
I and Caroline have always said hundreds of times (in interviews) that we're never going to get together.
In the past, he has been romantically linked with fitness fanatic Melanie Sykes and Takes Me Out star Emma Conybeare. Commenting on Olly's relationship with the Emma, a source close to the former pair said:
Olly and Emma saw each other sometimes, they have a lot in common. The relationship ran for a few months, but they're still pals.
Most recently, the 34-year-old pop sensation was pictured with a mysterious blonde outside The Dorchester China Tang restaurant.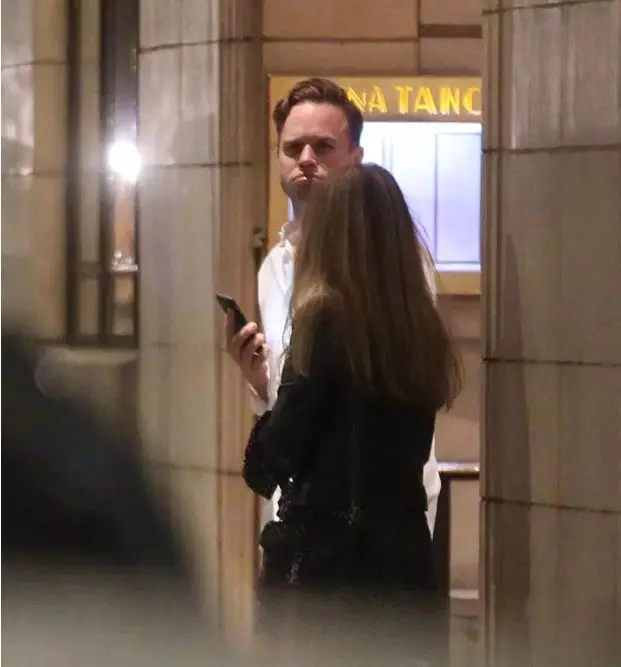 Mystery Girlfriend:- Olly grins at paparazzi after being photographed with his date outside a restaurant on 17 May 2018 (Photo:- thesun.co.uk)
The identity of his mysterious date is yet to be revealed. Unless Olly willfully reveals the status of his new girlfriend, he's single as far as his fans are concerned.