Entertainment
Jon Rahm's Wife To Be? Meet Smoking Hot Girlfriend Of Pro Golfer
Spanish professional golfer, Jon Rahm, who was the number one golfer in the World Amateur Golf Ranking for a record 60 weeks, recently reached a career-high ranking of No. 2 in the world after winning the Career Builder Challenge.
With his career rising to the heights, he has the support from his long-time girlfriend through his chores of life. He has been sharing romance with his partner who could be his possible wife and they are the golf's power couple at the moment.
Found Perfect Romance With Girlfriend - Possible Wife?
Jon Rahm, who has become renowned for his fiery on-course temper, is blessed with a blissful relationship that he shares with his long-time girlfriend. Jon has been dating Kelley Cahill, who shares similar interests in sports with Jon. 
Jon and Kelly first met back in Arizona State where they both were student-athletes. Jon, who hardly knew English when he moved to Arizona, met his lover during one of the hardest stages of his life.
Read also: Brooks Koepka Wife-Like Girlfriend Shares Intimate Moments; Getting Married Soon?
Back then, Jon moved to America with support from his parents and a thought of having future in golf whereas Kelly was on the track and field team where she threw the javelin. However, it is not known when they exactly started dating but it seems that they have been together for a long time.
Their first photo together on Instagram dates back to February 2016. Jon, who has earnings of $6,783,197, posted a picture with his girlfriend sharing how glad he is to have her in his life through the captions in the post. He wrote,
"So much fun to spend my first Super Bowl with @cahillkelley Love the place R and R never been there before but it was awesome! Thank you for being in my life!!"
In the picture, Jon has his hands wrapped around Kelly's shoulder while they held hands and have all smiles.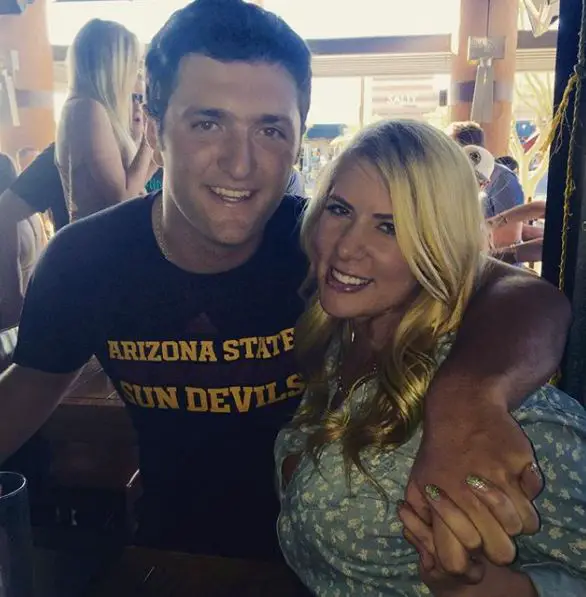 Jon Rahm with girlfriend Kelly Cahill at Super Bowl. (Photo: Jon Rahm's Instagram)
Turns out they even share similar interests as they both are keen on sports. Once, Jon and Kelly went to a tennis game just to see how Jon would hold up with the tennis as Kelly had been familiar with the sport since childhood. Kelly wanted to prove to Jon that she had a solid Tennis game but to her surprise, Jon ended up more than holding his own. 
Turns out Jon wanted to show Kelly that he was more than just a golfer and seems like he sure succeded in doing so. This shows that the couple share romance, respect along with similar interests.
You may also like: Michelle Wie Secretly Announced Boyfriend, No One Noticed; Earnings, Net Worth & More
Adding to it, some sources have reported that Kelly helped Jon make adjustments to his diet. Back in 2016, Kelly pushed Jon to get serious about his diet as according to his medical report Jon had to cut off a number of foods from his diet.
Well, they sure seem a perfect match for each other and Kelly sure seems a perfect wife for Jon.
However, the couple has not yet made any statements relating to their marriage. There is no new of them taking the next step in their love life.