Jordan Rodgers made his name in pop culture through... the Super Bowl MVP quarterback for Green Bay Packers...Jordan and his family are alienated from... been passionate about having kids... his total net worth is...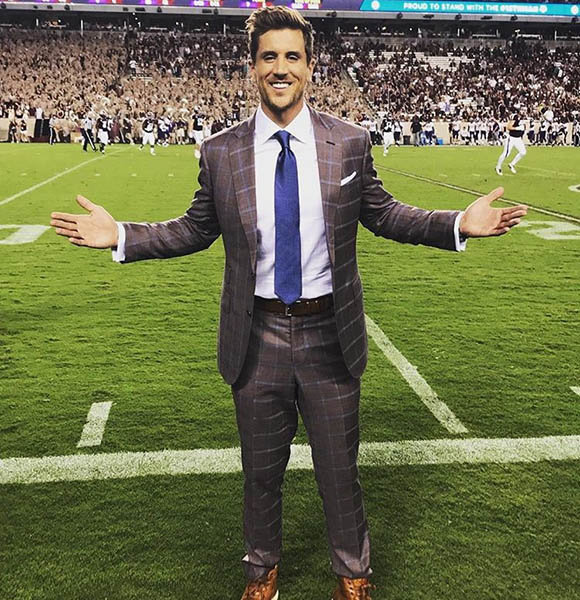 Jordan Rodgers made his name in pop culture through the reality TV show, The Bachelorette, in 2016.
He ended up winning the season and even got engaged to JoJo Fletcher, the same year. The relationship between them has grown deeper ever since as the two could be on the verge of getting married.
Bio: Age And Family
Jordan - age 31 - is a native of Chico, California and celebrates his birthday each year on 30 August.
He grew up in a family of athletes. His dad played offensive line for Chico State University in California. His mom was a competitive dancer who also played basketball in school. 
Jordan's oldest brother Luke also played multiple sports in high school but did not pursue his career as an athlete.
Further, Jordan's older brother Aaron Rodgers is the Super Bowl MVP quarterback for Green Bay Packers. Jordan, like his sibling Aaron, played football in his college and made a career out of it.
Family Feud
Jordan and his family are alienated from his brother, Aaron.
It is unclear why they fell apart. The tension between Jordan and Aaron first came to the public's sight in 2016 when Jordan did not hesitate to tell everyone about the fall out with his brother on The Bachelorette. 
Though the Rodgers family partly blamed Aaron's girlfriend at the time, Olivia Munn, they have stayed quiet about the situation. But, one can see the dispute between the brothers is still going on.
Related To Aaron Rodgers:-  Aaron Rodgers' Girlfriend Olivia Munn Shows Gratitude towards Packer's Fans for the Support!
During the California wildfire in November 2018, Aaron tweeted his desire to donate $1 million to the relief efforts. Jordan, to this, responded via Twitter saying:
"PLEASE DONATE, SPREAD AWARENESS & SEND LOVE. But when your Mom is home alone during the fires, car packed ready to evacuate, & you miss the fundamental first step of compassion; calling your parents to make sure they are safe…. Everything else just feels like an act."
Regardless of the feud, the two brothers wish each other well on the endeavors they make towards their success and happiness.
Personal Life: Getting Married?
It is not a secret that Jordan Rodgers is engaged to JoJo Fletcher since the finale of The Bachelorette. After the end of the show, Jordan moved to Dallas to live with JoJo in their new home.
You Might Like:- Chase McNary, on Surprising Twist in 'The Bachelorette": Gets Dumped By JoJo Fletcher
Previously, the couple had decided to get married in 2017. JoJo even mentioned in an April 2017 interview that she was very passionate about having kids and could not wait to start a family one step at a time.
But, as they spent time together, the couple concluded that they still needed to know each other more before getting married.
Finally, to everyone's excitement, the couple revealed their decision to tie the knot in the Today show on 23 July 2019. Jordan and his girlfriend mentioned that the wedding would be in the spring or summer of 2020.
And, no sooner had they shared their plans, they surprised everyone by getting engaged again. In August 2019, Jordan asked JoJo's hand in marriage, three years after the end of The Bachelorette.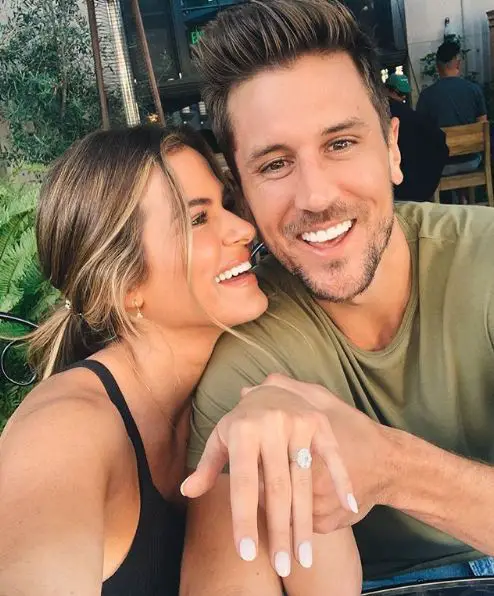 Jordan Rodgers with fiancée JoJo Fletcher on 26 August 2019 after the reproposal by Jordan (Photo: JoJo Fletcher's Instagram)
Jordan wanted to redo the whole thing without the cameras and directors. JoJo, who was utterly oblivious to Jordan's plan, was extremely surprised and excited.
The duo's love and connection has only grown after the 're-proposal.' The future husband and wife seem very excited about their upcoming wedding too.
Net Worth: Work And Salary
Jordan Rodgers has a job with the SEC network as a sports analyst. He also trains future quarterbacks in his free time. On top of this, Jordan, together with JoJo, also hosts a show called Cash Pad (2019). In the show, they invest in properties and renovate them to become short term rentals or Air BnB.
Considering all the work he does, he is obviously onto reaching the heights of his career. However, his total net worth is not known.