Entertainment
Joseph Baena & Siblings, Who Are They? Bodybuilding Legend's Son Details
Joseph Baena definitely didn't get the kind of introduction he might have wished for. Initially known as the illegitimate son of Arnold Schwarzenegger, many criticized him as the bastard from a sinful act. 
But, the harsh time has passed for Joseph. With his own hard work and determination, he has garnered attention from the media more than any of his half-siblings. Joseph, who shares many physical similarities with his father, is on the verge of becoming the next bodybuilding champ and his muscular physique implies that he is going in the right direction.
Born From An Illegitimate Affair; Mother
Joseph was born from an extra-marital affair of Hollywood veteran Arnold Schwarzenegger. He is the keepsake of love between Arnold and his housekeeper Mildred (Patty) Baena, who served Arnold's family for over 20 years. His date of birth is 2nd October 1997.
When Arnold became a father with Joseph, he was married to his wife, Maria Shriver. And, his wife, Maria had given birth to their child, Christopher Schwarzenegger, Joseph's half-sibling just a month ago. 
You May Also Like:- How Chris Rock Wrecked Wife Relationship, Girlfriend Affair Fueled Divorce
Being an illegitimate child, Joseph, who is at the age of 21, was kept hidden away from the limelight. His Guatemala-born mother even didn't sign his birth certificate. Though she knew that Arnold was the father of her child, she was confused as another man lived on her home. Her confusions cleared out when Joseph grew up to be the carbon copy of his father, Arnold. 
On top of that, Arnold accepted Joseph as his own son and gifted him a Jeep Wrangler Rubicon worth $30,000 on his 16th birthday. But, his acceptance came forward only after he divorced his wife Maria in 2011; after being married for 25 years. 
Well-built Physique Resembles Bodybuilding Father; Height And Net Worth
Joseph clearly resembles his father in physical appearance. He is a tall man with a height of six feet and an inch (1.86 m) and a muscular body. Also, he has an interest in bodybuilding just like his bodybuilder father.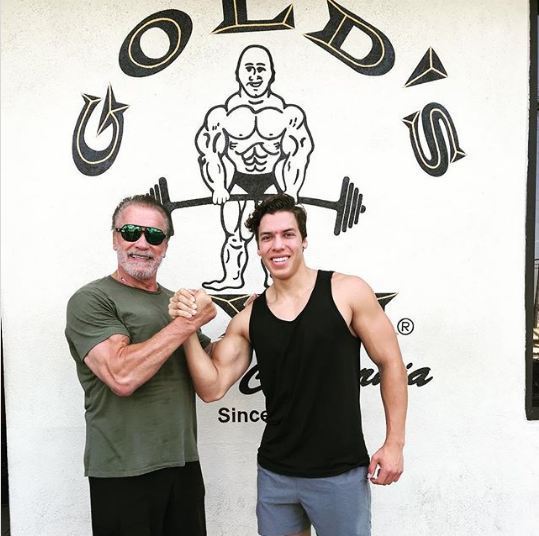 Joseph Baena works out with his father, Arnold Schwarzenegger at the gym in July 2018 (Photo: Joseph Baena's Instagram)
He visits the gym regularly to work on his physique; transforming his fatty weight into muscles. Interestingly, his father even timely works out with him and quotes him his "gym partner." 
See Also:- Calum Von Moger With Splendid Height Shares Workout & Diet Plan | Details
With a hunky body, the Los Angeles native has already starred in the 2016 remake of Terminator 2 titled Terminator 2 Remake With Joseph Baena: Bad to the Bone. He even worked as a visual effects creator in movies including Wapakman, Aswang, Roll Fourteen: The Invasion, and Shake Rattle. 
But, he has never gushed about his salary and net worth. It is only known that he is one of the heirs to his father's huge net worth, i.e. $400 million.
Joseph Baena's Siblings, Dad Pays The College Fees
As a family member of Arnold, Joseph has four half-siblings namely Patrick, Christopher, Christina, and Katherine Schwarzenegger. Joseph's half-brother, Patrick is an actor known for the movies such as Midnight Sun, Stuck in Love, and Scouts Guide to the Zombie Apocalypse.
As for education, Joseph graduated from the Frontier High School located in Bakersfield, California in 2015. He is now pursuing his college education in Business and Business Management from the Pepperdine University in Malibu. He resides in the campus housing, and his college fees are paid by his dad. Interestingly, he was awarded the Student Philanthropist honor in his freshman year. 
Indeed, Joseph is making his family proud in every way possible. Comparing his budding success, he also as a blissful relationship. He is dating the Miss Arizona USA, Savannah Wix.