Entertainment
How Chris Rock Wrecked Wife Relationship, Girlfriend Affair Fueled Divorce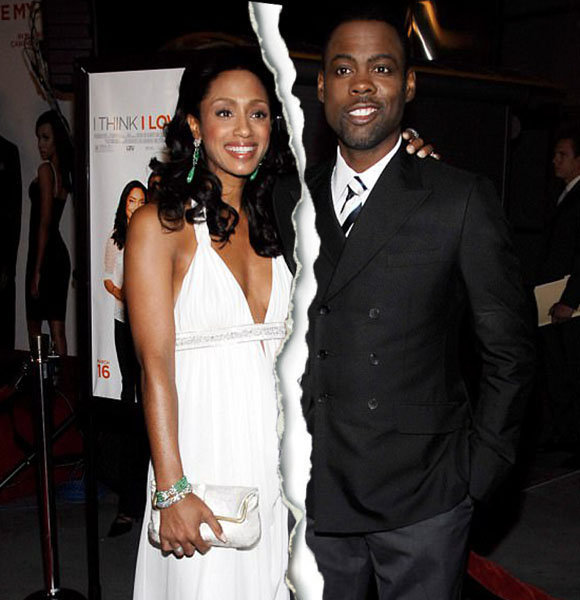 Comedian Chris Rock, 53, maybe one of the world's finest stand-up comedians, but when it comes to being a devoted husband to his wife, he's far from wonderful.
His infidelity finally caught up with him, leading to his divorce and separation from his wife and children. Years later, the world learned that one of Chris' many girlfriends, who assisted him in cheating, is just as well-known as he is.
The Beverly Hills Cop 2 star has finally admitted that he isn't marriage material, dating a lady 19 years his junior. Has the great actor-comedian learned from his errors?
Wife Divorces Chris Rock After 20 Years Of Marriage; Girlfriends/Mistress Revealed
Long story short: Chris Rock's divorce from his wife Malaak Compton-Rock was the making of his widespread success.
Read Also:- Who Are Erinn Westbrook Age 27, Parents & Siblings? Explicit Details
By his admission, the former SNL star couldn't cope with the temptations around him. On one of his stand-up sets, he said:-
"A man is basically as faithful as his options."
Distraught with his cheating ways, Malaak filed for divorce from the comedian in 2014. The divorce was finalized two years, thus bringing an end to the pair's 20 years of tumultuous married life.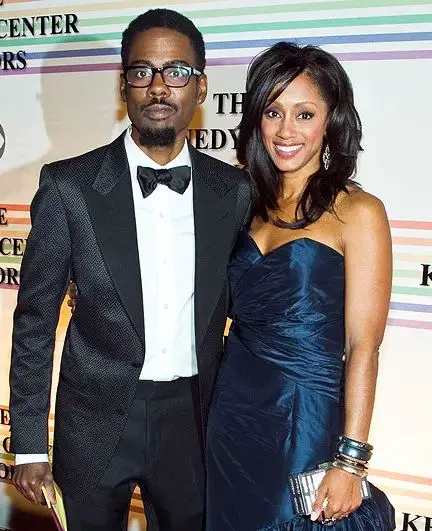 Chris Rock & his ex-wife Malaak attending an event (Photo:- People.com)
About a year after the finalization of his divorce from his wife and still recovering, Chris went on a tour with materials inspired by his doomed marriage. Referencing his marriage to his ex-wife, Rolling Story in its cover story reported the father of two daughters - Lola, age 16 & Zahra, age 14 - saying:-
"I was a piece of s–t"
In an interview with the same magazine, Chris - who has six younger siblings named: Andre Rock, Tony Rock, Brian Rock, Kenny Rock, Andi Rock, and Jordan Rock - delved into what might have possibly gone wrong in his marriage. He said, "My faults are magnified. Your significant other, if they really love you, have a high opinion of you. And you let them down."
According to Rolling Stone, Chris' then-newest stage materials segued into his infidelities and got disarmingly specific, suggesting three girlfriends: "one famous, one semi-famous, and one a member of a retail class."
The suggested famous mistress is none other than Scandal actress Kerry Washington. A Hollywood insider told Page Six:-
"He was cheating on his wife with Kerry when they were filming ['I Think I Love My Wife'] about him, ironically, having fantasies of cheating on his wife. That went on for a while, for like six months, and she found out. There's no gray area."
To this date, neither Chris nor Kerry's camp has ever commented on their rumored affair. Kerry is now married to Nnamdi Asomugha with two kids.
Discover:- Jay Mohr & Wife Divorce Settlement | Married Life Ends After Second Attempt
And as for Chris, he seems to have put his past transgressions behind him as he looks to build a new life around his actress girlfriend.
Dating Woes: Does Chris See Himself Ever Getting Married To His Girlfriend?
The answer is a resounding "NO!" if you let Chris tell it!
By his admission, there isn't a living entity that would persuade the 53-year-old South Carolina native to marry again. In one of his stand-ups, he quipped:-
"Would I ever get married again? Not if it would cure AIDS."
Though Chris and his girlfriend, Megalyn Echikunwoke - who have despite 19 years of age difference been dating since 2016 - may not have immediate plans of settling down, it's evident that the pair shares an unbreakable bond.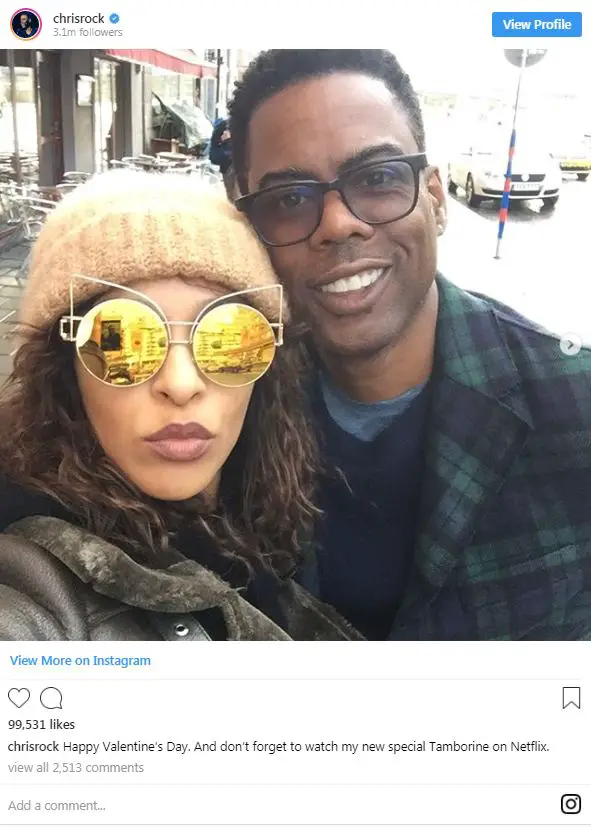 Chris Rock & girlfriend Megalyn appears all booed up for Valentine's Day (Chris Rock's Instagram)
Interesting:- Eric Gordon Girlfriend: Who Is He Dating At Age 30? Unrevealed Facts
Megalyn, age 34, has acting credits on numerous TV series including That 70's Show, House of Lies, Supernatural, and 24.
Stay tuned to get more updates on Chris Rock.