Sixth times the charm for the eldest son of Duggar family, Josh Duggar and his wife Anna! The adorable couple is set to become parents for the sixth time. On...Josh's parents, Jim Bob & Michelle Duggar, broke the happy news of the arrival of their 16th grandchild via the Duggar family website...Inside Josh's Married Life...Controversies Surrounding Siblings...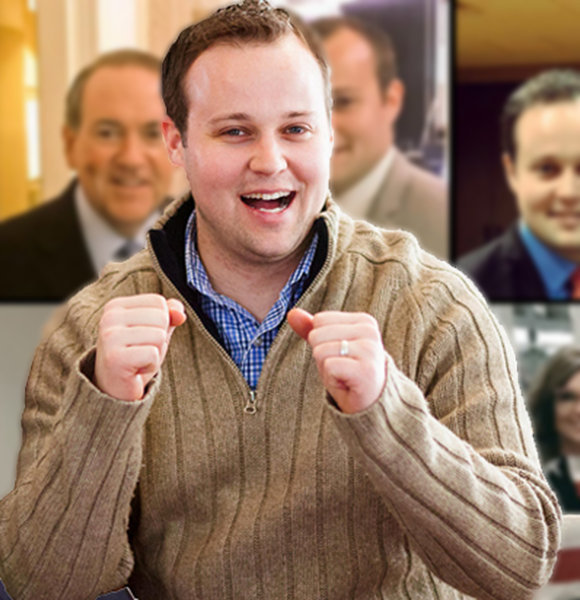 On 20th June 2019, the eldest son of Duggar family, Josh Duggar and his wife, Anna revealed the gender of their imminent sixth child via the latter's Instagram. Well, the upcoming baby is a girl.
In the elaborate gender reveal, Josh's son, Marcus was seen putting water into a decorated beehive, which oozed out pink foam. As the foam was oozing out, the Duggar children started jumping with joy.
Along with the intimate video, the reality star's wife wrote an adorable caption reminiscing the gender reveal of her baby Mackynzie, ten years ago. Similarly, she also honored her husband's grandmother, Mary Duggar, who died in a drowning accident on 9th June 2019.
Pregnancy Announcement
On 26th April 2019, Josh's parents, Jim Bob & Michelle Duggar, broke the happy news of the arrival of their 16th grandchild via the Duggar family website.
A day after the announcement, Anna took to her Instagram to share the happy news by posting a cute video of her children. The mother-to-be and her husband gave a series of paper cutouts to their munchkins, which read out as" new baby coming this fall."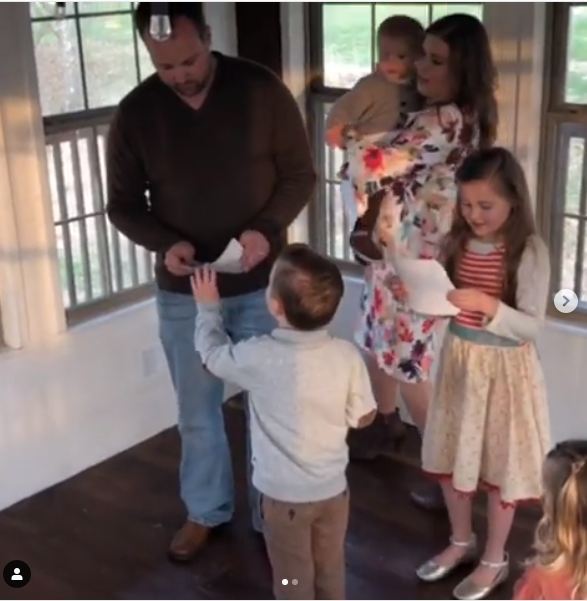 Josh Duggar and his wife Anna Duggar announce their sixth pregnancy on 27th April 2019 (Photo: Anna Duggar's Instagram)
She captioned the video,
We are so excited to announce that we are expecting a new little one! As we watch our children grow and thrive — we look forward to baby six joining us this fall! #littleduggars.
Indeed, the duo seems to be restless to welcome their bundle of joy.
Inside Josh's Married Life
The reality star and his wife both come from an ultra-conservative family. Josh met his future wife in 2006 at a Christian homeschooling convention while she was still a teenager. After the initial meeting, the pair started courtship eventually.
Another Pregnancy In Duggar Family:- Amy Duggar Pregnant, Baby, Husband
After the romantic relationship-meeting in the presence of chaperones and no touching, the pair got married on 26th September 2008 via a beautiful wedding ceremony at Buford Grove Baptist Church in Hillard, Florida. Just a month after celebrating their first marriage anniversary, the couple welcomed their daughter Mackynzie Renée on 20th October 2009.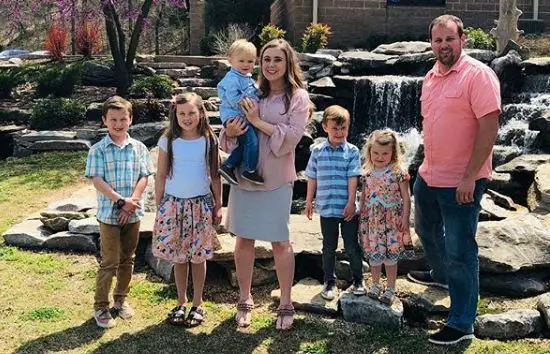 Josh Duggar poses with his wife Anna Duggar and children on 8th April 2019 (Photo: Anna Duggar's Instagram)
Josh and his wife added four more children; Michael, Marcus, Meredith, and Mason after welcoming little Mackynzie into their family.
Controversies Surrounding Siblings
Things were going well for the Duggar family with their TLC hit show 19 Kids and Counting running successfully. Josh and his siblings were living their lives, and the audience was also enjoying watching the Duggar's family's life on TV. But, all hell broke loose in 2015.
It came out that Josh molested five underaged girls as a minor. Shockingly, the victims also included his sisters Jill, Jessa, and Joy-Anna. After the scandalous affair, things kept unraveling, the TLC show got canceled, and Josh also confessed about cheating on his wife via watching pornography.
Since owning up to his misdoing, the reality star disappeared from the limelight and got admitted to a faith-based correction facility to better himself. Although rumors were rife that he and his wife Anna would head towards divorce, the couple held on and went to couple's therapy to save their marriage.
Related:- Real Estate Agent Jim Bob Duggar's Family: Respects Wife As His Friend, But Has Children Issues?
Even his victimized sisters spoke out about the controversy. They had sentiments that although they had forgiven their brother for violating them, the trust was lost, but they were positive about the future that it will rebuild. But no matter what, they loved their brother dearly. 
In 2018, Josh made his reappearance via a family photo then eventually started appearing in family events.
Till today the public is divided on whether to forgive him or term him as a child molester forever, but his family seems to have forgiven him. After his appearances at family events and acceptance from his wife, he seems to be a changed man now.
Legal Trouble
Josh has landed into another trouble related to a real estate property. In May 2019, he got named in the suit for allegedly purchasing a land already owned by another individual.
However, the reality star begged to be removed from the lawsuit as it was his company, ALB Investments, LLC who had bought the disputed land in 2016.