Josh Harris, the captain of the FV Cornelia Marie, is an American fisherman seen on the reality show Deadliest Catch. He has gone through quite the complexity in his life as he climbed up the heights of his career.
Josh became the captain of the ship to follow in his father Phil's footsteps. Along with Josh, his younger brother Jake also worked as a fisherman. But sadly, Jake was addicted to drugs, which added more burden on Josh's shoulders.
Furthermore, Jake was sentenced to 18 months in prison in 2019, complicating his brother's life. But, the reality star is working through everything to achieve success, punching through every wall that lies ahead.
Short Bio
Josh Harris celebrates his birthday on 18 March; whereas, his birth year is 1983. He currently ages 37 years old. The US citizen was raised alongside his brother Jake Harris - a cast member of Deadliest Catch - by parents: Phil and Mary Harris.
Josh first appeared in the show in 2007. Since then, he has been in different versions of The Deadliest, like American Chopper: Deadliest Catch Bike and After The Catch.
As Josh did not have enough money to buy the boat at first, he continued to work as a fisherman to keep his word. He struggled a lot during the time as his brother Jake dove deeper into drug addiction.
You Might Be Interested In:- Tom Sizemore Looks Back At The Time When He Had Drug Addiction
But, luck was finally in his favor in 2014 as Josh was able to buy Cornelia Marie with the help of a partner/co-captain Casey McManus and some substantial investors. Since then, he has been the co-captain, continuing the legacy of his father.
Family: Is Captain Josh Harris Married?
No, the reality TV star is not married to anyone. But, that does not mean he is available. Josh already has a partner, and her name is Jenna Bulis.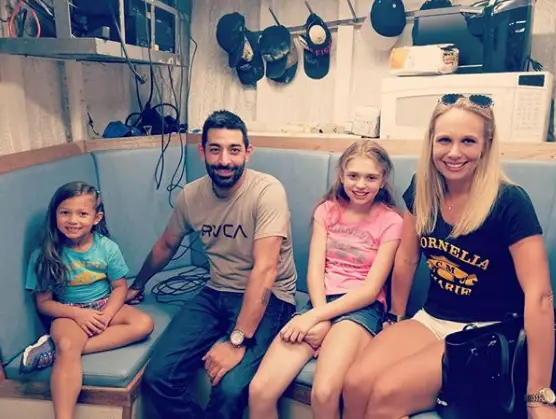 Josh Harris along with his partner and kids aboard FV Cornelia Marie on 30 May 2019 (Photo: Jenna Bulis' Instagram)
The couple has a baby together named Kinsley Ella Harris, who was born in 2013. Kinsley is Josh's first child and Jenna's second child. Jenna has a daughter named Kayla Granese (age 13) from a previous relationship.
Explore:- Nick McGlashan Cancer Concerns Finally Answered; Family, Wife, More
Even though Josh and his partner have a beautiful family, it is unknown if the two will be tying the knot anytime soon as they seem to be content with the present. But, it would be a delight to see when the couple will start calling each other husband and wife.
Deadliest Catch Star's Net Worth
Josh Harris is a fisherman and a reality TV show actor. So, it is undeniable that he earns quite a figure.
From his appearance in the Deadliest Catch, he has amassed a significant fortune. His net worth as of 2021 is $800 thousand. So, it won't come as a surprise if he becomes a millionaire by the end of this year.
The Deadliest Catch star is currently living is Alaska working as the Captain of the boat, Cornelia Marie. His late father, Phil Harris, previously owned the boat.
At one time, Josh had worked on an Alaskan crab fishing vessel Time Bandit. He joined Time Bandit's crew during the reality series' 8th season. He became a well-known face in the series for constantly talking about owning his own boat while at the same time falling back from taking any responsibilities. It even featured on the Discovery Channel series Deadliest Catch. He was with the show until 2013.
After leaving the show, he got his captain's license the following year and became Captain Josh Harris of the Cornelia Marie boat.
Despite his father Phil Harris's death in 2010, Josh has not failed to carry out his father's legacy and is determined to keep it going. But it wasn't an easy job for Josh as the boat needed desperate repairing. He put almost $1 million to give an overhaul to the boat, and after getting things in order in three years, the boat is now running again.