Entertainment
Nick McGlashan Cancer Concerns Finally Answered; Family, Wife, More
Star of a famous crab fishing show, Nick McGlashan appeared to have health problems often; he looked sick and pale on various episodes. Conscious of health degradation, Nick even mentioned that he may have cancer.
But, when the real cause of his health deterioration - that was far from cancer - surfaced out, his show fired him immediately. Despite having setbacks in his career, his family and girlfriend of years supported him and helped him improve his health.
Nick McGlashan's Cancer Threat, Health Issue Hindered Net Worth?
Nick McGlashan, the former star of the Discovery Show "Deadliest Catch," is known for his hilarious attitude and sense of humor. He appeared on the series alongside Keith Colburn and Bill Wichrowski otherwise known as Wild Bill, the captain of the fishing ship, Cape Caution. 
During his appearance, Nick timely looked pale and sick. One of the reasons for his lousy looks was his drinking habit. And, it was one of his part that bothered captain, Wild Bill. He even commented on Nicks' habit,
"You can't be a captain if you're drinking to Nick's level."
But, drinking wasn't the issue that came in people' mind when they realized that Nick was sick. Instead, they thought that Nick was suffering from cancer. All credit to Nick as he was the one to implant the cancer thoughts on everyone. He cited that there was a possibility for him to have cancer cells. 
"I spent a while in the hospital, back in April… They told me that my white blood cell count is supposed to be a five to a seven, mine was in the 60's. And so I just left the hospital. Like 'Alright, I'm out.' Pull my IV's out and go."
However, alcohol or cancer wasn't the core issue that troubled Nicks health. It was drug addiction. And, the fact only surfaced out after Wild Bill took Nick to a hospital where the doctor ran tests and showed that he was free of cancer and in good health.
Related: Edgar Hansen Keeping Wife and Family On The Low Side? A Man Only Prioritizing Professional Life!
Despite the doctor quoting Nick as cancer-free, he looked sick. Just then, the captain found out Nick's drug addiction and became aware that cancer was just an alibi for him to appear drugged on the vessel. So, having a huge impact on his net worth, Nick got fired from the show. Wild Bill said,
"I've given Nick the benefit of the doubt, what, 30 times? But this time was ******* different."
Nick's exile from the show was even recorded on camera and aired on TV. Nick, who has not revealed his net worth but was believed to make an annual salary of $50,529, immediately went to Anchorage after getting fired from his job; he bought his drugs and a one-way plane ticket to Florida. 
Later, he entered a rehab facility in Washington and underwent therapy for his drug addiction. Nick is now rehabilitated and is trying to join the parted pieces of his life back together. He may not re-join Deadliest Catch, but he still has a future to lead ahead and garner net worth.
Shares Family With Girlfriend; Possible Wife
Although his drug addiction may have ruined his TV career, Nick still has a loving family. He is dating Claire Hammond, and the pair even shares a lovely daughter named Lennyn. 
Nick, age 30, doesn't yet call Claire his wife as the two have not been married, but the couple maintains a loving relationship as parents. On top of that, Nick, who celebrates his birthday on 1st August, timely flaunts his family life through social media handle.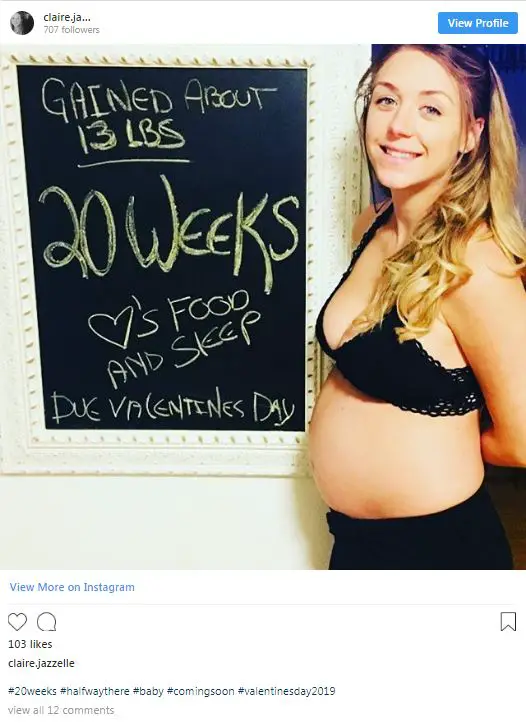 Nick McGlashan's girlfriend Claire reveals her pregnancy on 28 September 2018 (Photo: Claire Hammond's Instagram)
His family bliss is about to double up as his girlfriend is expecting a child. On 28 September 2018, Claire shared an Instagram post revealing her pregnancy and mentioned that the baby's due date is on 2019's Valentine's Day.
You May Also Like:- Micky Flanagan Wife & Son | A Family Influenced By Drug Filled Past
Apart from being a loving boyfriend, Nick is also close to his parents and loves to often visit them. His father, Bruce Lanford is a veteran commercial fishing ship captain, who currently resides in Florida.