Basketball star Josh Jackson began his jouney with Phoenix Suns after being selected as the 4th overall in the 2017 NBA Draft.
Before his time as a professional player in NBA, he played college basketball at the University of Kansas with the Jayhawks. There he had a massive contribution to the team, no wonder he made it to the Elite Eight of the 2016-17 NCAA Tournament. 
Who is Josh Jackson's Girlfriend?
Josh Jackson had always been one to keep his personal life extremely secret.
However, all that changed when he got accused of using marijuana in front of his child in June 2019. 
At the beginning of 2019, he had a baby girl with his girlfriend, Lorena Villela. But soon after, the couple got separated. After the separation, they got into a bitter custody battle over paternity, child support, and other issues.
You May Be Interested:- Tremont Waters Parents, Dating, Girlfriend
During all that, Josh was accused of using marijuana around their daughter and getting her high off the drug. Lorena claimed that she smelled marijuana when she went to pick her daughter up from Jackson's residence on 2nd June 2019. Further, she also claimed that the child appeared to be high after her stay at Josh.
As of now, Josh seems to be having a hard time in his love life, after being accused of such severe allegations. With legal troubles surrounding him, the 22 years old NBA star does not seem to be dating anyone at the moment.
Short-Bio, Family Info
Born in San Diego on February 10, 1997, Josh is the only child to his parents. His mother, Apples Jones, is a brave lady who served in the Navy.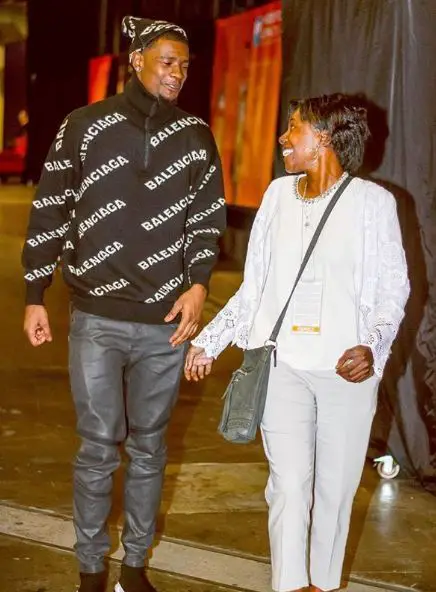 Josh Jackson with his mother Apples Jones in May 2019 (Photo: Josh Jackson's Instagram)
The athlete is very close to his mother, who also played college basketball in Kansas as a student. In fact, she has always been a huge Inspiration in Josh's life.
As for his father, not much is known about his biological father. However, he did have his stepdad, Clarence Jones, as a father figure in his life. The duo were rather close, and he even referred to him as "dad."
But in 2014, Josh lost him while he was playing in a tournament in Las Vegas. His death was a huge tragedy for Josh and his mother.
Amidst such a tough time, Josh and his mother had a close extended family, which includes the athlete's aunts and cousins, by their side.
Josh Jackson's, Age/ Height/ Weight/ Hair
A rising star in NBA and the shooting guard for Memphis Grizzlies, Josh, stands at the towering height of 6 feet 8 inches (2.03 m), quite befitting a basketball player with a complimenting weight of 93 kgs (207 lbs).
Another NBA Star:- Jeremy Lamb Married, Dating, Parents, Brother
Since the 22-year-old player is a rising star in the realms of basketball, literally everything he does ends up being the news. In 2018, he created quite a buzz with his hair cut.
That's right! His haircut ended up being a piece of news. However, it was not a regular haircut because the athlete had chopped off his locks almost after four-and-a-half years.