Entertainment
Joshua Kushner & Karlie Kloss Personal Life, Here's What You Didn't Know
Joshua Kushner is the founder of the investment firm, Thrive Capital, whose personal life and famous family has brought him in the spotlight.
He is married to supermodel Karlie Kloss. On top of that, he is the younger of Joshua Kushner- senior advisor of US President Donald Trump.
Joshua Kushner & Karlie Kloss' Personal Life
Joshua and Karlie began dating in 2012. The two were super low-key about the relationship. Thus, the relationship became public only a year later during the couple's US Open outing together.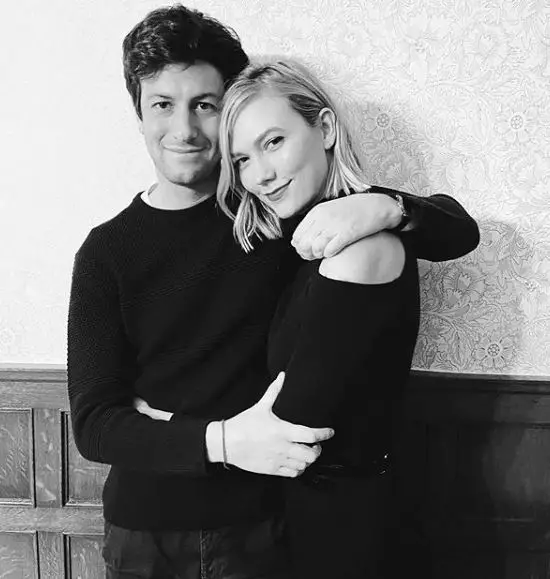 Joshua Kushner with wife Karlie Kloss in December 2019 (Photo: Karlie Kloss' Instagram)
Joshua and his girlfriend remained steady in their low-key relationship over the years. After six years of being together, the couple got engaged in July 2018.
Wedding
Joshua and his fiancee got married in an intimate ceremony on 18th October 2018 in upstate NewYork. Karlie stunned in a Dior gown in the Jewish ceremony.
The guest list included the couple's friends and family, including Joshua's famous brother, Joshua Kushner, and sister-in-law, Ivanka Trump.
Following the low-key wedding, Joshua and his wife hosted a wedding party in June 2019. The party, which was held on a ranch in Wyoming, USA, included some famous faces like Katy Perry, Orlando Bloom, Ashton Kutcher, and Mila Kunis.
Who is Karlie Kloss?
Karlie is a prominent face in the fashion world. She has been associated with brands like Victoria's Secret, Christian Dior, Donna Kara, Coach, Nike, and Lacoste.
More On Karlie:- Karlie Kloss Reveals 'Never Heard' Dating Details With Tycoon Boyfriend
Karlie was also named in Vogue Paris' list of top 30 models in the 2000s.
Joshua's Net Worth
Joshua comes from a prominent real estate family.
In 2018, it was reported that his family controlled $7 billion in the real estate business. Out of the family share, Joshua boasts a net worth of $800 million.
Further, he also prominently works in his companies Thrive Capital, Oscar Insurance, and Cadre. Thrive Capital has been associated with several companies, including Instagram.
Info On Joshua's Brother:- Jared Kushner, Son-in-law of Trump, Got an Open Letter From His Own Employee
Moreover, Oscar Insurance is a health insurance start-up with a focus on technology. And, Cadre is involved in high profile real estate market.
Facts On Joshua Kushner Including Age, Height
Joshua was born on 12th June 1985 in Livingston, New Jersey. He is a Gemini.

He stands at the height of 6 feet 2 inches (1.88 meters).

Joshua is an alum of Harvard University and Harvard Business School.

His resume includes Crain's 40 Under 40, Forbes' 30 Under 30, Inc. Magazine's 35 Under 35 lists.

Joshua has two sisters: Dara and Nicole Kushner.

His father is the real estate mogul, Charles Kushner, and his mother is Seryl Stadtmauer.

Joshua is a Polish descendant from his father's side.

He is a Democrat who voted for Hillary Clinton in 2016 despite his brother's association with the Republican President Trump.