Holding his spot as a permanent child actor in almost every other film project, Joshua Rush is one of the sprouting young talents to have emerged from the US.
He is able to speak multiple languages and makes dialogue delivery look ridiculously easy. For a teenager - who is slowly climbing the ladder of success - it is truly a remarkable sight to see.
With 48 credits and six award nominations in his name already, the Disney prodigy is yet to be at his best as he has a long career ahead of him.
Gay Or Dating Girlfriend
Joshua Rush bamboozled everyone with his portrayal of Disney's first gay character Cyrus in the series, Andi Mack.
The 17-year-old's realistic acting engaged the fans so much so that they never thought Cryus was an imaginary figure. Interestingly, the impression of Cyrus was not just any other role for Joshua. It was an opportunity for him to address the fans of his true identity.
You Might Like:- Taylor Kinney Wife, Dating, Engaged, Age
After much praise of Joshua's acting, the kid let his emotion burst out as he told the world about his bisexual nature via Twitter. In an emotional tweet in August 2019, the Andi Mack actor opened up about the struggles regarding his sexual orientation.
Adding to the same, he also tagged himself a single guy, without either a girlfriend or a boyfriend. However, he is looking forward to having an active dating life soon.
Family, Religion, Height
Joshua Rush - height 5 feet 7 inches (1.71m) - comes from a multi-racial family with Jewish Israeli, Polish and Lithuanian ancestry.
He possesses a mixed ethnicity from his parents: marketing strategist father Adam and Beryt Nisenson, a corporate documentary producer. The actor also believes in a higher power and follows the Judaism religion.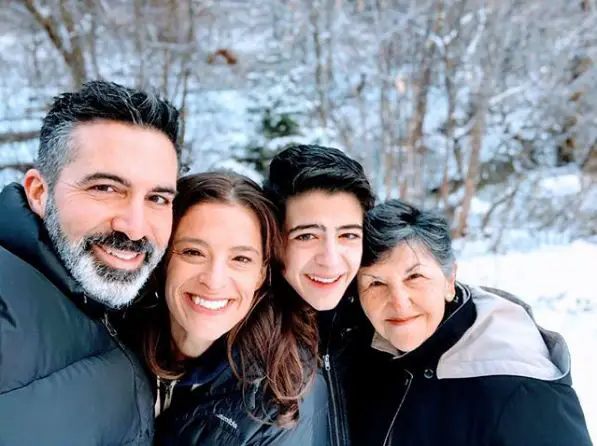 Joshua Rush (left) with his family during Hanukkah in December 2018 (Photo: Joshua Rush's Instagram)
Raised in Houston, Texas, Joshua attended Bilingual Immersion School, from where he learned Spanish and Hebrew. Fluent in multiple languages, the youngster tried his luck in acting.
At the age of seven, he started a career as a child actor. And, by 2011, Joshua was already on his first theatrical film, The Key Man. Now, he is one of the top acting prodigy looking to make his big move into the film industry.
Net Worth Details
Being a child star can have its toll, but considering their lavish lifestyle, the struggle seems worthwhile.
Reputed TV Name:- Geneva Carr Married, Dating, Family, Net Worth
Joshua Rush also comes from the same acting background. As a result, he enjoys enormous stardom and wealth at a very young age. Unlike some of the new faces, the Emelie actor is a renowned name in the list of Disney star kids.
Being one of Disney's best, he often features in top shows and movies, and bags tons of money from the same. Now, with the number of shows already exceeding his age, Joshua's net worth is rapidly on a high.