Taylor Kinney is a star American actor and model, mostly recognized for his role in hits like The Other Woman, Zero Dark Thirty, Shameless, and The Vampire Diaries.
Over the last decade, Taylor portrays the role of Kelly Severide in the hit NBC drama, Chicago Fire. Also a regular on NBC's Trauma, his striking looks, and bedazzling smile have made millions of fans for the artist.
Taylor's romantic pursuits are too juicy to miss out.
Engaged And Almost Married
Among the many women he has dated, none takes the top place in fame than Stefani Joanne Angelina Germanotta a.k.a. Lady Gaga.
The duo first met in 2011 on the set of one of her projects. Appearing as a mad scientist love interest of Lady Gaga, an impromptu kiss helped to initiate a romance.
The kiss, though surprising, blossomed a beautiful relationship between the two. 
Relationship Ended:- Kelly Baldwin Bio, Relationship, Net Worth, Joey Fatone
After four years of dating, the lovebirds' relationship took a step forward when they announced being engaged on Valentine's day 2015. Taylor presented his ex-fiance with a beautiful  6-carat diamond ring engraved with the inscription "T <3 S."
However, a year after Gaga and Taylor's engagement, their relationship crumbled.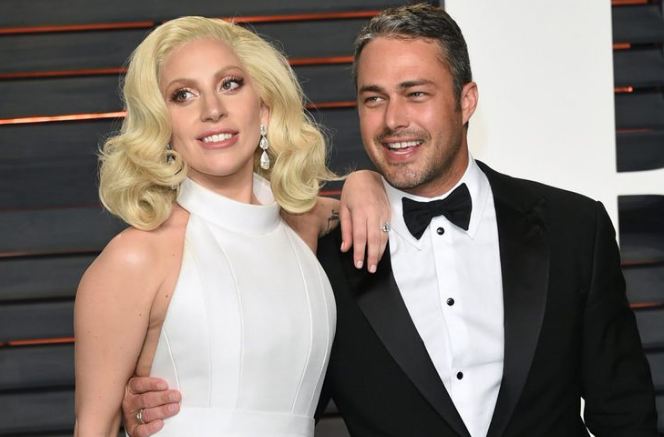 Taylor Kinney with ex-fiance Lady Gaga in 2015 (Photo: nydailynews.com)
With a heartfelt message on her Instagram, Lady Gaga shared the news that the two were separated. In July of 2016, she said:
"Taylor and I have always believed we are soulmates. Just like all couples we have ups and downs, and we have been taking a break. We are both ambitious artists, hoping to work through long-distance and complicated schedules to continue the simple love we have always shared. Please root us on. We're just like everybody else and we really love each other."
While she had beautiful words to share during their split, her documentary revealed the full reason for their division.
In the documentary, Gaga stated,
 "Me and Taylor are fighting, so that sucks. My threshold for bullshit with men is just—I don't have one anymore. In relationships, you have to move together."
Her further statement added that the reason for the breakup was possibly her movie with Bradley Cooper titled A Star Is Born.
"My love life has just imploded. I sold 10 million [records] and lost Matt. I sold 30 million and lost Luke. I did a movie and lose Taylor. It's like a turnover. This is the third time I've had my heart broken like this."
Interestingly, not much is known if her burgeoning career was the reason for their seperation.
Taylor's girlfriend then moved on with talent agent Christian Carino in March 2017. While the two were set to be engaged, in February 2019 they called off their relationship and decided to separate.
Before Dating Gaga
Before getting famous for dating and getting engaged with Lady Gaga, Taylor was in a relationship with real estate agent Brittany Sackett.
Only dating for over a year and the pair were quite into each other. According to the actor's ex, Taylor even took Brittany to see his parents.
But, all went south for them soon after he met Lady Gaga. At the time he met and hooked up with Gaga, Taylor was in a relationship with his ex. It was a random pocket dial that led to their seperation.
According to Brittany, the actor called her by mistake at  2.30 in the morning he, and when she picked it up, horror befell. She could hear the intimate conversation and also heard kissing noises.
When Brittany approached Taylor, he apologized, but it was too late for them.
New Girlfriend, Wife?
After the split with Lady Gaga, it was not only Gaga who moved on too quickly. Within a few months, Taylor was linked to another beauty.
Dating News:- Graham Phillips Spotted With Ariana Grande, Dating Again?
The actor - height 5 feet 11 inches (1.8 m) - was quietly dating a 26-year-old girl from South Philadelphia, named Alanna DiGiovanni. His new girlfriend is a former bottle service waitress in Atlantic City - who later went on to work in radiology at Thomas Jefferson University Hospital.
The celebrity gossip also claimed that Alanna was head over heels for the actor; however, not much is known about their relationship in 2019.
Since Taylor and Alanna kept their relationship low key since the start, it's assumed they don't want public attention. The couple is yet to reveal their plans on getting married and setting each other as husband & wife.