Model Juliet Evancho was born as a boy named Jacob. Growing up, she always felt something was amiss with her; Juliet was 11 years of age when she realized that she was a girl trapped in a boy's body.
Things became hard when Juliet's sister Jackie Evancho's became 1st runner up in American's Got Talent in 2010. But, the Evancho family didn't let the recognition affect them and supported Juliet through her sex change surgeries.
Who Is Juliet's Boyfriend?
The pretty girl is in a relationship with Shaun Michael. Juliet introduced her boyfriend to the world via Instagram on 18th February 2019.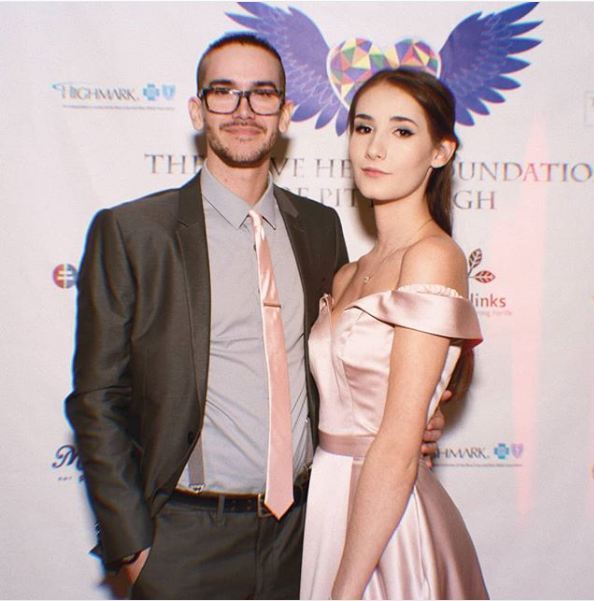 Juliet Evancho poses with her boyfriend, Shaun Michael on 18th February 2019 (Photo: Juliet Evancho's Instagram)
While Juliet is quite open about her dating life and doesn't shy away to share her experience on Instagram; her engineer boyfriend, on the other hand, is coy. The handsome hunk keeps his Instagram private.
Another Trans Celeb:- Antonio Garza Wiki, Age, Boyfriend, Siblings
Well, fans still love the Growing up Evancho star's man and want them to get engaged. But the young pair are enjoying their dating life instead of rushing into commitments.
Juliet Evancho Biography
Juliet was born on 27th May 1998. She is the eldest child of her parents Lisa and Michael Evancho. Her younger siblings include Jackie, Zach, and Rachel.
The trans model and her whole family starred in the TLC's reality show, Growing up Evancho in 2017. With her brood's continuous support, Juliet managed to work effectively as a model. While she worked for several brands on and off the runway, the American model's most prominent work was for Vancouver Fashion Week.
Juliet's modeling career helps her earn a salary of $132,835 per year, which adds to her net worth. The American star's talent doesn't end there. An outspoken activist for the rights of trans people, she works for the end of discrimination against them.
In 2017, the 20-year-old made headlines when she sued her institute of education, Pine-Richland School, for stopping her from entering the girl's restroom. The other parents of the school had complained against trans kids entering the bathroom of their choice.
Well, her constant fight was applauded when she won the case as the court ruled that stopping kids to use the restroom based on their gender identity was unconstitutional.
Controversy
When the whole America disputed on the appointment of Donald Trump as the US President in 2016, the Evancho family was dealing with scrutiny and hate online. The reason behind such condition was Juliet's sister Jackie accepted and performed in Trump's Inauguration ceremony.
People argued that the American's Got Talent alum's decision to perform at the occasion was harming her sister Juliet as reportedly Tump's views on transpeople and other minorities were questionable.
However, Juliet supported her sister, who explained to People in 2017 that her performance wasn't about supporting anybody but, accepting the opportunity of such grandeur.