Entertainment
Justin Lee Collins Wife, Children, Net Worth, Family
Excelling at every medium of entertainment - be it TV, radio, stage, or movies - English comic Justin Lee Collins earned unprecedented recognition in all of the British Isles and perhaps, the entire show-biz world.
However, it was the drama surrounding his romantic life that kept the stand-up comedian turned prominent radio personality relevant in the public sphere.
Married & Divorce Life - Children With Former Wife
Throughout his marriage to the former wife, Karen Skinner, Justin led a life of a philander. His partners in adultery extended beyond the mistresses type.
So brazen was he with his unfaithfulness that he even got caught cheating with his other half's longtime friend Ann Finnan. Speaking after, the Channel 5 host apologized for his alcohol-induced behavior. Ann, on the other hand, admitted to crossing over the mark.
Unfaithful Spouse:- Garcelle Beauvais Shuts Cheating Husband For Children; Family First - Actress Reveals
Fed up with his antics, Karen finally decided to leave Justin. In November 2010, the proceeding for the divorce began. They were together for more than 12 years, seven of which in matrimony.
Despite the separation, the former married duo's relationship was a fruitful one, with two children borne out of it. Archie, the eldest of the two, was born in 2005 while they welcomed Harvey in 2008.
After the divorce, the former Strictly Come Dancing host continued to rebel in controversies. Meanwhile, his wife Karen took the other route.
Issues With Girlfriend
Justin took very little time to get over the divorce from his ex-wife as he began dating video games developer Anna Larke shortly after.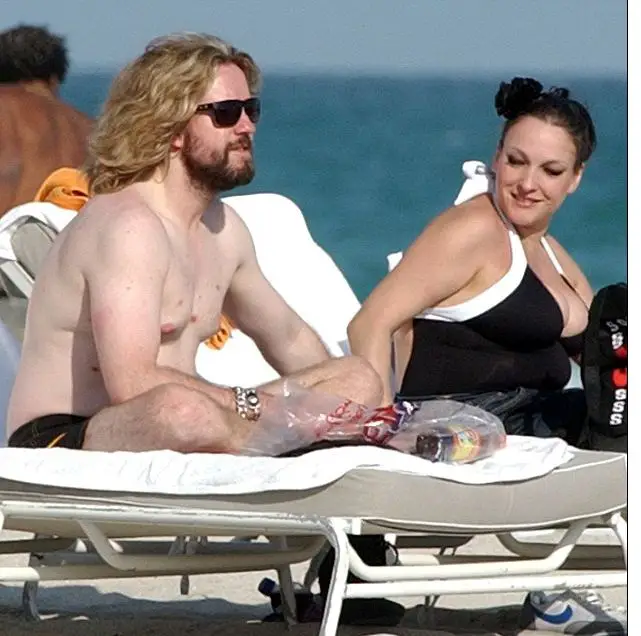 Justin Lee Collins gets pictured with Anna Larke in Florida, Miami in Feb 2011 (Photo:- dailymail.co.uk)
Between January 2011 to July 2011, he and his then-girlfriend Anna lived together for almost half a year before breaking up. The drama, however, didn't end there.
Prolonged Toxic Romance:- Roger Mathews Age 43 & Wife Filed For Divorce, Split Reason & Details!
Five months after the split, The Hatching actor got charged with causing fear of violence for the alleged harassment against Anna. Per court documents - he slapped & punched her and even shouted misogynistic labels against her.
With overwhelming evidence available against him, Justin recieved a guilty conviction in October 2012. The judge slapped him with £3,500 fine and 140 hours of community service.
Faithful to the texts he sent to his ex-girlfriend Anna after the attack in December 2011, the former Flipside TV presenter sought help from a professional following the sentencing.
Age, Height, Family & Hair
Born in 1974 into a family spearheaded by an electrician father Danny and mother Anita, Justin is his parents' only child. A native of Bristol England, the 44-year-old stands beyond the 5 feet and 10 inches (1.78 m) mark in height.
Same Built As Justin:- Matt Berry Wife, Height, Family, Net Worth
Revered for his signature long hair, the former "Bring Back..." host dropped out of school at the age of 15 and commenced working as a warehouseman. He eventually recieved the BTEC national diploma and attended Filton College.
Net Worth & Weight Loss Now
After college, he held a sales job by the daytime while working as a stand-up comic during the nights. His show-biz career finally took off when he won Best New Comedy at the Glastonbury Festival in 1997.
By 2002, Justin had shifted his focus to TV, making a variety of shows for Bravo and MTV. Between 2003 and 2005, he applied his trades as a radio personality at the XFM.
Post the XFM stint - he continued to dabble in hosting TV and game shows. The Friday Night Project host gained further notoriety as he unsuccessfully campaigned to represent the UK at the 2010 Eurovision.
Besides the presenting/hosting gigs now, both acting and writing amusements contribute heavily to Justin's impressive net worth of $10 million. Even his 3.5 stone weight loss in 2011 feels relatively minor milestone when placed next to his financial accomplishments.