Justin Long is a celebrated actor who rose to fame right from his debut film Galaxy Quest in 1999. Both critics and the audience highly admired his portrayal of a geeky guy in the film. Ever since Justine, who is blessed with an undeniable charm and good looks, has been among the well-known actors in the industry.
Most recently, he is popularly known as the Mac Man, for having appeared in the TV commercial for Apple's 'Get a Mac' advertising campaign.
Is Justin Long Married?
Justin Long is not a married man yet, so a wife is out of the question. Having said that, The Break-Up actor has had a fair share of romance in his life. 
As of now, Justin has kept his romantic life pretty secluded. However, recently, he has sparked dating rumors with his ex-girlfriend Drew Barrymore. Drew and Justin had an on-and-off relationship between 2007 and 2010. The couple remained friends even after their split.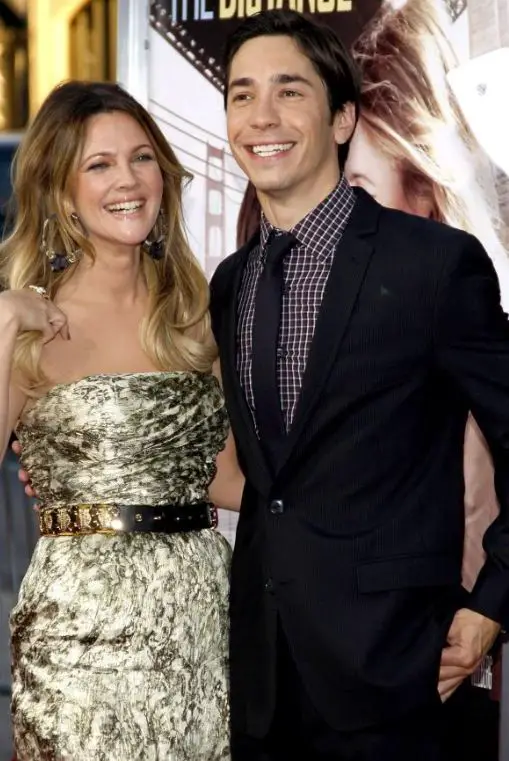 Justine Long with Drew Barrymore at the Premiere of Going The Distance in 2010 (Photo: usmagazine.com) 
And, now, while both Justin and Drew are single and spending time together; naturally, rumors are flying. However, nothing can be confirmed yet since both Drew and Justin have not addressed those rumors yet. 
More On Drew Barrymore:- Actress Drew Barrymore Opens Up about Raising Kids after Divorce with Husband Will Kopelman!
Apart from Drew, Justin also dated Mamma Mia actress Amanda Seyfried from 2013 to 2015. 
The next lady in the list of Justin's ex-girlfriends is musician Lauren Mayberry. They began dating in 2016 but parted ways after dating for two years.
Further, like every actor in Hollywood, Justin is also no exception to gay rumors. But, in his case, such talks are the result of his on-screen roles.
Career, Net Worth
Justin Long has been active in the industry for two decades. Following his breakthrough from the film Galaxy Quest, he gained even more recognition from his portrayal of a teenager, Warren Cheswick in the TV series Ed.
After that, Justin has acted in various movies and TV shows, some of his notable screen appearances include his roles opposite pop queens: Britney Spears in Crossroads and Lindsay Lohan in Herbie: Fully Loaded.
You May Be Interested:- Kate McKinnon Lesbian, Partner, family, Net Worth
His other list of filmographies include Live Free or Die Hard, He's Just Not That Into You, Jeepers Creepers, Galaxy Quest, and Dreamland to name a few. Over his career, Justin has established himself as a successful actor in the industry.
Well, with his impressive list of achievements, his estimated net worth of $15 million does not come as a surprise.
However, his wealth is not from his acting endeavors alone. His appearance in the TV commercial for Apple's Mac computers has also contributed to his net worth. 
 Age, Height, Family Info
Born on 2nd June 1978, in Fairfield, Connecticut, Justin was raised in a family of five alongside his two brothers. Born to a Philosophy professor father- R. James Long and a Broadway actress mother- Wendy Lesniak, Justin always had acting in his blood.
As for his ethnicity, the 5 feet 9 inches (1.75 m) actor is of German, Sicilian, and Polish descent.
Apart from his acting endeavors and p[ersonal life, Justin also had his fans talking about his weird hairstyle as a child. Recently, in August 2019 Justin posted his childhood picture with a weird helmet like haircut which created quite a buzz among his fans.