Justise Winslow is a basketball player playing for the NBA side Miami Heat...Heat player has had a girlfriend in the past...is no information about his dating and personal life...is not gay...is 23 years of age...parents run a charity together along with him...has faced family tragedies...his height and weight stats are as follows...has amazing hair and takes a lot of care about fashion and hairstyle...
One of the breakout players to come out of Duke University, Justise Winslow, now plays for the NBA's Miami Heat. The playmaker is one of the most critical players in the Miami roster.
Coming from a sporting family, Justise has now been playing in the NBA for the past four years. He made his debut for the Miami Heat on 28th October 2015 and is still with them as of November 2019.
Does Justise Have A Girlfriend Or Is He Gay?
Justise, to the disappointment of many of his LGBT fans, is not gay. The player has talked about having a girlfriend in the past.
Although there has never been any information on who his girlfriend was, he has mentioned having an old partner.
In a 2019 interview with the Miami Herald, Justise confided that he had a relationship with a woman before his dark times, which began in the middle of the 2016-17 NBA season and lasted through the 2017-18 season. This time was plagued by injuries, family's health, and his health and relationship issues.
Long before testing times in his life, he had joked about having a girlfriend posing with a statue of a woman back in 2013.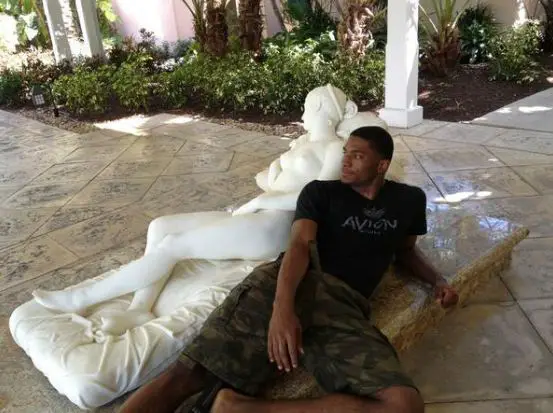 Justise Winslow poses with his "girlfriend" in March 2013 (Photo: Justise Winslow's Twitter)
But, it is not known whether he is dating anyone currently as there are no rumors or public spottings about him.
However, his distribution of love is not limited to his girlfriend. Justise dearly adores the LGBTQ community and attends parties related to their celebration. His last attendance at such a festival was in April 2018 when the Miami Heat hosted a free and open public party for South Florida's LGBTQ community.
Age, Family And Tragic Events
Justise undoubtedly gets his kind-hearted nature from his parents. Born on 26th March 1996, he is one of the five children of his parents Robin Davis (mother) and Rickie Winslow (father).
Talking about his parents, his father Rickie Winslow is a former basketball player and played for the University of Houston from 1983 to 1987. He was also the part of the Phi Slamma Jamma team, a team known for their high flying dunks and exciting plays.
Justise, on the other hand, has a unique partnership with his mother, Robin Davis. He is the founder of Robin's House Family Foundation, along with his mother. The foundation aims to encourage and guide children and young adults to find and increase their highest potential through education and community outreach.
Also Know About:- Reggie Bullock Married, Family, College
The 23-year-old star is the youngest of five siblings, who, all of them, are athletes in their own right. Justise's siblings - elder brothers Cedrick, Brandon, and Josh Winslow, and elder sister Bianca Winslow. His brother Josh plays football at Dartmouth College, and Bianca plays for the Houston Cougars' women's basketball team. Brandon, however, has diverted from the realm of sports and now works as a manager and real estate agent and advisor. 
But, Justise has faced a tragic event in his life. The athlete lost his grandmother to breast cancer when he was in high school. And, ever since her passing, he has been earnest about raising awareness about breast cancer through participation in events such as Miami Heat's Red, White, & Pink game and Miami's More Than Pink Walk.
Fashion, Weight
Standing at the height of 6 feet 6 inches (1.98 meters), Winslow is a very attractive-looking guy. He is a fashion junkie and a hair enthusiast.
One of the most prominent and noticeable features of Justise's humongous build is his hairstyle. He has amazing hair, and that is the result of close care of the hair. He has given hair tips about shampoo and conditioning hair to achieve a great hairstyle in an interview with AskMen in 2015.
Money is probably the most important thing when it comes to maintaining one's fashion, hair, and overall perception of people. And the player, weighing at (100.69 kg) 222 lbs, sure has a lot of money to complement his lifestyle needs.
Recommended For You:- Andre Roberson Girlfriend, Wife, Married, Parents
Justise is estimated to have a net worth of around $3 million as of November 2019. He makes most of that money through his salary playing for the Miami Heat. The team pays him a yearly amount of $13 million for the remainder of his contract lasting till the 2021-22 season, making him the 4th best-paid player in the Miami Heat roster.
But, having a lot of money doesn't mean anything unless you use some of it to do good for the people around you.
And that's what Justise does. He uses his money for various noble purposes, such as donating for cancer research and helping people in need. He even gave cars to two families who lost their own in Hurricane Harvey in January 2018.