Kaitlynn Carter is the star of The Hills: New...Along with the TV show, she focuses on her...Kaitlynn of age 31 got married to her long-time boyfriend...The elaborate wedding in Indonesia couldn't...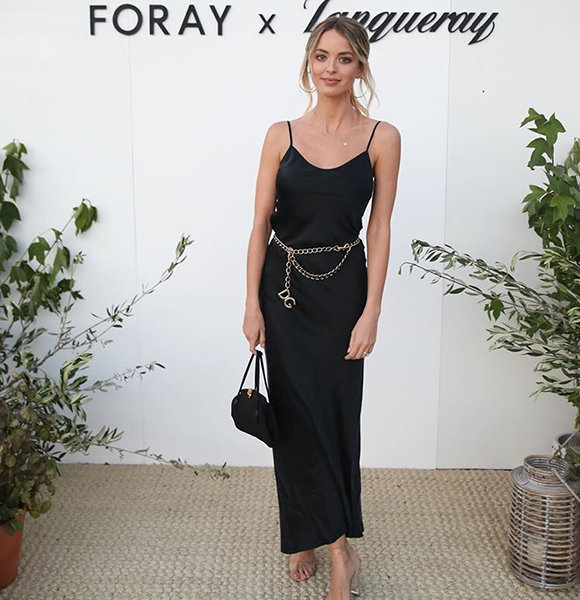 Kaitlynn Carter is the star of The Hills: New Beginnings. Along with the TV show, she focuses on her love, lifestyle, and fashion blog called Western Wild. Also, she is the founder of skincare brand called Selfé.
Previously, she participated in Maxim's Hometown Hotties competition and managed to reach the finals of the 2010 show. Although she didn't pursue a professional modeling career, her breathtaking photos continue to create buzz on Instagram.
She boasts over 700K Instagram followers.
Kaitlynn's Net Worth
The reality star's first TV job was The Making of SlickforceGirl in 2013. After appearing as herself in the TV show, Kaitlynn didn't pursue a TV career actively. Instead, she focused on running her blog, Western Wild, and working in the finance industry.
Only in 2019, she actively returned to the TV via The Hills: New Beginnings. Although her earnings on the show is a secret, she must boast a decent net worth via the hit MTV program.
Her popular Instagram provides ample opportunities for brand endorsements. Kaitlynn's lifestyle blog also adds to her net worth.
Wedding Details
Kaitlynn of age 31 got married to her long-time boyfriend Brody Jenner on 2 June 2018 at Nihi Sumba Resort, Indonesia. The sweetest part was, earlier the couple had gotten engaged at the same place.
Brody went down on his knees and proposed with a simple but elegant 4.5-carat diamond engagement ring. With the fond memories of engagement amid friends and family, Kaitlynn and her boyfriend of five years became husband and wife.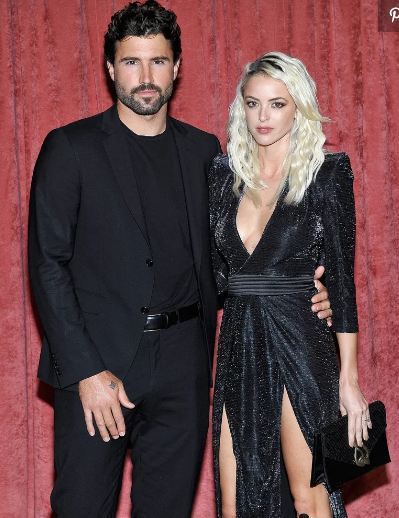 Kaitlynn Carter with boyfriend Brody Jenner (Photo: people.com)
Among the witnesses of the wedding, Brody's brother, Burt Jenner served as the best man. And, the Jenner boys' mother Linda Thompson recited a poem for the couple.
Brody's Former Step-Father's Romance:- David Foster Sparks New Relationship Rumors With Katharine McPhee; Will She Be Added In His Spouse List?
Unfortunately, Kaitlynn's father-in-law Caitlyn Jenner (previously Bruce Jenner) wasn't present due to work commitments. But, there was no bad blood, as Brody's parents fully supported the wedding.
Split & New Partner
The elaborate wedding in Indonesia couldn't save Kaitlynn, and her husband's relationship and the pair separated in 2019. The unusual part of the end of their marriage was there was no need for a divorce as the pair's union was not legal.
Reportedly, the reason behind the split was Kaitlynn's want for kids. On the other hand, Brody didn't want the weight of a father's responsibility. Also, the pair's stint on The Hills: New Beginnings didn't help their relationship.
Further, the source added that Kaitlynn had moved on with a mystery partner.
And, in August 2019, the reality star was seen packing a PDA with Miley Cyrus at Lake Como, Italy. It was unclear when Kaitlynn and the Wrecking Ball singer became romantically involved at first.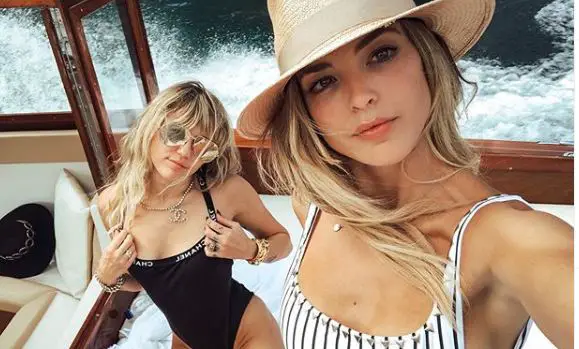 Kaitlynn Carter takes a selfie with Miley Cyrus on August 2019 at Italy (Photo: Kaitlynn Carter's Instagram)
Post the pictures got out, Miley's rep confirmed the split from her husband, Liam Hemsworth.
Following their seperation, Miley was seen making out with The Hills: New Beginnings star. In the photographic evidence of their hook up, the pair could be seen cuddling, kissing and sunbathing.
Kaitlyn's ex Brody even joked about their hook up. He jokingly addressed his fans and followers telling them pictures of him and Liam holding hands on the beach would come out soon.
Miley didn't appreciate the joke and was soon to comment on his post. She told Brody to cool off and to take a nap.
However, Kaitlyn's ex was really calm and cool about the whole ordeal. He wrote in a now-deleted statement:
"There is far too much negativity being directed at someone who I love and care about very much. I feel the need to set the story straight. Kaitlynn and I have been best friends for 6 years, and we continue to be.  We decided the best move for both of us was to keep our love for each other strong but move forward separately with our lives. She deserves to be able to move forward in her life with respect and happiness."
This was one of the most mature response ever. Confirming that the split was amicable at least on Brody's part.
While Kaitlynn and Miley never confirmed nor deny about their relationship, a source reported that the two were making passionate love to each other in the middle of August 2019. What makes this info more interesting is that Kaitlynn, Brody, Miley, and Liam used to hang out as couple friends before.
Their relationship then started getting more attention.
It's even reported that Miley and Liam's separation was finalized because of the hookup with Kaitlynn. A source claimed that seeing those kissing photos was what pushed Liam to file for divorce.
Soon after Miley's divorce, Kaitlynn was seen hand in hand with the singer in the  VMAs after-party. Their relationship was going so fast.
Miley and Kaitlynn were apparently living together at the start of September. Kaitlynn soon moved in with Miley. She celebrated Miley's birthday on 4 September 2019 as well. The star was even seen wearing a ring on her finger which had the initials M on it.
The pair were not shy to showcase their love towards each other. Wearing matching outfit the two spent an entire day in L.A, walking with their arms wrapped around each other.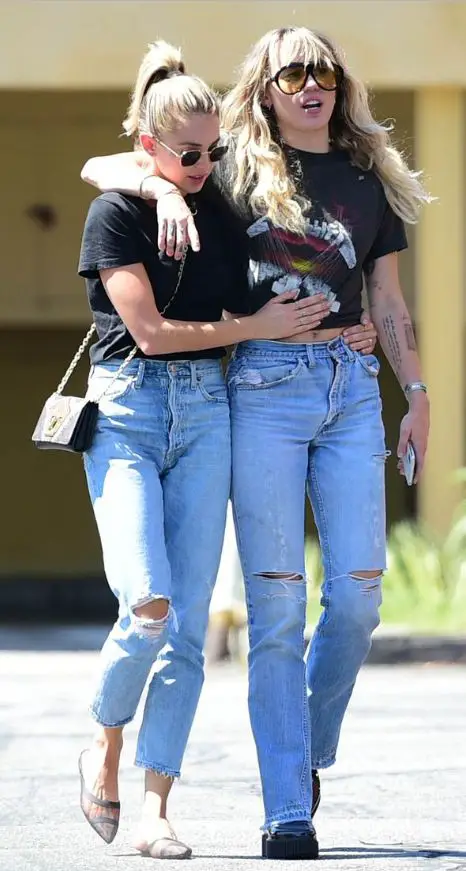 Kaitlynn Carter with girlfriend Miley Cyrus in 2019 (Photo: cosmopolitan.com)
While the pair attracted attention during their first few months of dating as a cute couple, the news of their apparent split devastated fans 
On 21 September 2019, their relationship was confirmed to have ended. A close source for celebrity gossip claimed that the split was real, however, the two have remained good friends.No drama or bad blood occurred between the two.
More On Miley's Failed Marriage:- Liam Hemsworth Miley Cyrus, Split, Wedding
Previously, the reality star of height 5 feet 6 inches (1.67 m) dated SNL alum, David Spade.