A multifaceted artist, songstress Kali Uchis is the closest thing to the so-called "R&B Maestra." Beyond penning and singing her music, she directs videos, can design album art and even curates her retro-inspired wardrobe. 
Gifted with equally mind-numbingly sultry vocals, Kali uses her oozing sexuality to captivate her fans' both eyes and ears. Therefore, the fact that there are so many suitors eyeing to be her boyfriend shouldn't come as a surprise.
Boyfriend Details
While Kali has had her fair share of relationships in the past, rapper Yung Gleesh is perhaps Kali's most notable boyfriend. In part, because of Gleesh's murky history.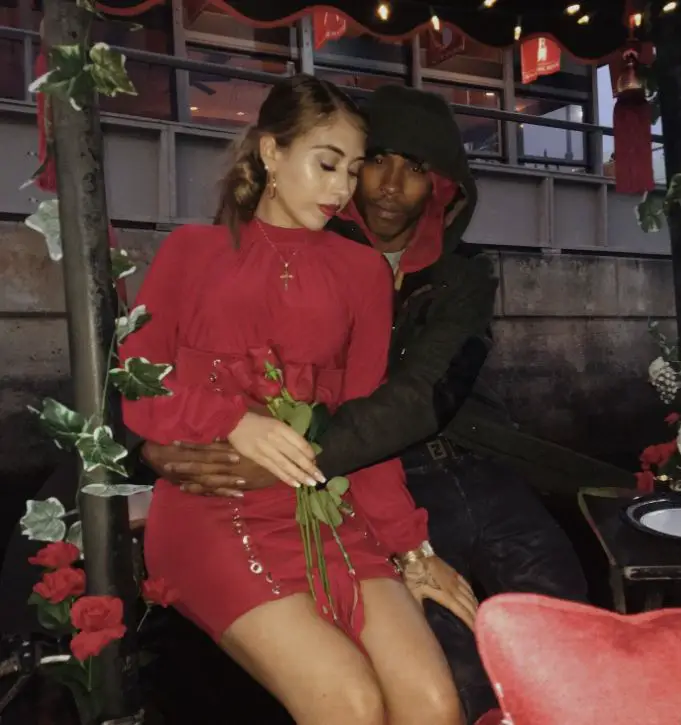 Kali Uchis with then-boyfriend Yung Gleesh circa 2017 (Photo:- Yung Glesh's Instagram)
In November 2018, a jury found Gleesh (real name: Asa Asuncion) guilty of attempted sexual assault. While he recieved a five years jail sentence, he would only face probation.
The charges against Gleesh stemmed from 2015 when Gleesh traveled to Austin, Texas to play at the South by Southwest festival. The plaintiff, a 25-year-old woman, accused the Washington DC-based rapper of performing oral sex on her without consent.
Linked To An Alleged Sexual Predator:- Asian Doll Dating, Net Worth, Real Name, Parents
Despite the grievous nature of the crime, Kali stood by her then-boyfriend of more than two years. Speaking before the jury, she claimed Gleesh to be a matured man.
The emotional toll from the case proved too much. By the summer of 2019, the After The Storm songstress and Gleesh had broken up. Talking to Adam22 of No Jumper, the latter confirmed the split.
Real Name, Hometown & Parents
Despite being born in 1993 in Pereria, Colombia, Kali Uchis calls Northern Virginia her hometown. But it was in Los Angeles, California that she found success.
Her Counterpart:- Ari Lennox Ethnicity, Real Name, Hometown, Net Worth, Boyfriend, Height
As a teenager, the Interscope Records artist struggled to keep up with her immigrant parents' guidelines. Before getting kicked out the kick at the age of 17, she and her four older siblings worked for their dad, who managed apartment complexes.
It was her father who bestowed the 26 years old songstress with the nickname Kali Uchis. Her real name is Karly-Marina Loaiza.
Tour, Tattoos & Net Worth
Kali popped in the scene as an Odd Future associate. Her self-crafted 2013 project Drunken Babble and 2015 debut Por Vida furthered her musical career. However, it was Isolation, her 2018 studio offering, that made her an R&B powerhouse.
In 2019, Kali's ever-so-growing net worth suffered as a former manager sued her for an unpaid debt. The same year, Music Midtown, Austin City Limits Musical Festival, and Tabernacle By Wireless Cricket added her to the list of artists to perform at their event.
Focusing On Tour:- Megan Thee Stallion Real Name, Parents, Net Worth
A year-around touring act, Kali performed at several concerts, advocating supports for immigrants' rights in 2019. Like her music, her tattoos carry meaning as they indicate a specific period in life.
At age 16, the Just A Stranger hitmaker had recieved her very first ink (a tiger). She boasts five tattoos. Of the five, her dad's passport signature appears the most eye-catching.