Entertainment
Kara Killmer & Husband Wedding Talks, Started From 'Beyond the Mask' | Details
Kara Killmer, known for her role as Sylvie Brett in the television series Chicago Fire, is lucky in love as she...turns out she exchanged the wedding knot with her crush...on...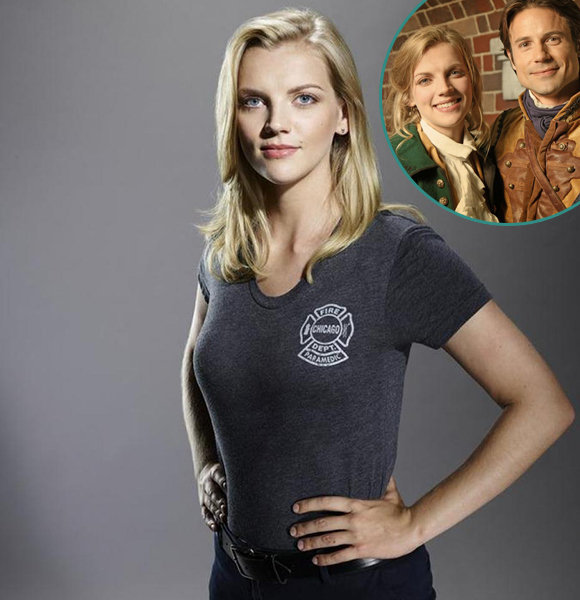 American actress Kara Killmer, known for her role as Sylvie Brett in the television series Chicago Fire, is lucky when it comes to love. Lucky in a sense that she married the person she had a crush on for over years.
In turn, she is dearly loved by her crush turned husband. Her now husband was just an attractive stranger before they crossed path accidentally. With time, the couple grew closer and eventually were pronounced husband and wife. 
Crush Since Couple Of Years
Kara Killmer is indeed blessed with a love life that every other girl adores. She is married and shares years of romance with the person who was just a stranger in the church whom she found really attractive.
Kara is married to Andrew Cheney with whom she starred alongside in the movie, Beyond the Mask. Even though the couple only officially met during the coaching session of the movie, they shared a history dating back to a couple of years. 
Before either one of them auditioned for the movies, they had crossed the path once or twice before but never had a formal meeting or introduction. Even though Andrew had no knowledge of Kara's existence, Kara had a deep attraction for Andrew.
Read Also: 'Kin' Star Myles Truitt Age 16 With Supportive Parents | Net Worth & Facts
She actually caught her eye on him at a church Reality LA where they both often visited. But Kara could only see him once in a blue moon and when she did, she had her eyes locked on him. 
The watching at a distance went for a couple of years until one day she made up her mind to march up to him and say hello. But all her courage fizzled out half way. However, the next day she accidentally came face to face with Andrew and all she could do was blush and run away.
Even though she could not gather up the courage to go speak to him, life had something better planned for her. When Kara pulled in for her fourth coaching session of Beyond the Mask, she was officially introduced to Andrew which had Kara spellbound.
Well, Kara and Andrew starred alongside each other which brought them even closer.
On-Screen Love Interest Turned Real Life Husband, Wedding Details
Kara and Andrew had instant sparks since the day they first met and while starring as Andrew's love interest, the romance between the two was budding as well. The pair spent 14 hours a day together working grabbing morning Starbucks and having late-night dinners.
Have a Look at: Mariah Huq's Life At Age 39: With Husband And Fabulous House On Fleek
After several months of their flirtatious exchanges, Andrew finally asked Kara for an official date. With time, their relationship progressed. Turns out they actually lived only a quarter mile away from each other in Los Angeles which just drew them closer even after the movie had wrapped. 
They even took off for romantic getaways. Back in summer 2015, the couple took a road trip from Chigaco to Los Angeles meeting family and visiting places. The went to Grand Canyon where they both had been before but not with each other.
While they were there on the edge of the Canyon, Andrew knelt and presentedKara with the sparkling ring. Kara in a heartbeat said "Yes" to the marriage proposal.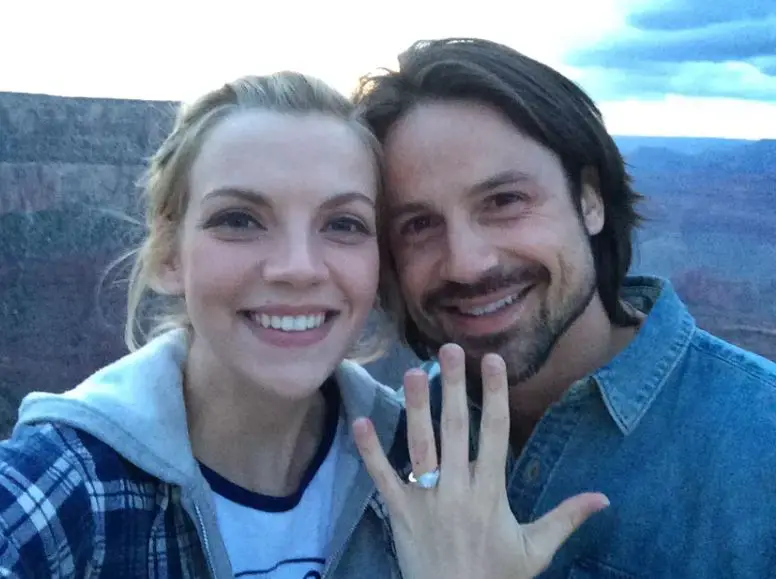 Kara Killmer with husband Andrew showing off her engagement ring. (Photo: theknot.com)
A year later, the couple finally decided to exchange the wedding vows. The ceremony was held on 14 May 2016 which was followed by a reception held ta Jobes Barn at Willow Creek Ranch.
Guess What: Georgie Gardner, Age 47 Flaunts Family; Reveals Cutest Shy Husband Tales
Well, it has been over two years since they were pronounced husband and wife. Kara and Andrew are still going strong but seems like they do not have any plans of being parents just yet.