Entertainment
'Kin' Star Myles Truitt Age 16 With Supportive Parents | Net Worth & Facts
Mix young talent and charm to the African-American background and you get the Hollywood's young actor, Myles Tuitt!
Setting his journey from being a newcomer to the film industry, Myles Tuitt has walked a full-fledged journey before he could make a name for himself. He chose the acting as his lifelong passion in young age and with his parents' hands on the deck, Myles eventually claimed the fame and success in his career.
The actor's determination and desire to succeed has grown more, which could be told a lot by his debut movie, Kin, set-to be-released in 2018. Backed by his parents' support, Myles is set to spread his charm once again in 2018!
Regular School Kid Leaps To Fame As Actor
Only 16 years of age, Myles Tuitt got the acting bug on his own. First, he came up with the decision of being an actor at the age of 11. Then by the time, he reached the age of 13 or 14, he wanted to pursue being the actor for a lifetime.
But his passion for acting came true only when he was cast in the biographical BET series 'The New Edition Story' as a young Ronnie Devoe. The series awarded him with fame, especially his dream of becoming an actor which he had been looking forward to since he was 11.
See Also: Michael Rainey Jr. Wiki: Details On Family And Net Worth!
Myles came across the life-changing opportunity while he was still studying. In his student days, the young actor was already portraying the role of one of R&B group New Edition's journey from their early days to rise to fame.
For the series, which was conceived in August 2015, Myles's mother Danielle Jackson, also his manager, confirmed his casting in the series in April 2016.
Myles had not looked back ever since instead is flourishing his talent and charm all over the audience. His dancing and singing were widely praised along with his resemblance to the character was undeniable which showcased his acting talents.
Soon his talents landed him in another major role in the supernatural TV series 'Superstitions' where he appears as Arlo Hastings with his reoccurring roles.
Movie Debut; Supportive Parents
Now, Myles is an established name to the audience and he has an upcoming movie, Kin in 2018 too, in fact, his debut movie.
As his first starring in the movie role is set to hit the theaters on 31 August this year, his fans put in a lot of expectations in the emerging actor with all vulture eyes are waiting to pass the comments for the movie and his role.
Don't Miss: On-Screen Gay Bronson Pinchot Married At Age 59? Status Now!
Kin is the story of a young kid, Elijah Solinski, who has his life turned upside down since the discovery of a weapon of mysterious origin as he and his brother, a recently released ex-con, has been chased by the vengeful criminal, the feds and the gang of otherworldly soldiers.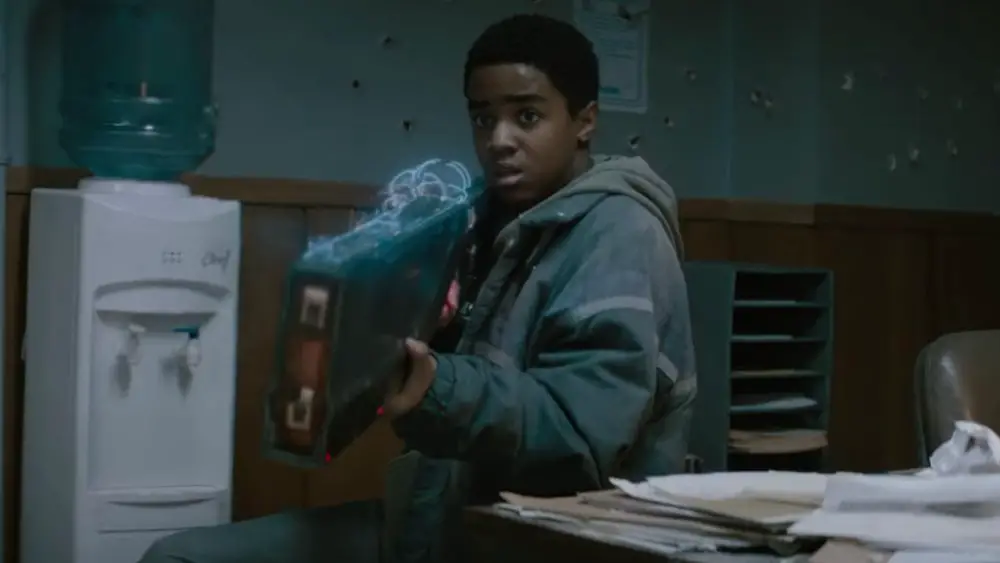 Myles Truitt starring as Elijah Solinski in the movie Kin. (Photo: geektyrant.com)
In the movie, the character portrayed by Myles show the similar maturity level as Myles shows in his life off the screen. According to Myles, the character he portrays is an independent kid, who does not let people degrade him.
For Myles, he enjoyed doing the role of Elijah as he sees himself much relatable to the character.
Well, his rising career, which is reaching its height would not have been possible if it weren't from the support of his parents. Turns out his parents have been a great source of inspiration and a push that has taken him to the heights where he is now.
More From Liverampup: Todd Thompson Net Worth Post Giada de Laurentiis Split, Dating Now In Paradise
Indeed, Myles is set to take on the acting industry while he has his mother beside him guiding to the correct path as his manager. Well, with the leap in his career, Myles seems to earn massive net worth for his age with an average annual salary of $52,000.