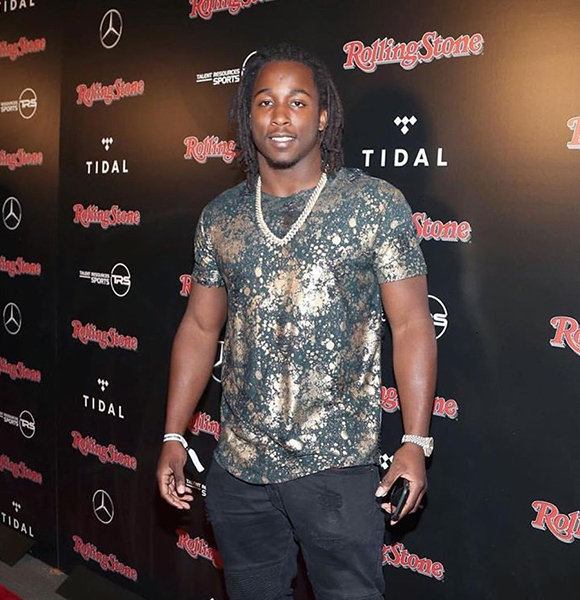 A series of bad decisions and unsocial behaviors has led rookie Kareem Hunt to hang at the edge of the cliff. 
After the public display of a video in which he violently attacks a woman, the Kansas City Chiefs running back saw him lose his place on the team in 2018 and jeopardize his footballing career.
Contrary to the stint of his family's criminal records, Kareem was one of the brightest aspects of the Hunt family. Alas, It went the opposite; now, people are curious about his romantic relationship with his girlfriend as he has a record of violence towards women.
Does Kareem Hunt Have A Girlfriend?
Recently, there is no record of Kareem and his girlfriend being together or not, as the player wants to keep his romantic life away from the media.
The former Kansas City showman, Kareem Hunt, did not have a good outing when it came to women. His video of assaulting a woman in a hotel room got leaked, which resulted in the star being suspended and dumped by his NFL team.
Not only that, many questioned his behavior and frequently accused him as a criminal. Questions even arose if he will ever get married to a wife or even his girlfriend.
Inseperable Pair:- Denny Hamlin Wife, Net Worth, Family
However, all hopes were not lost for the super running back as his girlfriend, Julianne Oser, accompanied him during his unfortunate condition. The two met one another at the University of Toledo, where Julianne was a cheerleader for the men's football team.
As of late, both Kareem and his girlfriend are silent about their relationship. Further, they have not shared any pictures on social media, which has raised doubts regarding their relationship's longevity. 
Apart from the player's messy personal life, let's take a look at his professional life.
Kareem Hunt's New Contract
Followed by screams of booing from the Kansas City fans, Hunt was offloaded by the team management following his violation of domestic violence against women.
Everyone thought that his playing career was over, but much to their surprise, the Cleveland Browns offered the aggressive running back a one-year contract. The decision to sign him sure was a risky one, but at last, it was a win-win situation for both.
Earning From Vlogging:- Nas Daily Wife, Net Worth, Ethnicity, Real Name
Kareem got his career back, whereas the team management cashed in on the situation and signed the player on a mere $1.1 million that including zero dollars in guaranteed money, but this was back in 2017.
If we talk recently, the stakes rose, and now the player signed a two-year contract with a $13.25 million extension.
The agreement will see Kareem earn a base salary of $1,350,000, which is raising his net worth massively. 
Short Bio
Kareem was born on 6 August 1995 in Willoughby, Ohio, to parents Kareem Hunt and Stephanie Riggins. His single mother raised him alongside a brother named Clarence Riggins.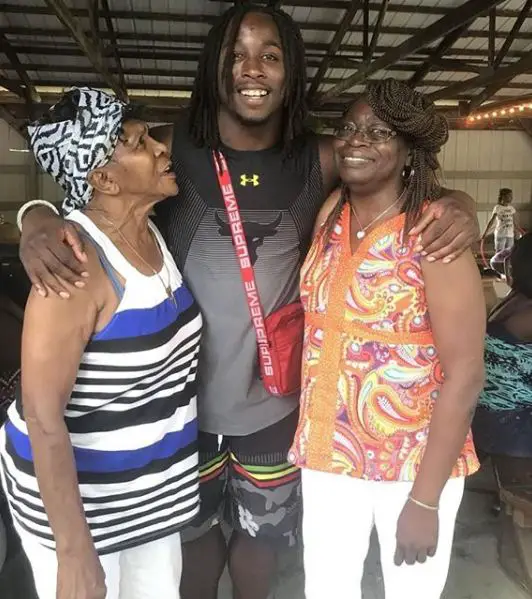 Kareem Hunt with mother Stephanie Riggins and grandmother at Bradenton Beach, Florida, in July 2018 (Photo: Instagram)
As a child, his family name was already on the criminal records following his father's notorious activities, which landed him more than 35 times behind bars. In a valiant effort to bring back his family name on the right track, Kareem pursued a career in football.
The 26-year-old backed his height of 5 feet 11 inches (1.86m) and weight of 97 kgs to take him over the line in football. Kansas City Chiefs finally drafted him in 2017 after a magnificent run of form in college.