Entertainment
Karina Garcia Wiki: Age, House, Twin, Is She Married?
Karina Garcia is a popular YouTuber, also known as the Slime Queen. She runs an eponymous channel which has over nine million subscribers. She posts DIYs, makeup tutorials and hauls in her channel. 
She has also published three books on slimes and crafts. 
Wiki & Age
Karina Garcia was born on 8th February 1994, in Los Angeles, California. She grew up in a two-bedroom mobile home where her entire family lived.
The Slime Queen has a twin sister, Mayra Isabel, who is also a YouTuber. She also has an older brother, two little brothers, and another little sister beside Mayra.
Karina Garcia's Rise To Fame
In her early 20s, Karina was lost in her life with no aim in mind. She was working as a waitress for her brother. Then, in 2015, she decided to upload videos to her channel following her twin sister Mayra who was doing YouTube since 2012.
She did a DIY slime video from a simple recipe she had found on Pinterest. The video blew up and went viral. She had never expected it to do so well. Since then, her channel has gained a lot of traction.
Another YouTuber:- Shane Dawson Dating Status Now, Gay, Engaged, Net Worth, Height
The channel soon grew to over a million subscribers very quickly, and people started calling her the Slime Queen. Her social media following also increased by leaps and bounds.
As of January 2020, she has over 1.1 million followers on Instagram. 
Married, Boyfriend
The Slime Queen is married to her longtime boyfriend, Raul Aguilar; the two had been engaged since 14th February 2018.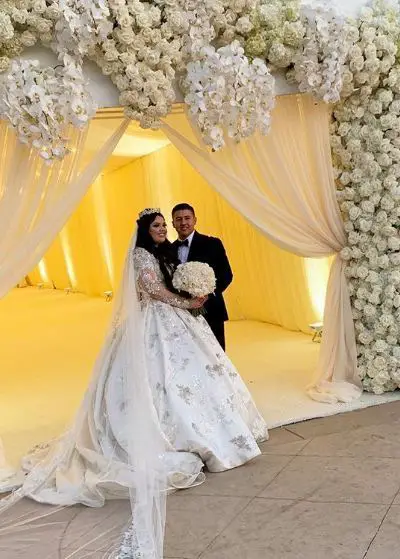 Karina Garcia with husband Raul Aguilar during their wedding on 7th April 2019 (Photo: Karina Garcia's Instagram)
They started dating from the 3rd of November 2012. The two finally tied the knot on 7th April 2019 after seven years of dating.
About Husband
Raul Aguilar, also known as SquishyBunnii, is an Instagram star. He also has a YouTube channel called Squishy with over 200K subscribers.
He rose to popularity by selling his homemade creations. Later on, he was introduced to slime business by Karina. As of January 2020, he owns his own slime shop.
Books
Karina has published two books on slime and one on DIY craft. They are named Karina Garcia's DIY Slime, Karina Garcia's Next-Level DIY Slime, and Karina Garcia's Must-Try DIYs, respectively.
The first two feature 15 slime recipes each while the last one contains 20 crafts and life hacks.
Craft City Life
Craft City Life was launched in October of 2017. It sells slime kits, lip kits, bath bomb kits, among other things.
DIY For Your Home:- In-Budget DIY for Home Interiors Designs To Change Your Home Look For Good
Initially, its products were exclusive to Target, but now, they can be found at other retailers like Michael's, Jo-Ann Store, and Ross.
Interesting Facts
Karina stands at the height of 5 feet 5 inches (1.65 meters).

She bought a house for $1.7 million.

The popular YouTuber lives with most of her family.

She has lots of chicken and rabbits.