Entertainment
Karlee Steel, 19, Dating Bliss With Boyfriend – Then This Happened!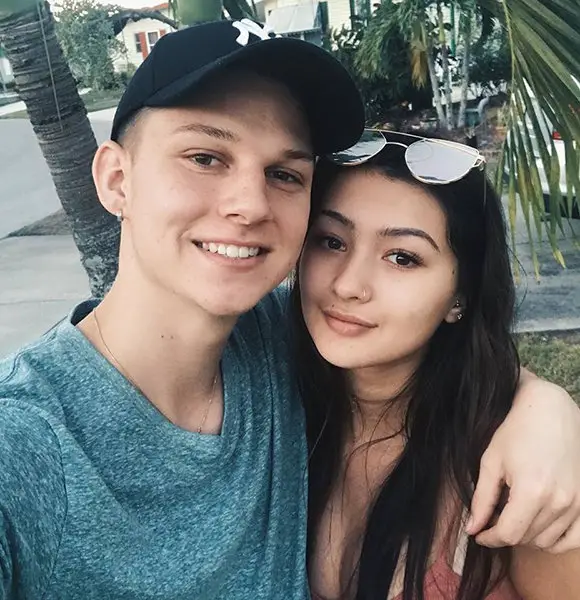 YouTube and YouNow star Karlee Steel, who has gained fame across multiple platforms, was all loved up and kept flaunting her relationship details with her boyfriend who she first met on social media itself.
But when the couple embarked into the years of relationship, they found some differences and drifted their way.
So today, we will be shedding some light on the stars romantic dating life and the split reason. 
Dating Life Started In Social Media; Boyfriend Insecurities Leads To Split
Aspiring YouTuber Karlee Steel enjoyed a romantic dating life for two long years with another YouTuber, Conner Bobay after they first met virtually on Twitter and slid into the direct message. Later they met in person during playlist live in Washington DC and had their first date in Boston in 2016.
YouTube Personality:- Gabbie Hanna Stole A Boyfriend! That's Right - Age, Sister, Net Worth & Facts
However, the couple first flaunted their relationship officially when Conner took it to his Instagram and shared a picture with Karlee back in September 2016.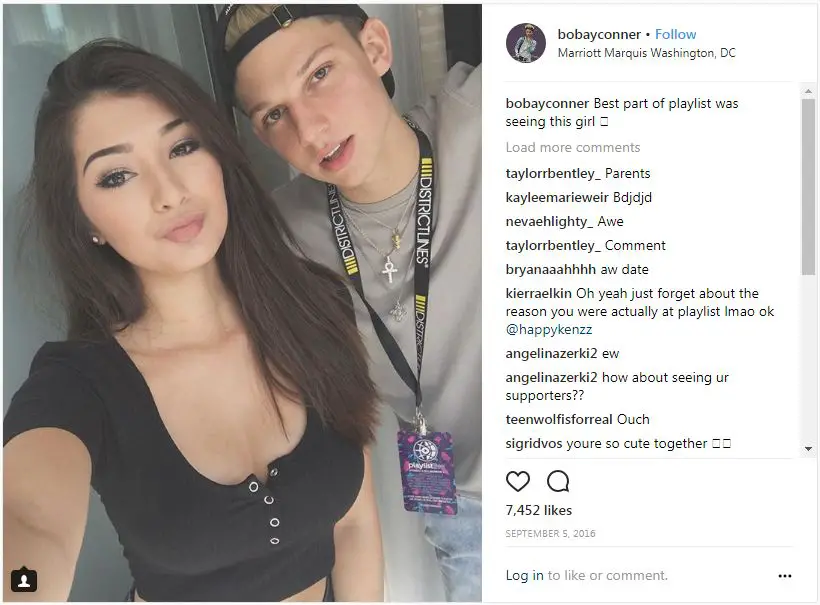 Karlee Steel, former boyfriend Conner Bobay first picture together (Photo: Conner Bobay's Instagram)
Since then the couple was seen together sharing pictures on Instagram and in some videos on YouTube. Likewise, back in July 2017, Conner Instagrammed the adorable snap with Karlee and said that she was the companion of his life.
Conner dedicated an affectionate message to Karlee in the caption, where he wrote, he would trust and honor her, stand by her through the best and the worst through the difficult and the easy.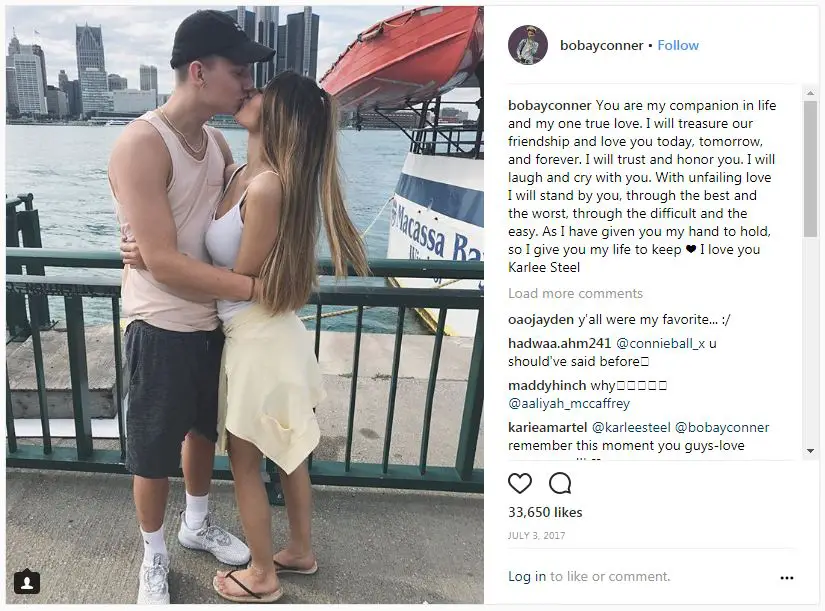 Conner Bobay calls Karlee as a "companion of his life" (Photo: Conner Bobay's Instagram)
Likewise, on December 2017, Karlee and Conner shared a boyfriend tag video on their YouTube channel through which it was known that Conner has already met Karlee's father twice. 
Meanwhile, with the beginning of 2018, Conner took it to his Instagram and shared a picture with Karlee expressing that he was blessed to have stepped into 2018 with the same woman he started the year 2017 and he wanted their relationship to keep continuing. 
Dive In:- Dominique Sachse Age 51 Hair Tutorials & Married Life With Husband
However, the same bliss didn't follow the couple to the end of the year 2018, the fan-favorite couple went onto the riot which exclusively broke them apart. On 20 December 2018, Karlee shed the light on her breaking relationship with a long-time boyfriend via a tweet.
She asked Conner not to block her and redeem their relationship of two years once again. While she was trying to protect the relationship, it seems things didn't work between them.
Again on 24 December 2018, she tweeted concerning about Conner's insecurity and possessive nature. She says, she was always loyal towards him but if she hangs out with any other guys, he starts to call her with derogatory names.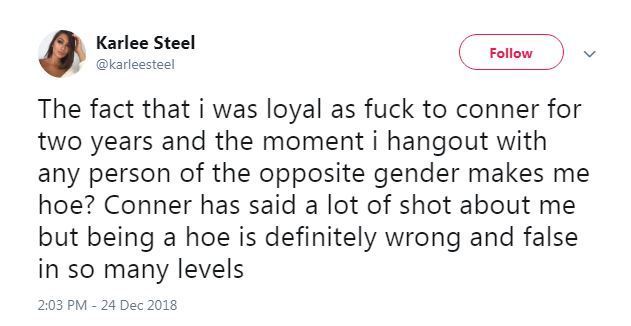 Karlee Steel talks on the split with boyfriend (Photo: Karlee Steel's Twitter)
Since the two years of relationship didn't sustain for long, Karlee expressed her pain via a song in the YouTube on 3 January 2019. She marks him as the selfish person who never defended her once.
Also, she says she helped him to "reach his dream" and opened many doors for him but he closed all of them. Also, she added she is "flying free" as this chapter is "finally over."
Another Split:- Carli Bybel Age 28 Dating; Real Reason She & Boyfriend Break Up
More To Know About Karlee Steel
Karlee who holds a Canadian nationality and stands at the height of 1.7 m (5 feet 8 inches) was born on 25 September 1998 in Windsor, Ontario, Canada. Karlee has three sisters and currently resides in Michigan, USA.
Moreover, Karlee became an internet sensation while she was just in her teenage, though she was not so serious about making her career online.
In January 2013 she came up with her YouTube channel when she was fourteen years of age. Karlee's videos were an instant hit, and her viewers started to multiply every minute. Later on 31 December 2016, she launched a joint YouTube channel with her boyfriend, 'Karlee and Conner' which has over 1.3 million subscribers.
Meanwhile, besides being an internet sensation, she is also a sales advisor.