Entertainment
Gabbie Hanna Stole A Boyfriend! That's Right - Age, Sister, Net Worth & Facts
Everyone knows Gabbie Hanna as a fun-loving YouTuber sharing humor-filled videos on Vine and other social media sites. While she charms the viewers with her charming persona, her past was rarely a matter of curiosity to her fans and admirers.
The beautiful American internet personality has a darker past as once she envied one of her best friends' relationship to the point of stealing her pal's boyfriend. Her action undoubtedly ruined her friendship, but that's not much of a concern for her as Gabbie's friend could be equally responsible for the infidelity. 
Further, Gabbie also mourns for her ex-boyfriends, sometimes even wondering how she could be blind enough to date those guys.
Liar Ex-Boyfriend; Cheats While In London
A popular kid in high school, Gabbie never had to face the shortage of a boyfriend in her life. Although she doesn't pinpoint her ex-boyfriends by name, she loves sharing exciting moments of her lovelife.
Gabbie once mentioned that she had an ex-boyfriend during her college years at the University of Pittsburgh, whom she had taken for a free trip to London. The guy, "a pathological liar by nature," was less than grateful towards his girlfriend for the tour and was caught talking to a girl behind her back by Gabbie.
Cheating Ex-Boyfriends:- Masika Kalysha Is Done With Cheating Boyfriend! Stay Single Rather Than Dating?
Further, the YouTube star has also talked about two of her ex-boyfriends, whom she can't believe she dated at some point. Gabbie has often questioned her choice of boyfriends at her younger age.
Best Friend Accuses Of Stealing Boyfriend; Dating Status Now
When it comes to discussing her personal life, her feud with one of her former best friends over a boyfriend can't be missed. Gabbie, via a YouTube video, mentioned that back in the past, she and her friend used a dating app which matched her pal with a guy. The boy, unfortunately, had also been matched with Gabbie and had even chatted with the social media personality.
While Gabbie's friend was dating the guy, she organized a barbecue and invited Gabbie, the boyfriend, and some other folks. The group planned on playing ping pong and Gabbie got teamed up with the same man by the friend herself. As the Pennsylvania native and her friend's lover waited for their turn, he offered her wine, and she accepted without any hesitation.
The nightmare followed the next day as Gabbie received a lengthy message from her best friend accusing her of flirting with the guy and even stealing the boyfriend. However, after the incident, Gabbie kept her distance from both of them. 
Over the years, Gabbie seems reluctant to have a loving relationship probably due to her past with the former boyfriends. She once even joked about wanting a boyfriend due to the cold weather but later dismissed it saying that a coat was better. 
Single Life Rocks:- Lauren Southern Talks On Why She Isn't Married & Has Husband, Staying Single!
At the moment, the Viner is reportedly single and has shown no enthusiasm in having a romance in her life. Further, she is less active on dating apps these days probably because of the incident with her friend's boyfriend and may be trying to keep a low profile.
More About Gabbie Hanna: Age, Net Worth, Feet Size, And So On
Gabbie, who possesses a Lebanese ethnicity is one of the two members of the Hanna family to achieve success on the internet. Among her six siblings, Gabbie's younger sister, 16-year-old Cecilia Hanna, has been making her presence felt in the TikTok community with over 260,000 fans.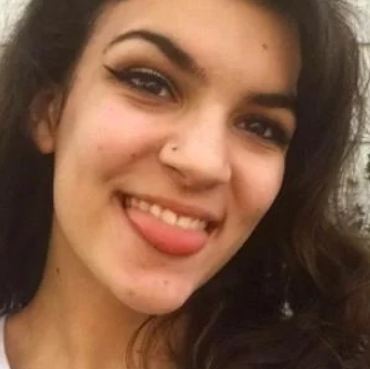 Gabbie Hanna's sister Cecilia Hanna in 2018 (Photo: FamousBirthdays.com)
However, Cecilia's fame is nothing compared to her elder sister, who has already accumulated a net worth of $2 million from her videos on Vine and YouTube.
Celebrity Sisters:- Kaitlyn Dever Age 21 Flaunts Sister Bond, Net Worth & Parents Status | Details
Gabbie, who is set to celebrate her 28th birthday on 7 February 2019, is also praised for her hot looks and devil-may-care attitude. Over the years, she has kept her weight in control and currently weighs 143.5 pounds (65 kgs). Further, she wears shoes of US size 9.5 to cover her huge feet size.