Kathleen Zellner shot to fame via her stint in Making A Murderer season two. Her appeal for exoneration of Steven Avery in Netflix's docu-series won the heart of audiences across the world.
Prior to her TV career, she was busy freeing wrongfully convicted individuals via her law firm, Kathleen T. Zellner & Associates P.C. Till date, Kathleen has managed to free 17 men and win almost $90 million from medical malpractice and wrongful conviction cases.
What Is Kathleen's Age? Face Details
The attorney is 62 years old according to her date of birth, 7th May 1957. While celebrities in the spotlight tend to go to massive length to hide their age via cosmetic procedures, Kathleen is not a bit worried about such business.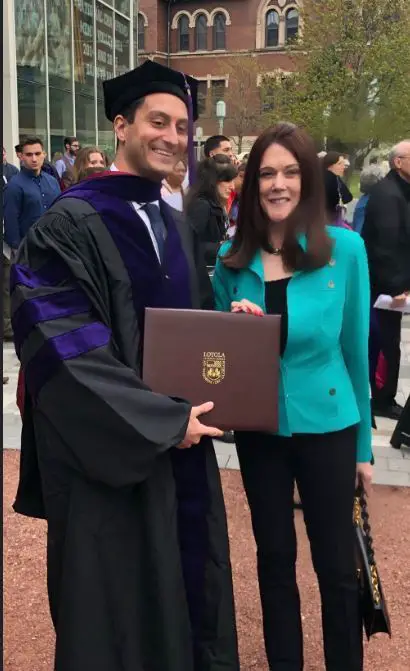 Kathleen Zellner smiles with a fresh law graduate and exoneree, Mario Casciaro in May 2019 (Photo: Kathleen Zellner's Twitter)
Well, the empathetic lady has not undergone any plastic surgery operations to cover the wrinkles on her face. Instead, while presenting her arguments on the court, she puts on a bold face and presents her cases without any vanity.
Married Life With Husband
Kathleen's husband is Robert Zellner - CEO of CitiCorp Futures Inc. and CitiCorp Options. The pair met when the Netflix star moved from her hometown, Texas to Wisconsin to attend Marquette University.
Actress With Twin Name:- Kathleen Rose Perkins Too Smitten To Get Married! Possible Boyfriend Clicks
Although she ended up completing her education at the University of Missouri, the initial move worked in the couple's favor.
The young pair got married after Kathleen completed her first semester. And, the marriage set the course of her personal and well as professional life as it was Kathleen's husband, who suggested that the young lady study law.
Taking up her husband's advice, Kathleen took up law school and completed her degree from Northern Illinois University College of Law in 1981. She worked tirelessly in firms like 2nd District Appellate Court justice for nine years.
Then, in 1990, the attorney started her own company, Kathleen T. Zellner & Associates P.C.
Like her professional life, Kathleen's personal life is also a success. She shares a daughter named Anne Zellner, with her supportive husband, Robert. Interestingly, Anne is also a lawyer based in Denver.
Salary & Net Worth
Since the time, Kathleen took on bullies from middle school to high school, she has always been a protector of people in need. As life played out, she ended up becoming the voice of the falsely convicted criminals.
However, when the first season of Making A Murderer came out, she was not a part of the hit show.
She watched the program in her house and became fascinated with it. Then, things worked out, and Kathleen became a part of the pathbreaking, Making A Murderer in 2018. Now, as a sucessful attorney, Kathleen boasts a salary of $117,188 per year, which adds to her net worth.