Entertainment
Katie Lee Keeps Her Alleged Boyfriend A Mystery! Moved On After Ending Married Life with Singer Husband?
Some celebs don't like to publicize their dating affair and are just used to placing them under the wraps. But no matter what, a celebrity's life is more or less will be in the eye of the public. Well! That is somewhat a cost which they pay for the limelight and fame they have earned.
But is the American cook book author Katie Lee trying to keep her personal life as secret as the depths of the grave? After the divorce with singer husband, has the television food critic, Katie Lee opted to keep her boyfriend behind the veil? With the information of her parents and net worth, let's scrutinize the details of her private life.
Already divorced with singer Husband but has a Boyfriend now?
The Food Network host, Katie Lee, is famous for her cook books and TV appearances, along with her past married life with singer Billy Joel.
After dating for a year, the 35 years old food critic Katie got married to songwriter Billy Joel on 2004 in a lavish wedding ceremony, which was attended by now president Donald Trump.
When they exchanged the wedding vows, Katie was just 23, and Billy was 55, which means the age difference between them is 32 years.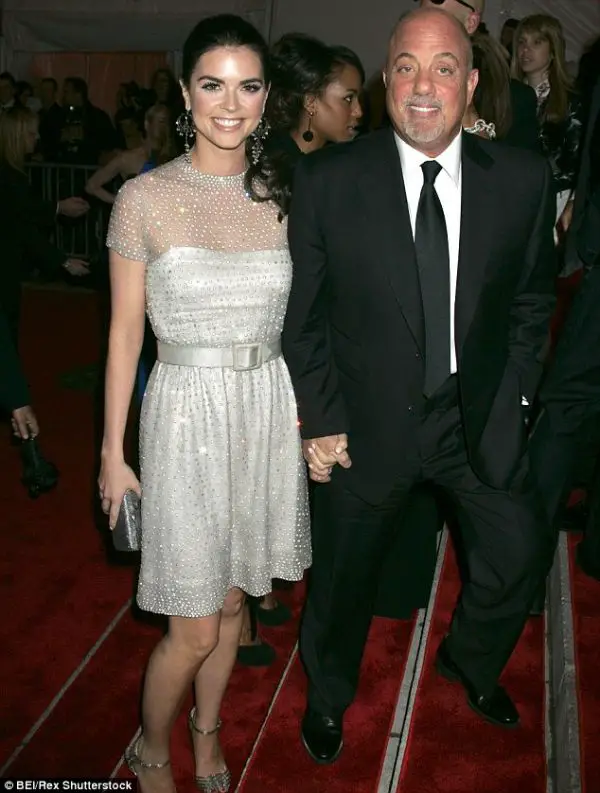 Caption: Sharing a smile: Katie Lee and her then husband Billy Joel were spotted together in New York City together in 2009.
Photo Credit: Daily Mail
While Katie was married to the wealthy man Billy, she admitted that her last name helped a lot to pursue her career. She shrugged,
"I'm the first person to say having that last name helped me get a foot in the door, but I feel like I can stand on my own two feet working toward my dreams."
Sadly, the marriage unraveled, and the pair headed for divorce and separated officially on 2009. For that, the former husband and wife released joint statement in June 2009 that said,
"After nearly five years of marriage, Billy Joel and Katie Lee Joel have decided to separate. This decision is a result of much thoughtful consideration. Billy and Katie remain caring friends with admiration and respect for each other."
Though the couple mentioned that they separated amicably, but there was a circulating rumor that the closeness of brunette beauty with designer Yigal Azrouel has a lot to do with Katie's separation with Billy.
In an interview on April 2015, Katie shared warm and optimistic words for her ex-husband's girlfriend of years, Alexis Roderick, when she was pregnant with their first child together.
"I'm really happy for them. He's a great guy, he deserves all the happiness in the world, and he's a terrific father, so I'm really really happy."
After Katie Lee had moved on from divorce, she was tagged along with Will Arnett. Reportedly on January 2017, the West Virginia-bred was spotted with a mystery man.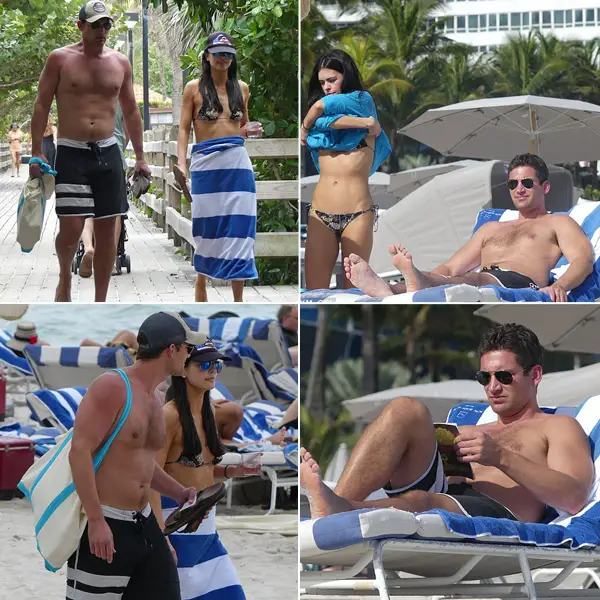 Caption: Katie Lee was spotted with a mystery man earlier this year.
Photo Credit: liverampup.com
However, "The Kitchen" co-host hasn't confided much about her relationship status, so far. Hopefully, she will come out with the fact about her dating life and boyfriend, shortly.
More about Katie Lee:
Born on September 14, 1981, Katie Lee is a television personality known for her work in several TV shows and her books. She was born to parents, Kim Becker and Steve Lee.
The West Virginia, Milton raised author went to Miami University to study journalism and food science and graduated from there in 2003.
The one with Asian-American ethnicity, Katie has worked in several restaurants and liquor stores. She started her professional career as TV personality in 2006, hosting the first season of Bravo's Top Chef.
Lee has also served as food and lifestyle contributor for The Early Show. She has appeared on Extra as a special correspondent. Further, she is also a co-host of "The Kitchen" and "Beach Bites with Katie Lee."
Caption: Katie Lee co-hosts the Food Network's "The Kitchen." (Video Published on Jan 22, 2017)
This TV host released her first book "The Comfort Table" and later in October 2009, published her second cookbook, "The Comfort Table: Recipes for Everyday Occasions."
Simon & Schuster published both of the books. Then, she released her first novel titled "Groundswell" in June 2011. On April 14, 2015, she has published her third book "Endless Summer."
All the work as author and TV host, Katie Lee has managed to accumulate an impressive amount of net worth of $ 10 million.
Stay with us for the latest updates on Katie Lee!