Katie Stevens Says Dating Affair With Boyfriend Is Laid-back! Something She Always Wanted. Katie Stevens did not go all the way, but International certainly did make a name for herself. But she then ventured into the acting industry, and she was able to cement her place there was well. Mega hit series like "Faking It" is enough to show how skilled she is in the acting field as well. But did you know, she has a boyfriend who she feels lucky to be dating? Well, now you do!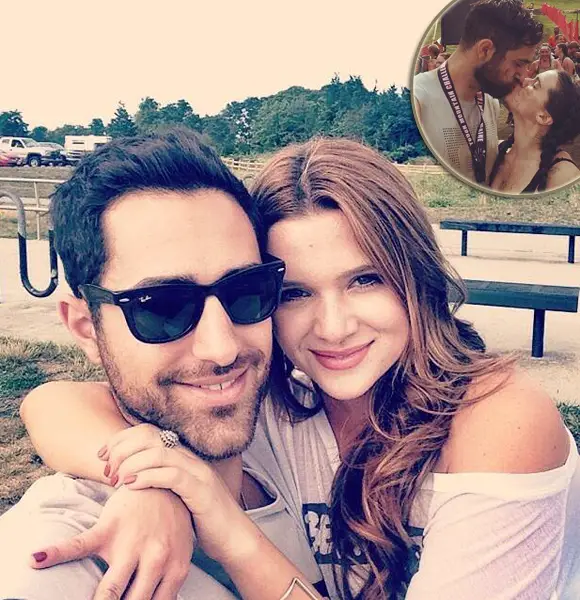 Singing is all about the vocals and ranges, and one person who has been nothing sort of singing reputation is Katie Stevens, who made a name for herself with her fantastic pitch and scales in the ninth season of American Idol.
She did not go all the way, but she certainly did make a name for herself. But, she then ventured into the acting industry, and was able to cement her place there was well.
Megahit series like Faking It is enough to show how skilled she is in the acting field as well. At the same time, many of her fans have wondered about her relationship status over the years and her life off-screen.
So let's take a look at the slightly "laid-back" relationship between Katie and her boyfriend.
Laid-back Yet Beautiful Dating Affair Between Katie Stevens & Boyfriend
Katie Stevens has been dating Boys Like Girls' lead guitarist, Paul DiGiovanni, since 2014. 
The two have been dating, but they are not an exclusive couple who do the same thing, and that is what she always wanted to have.
She made it clear in an interview with Cosmopolitan during late 2016 about what she always desired for, is what she has now.
I am now dating someone who gets it, but I remember I was dating someone who was trying to do the same thing as me, and I think it was less about class but more about opportunity, and because I had been given opportunities to audition for things that they wanted to go out for — then that was where egos got in the way. I should want to tell the person that I'm dating cool things that are happening in my life or cool things I get to audition for, cool opportunities, but it was one of those things that I would want to not tell them about it, and that's not how it should be.
She then added,
You want someone who gets it and is in the industry, but at the same time you don't want someone who's going to be envious or have some sort of resentment toward you. So I'm lucky enough now that my boyfriend [Paul DiGiovanni, the lead guitarist for Boys Like Girls] is a musician and he was in a band that toured for eight years, so he gets it — he gets having to travel, he gets having to work long days — but we don't do the same thing. 
That is the thing that helped them blend so well.
Engagement & Wedding 
After dating for more than four years, Katie's partner had decided to spend the rest of his life with her. So, she received a proposal that resonated with something straight out of a romantic movie. Her partner  Paul had handed her a card with instructions to open it only after his instructions to open it.
So, on New Year's Eve of 2018, during their trip to Switzerland, he allowed her to read the words in the cards.
Engaged In New Year :- Skylar Astin Wife, Girlfriend, Net Worth
To her surprise, the card read  'Katie, marry me?' and her answer was evident than ever. Finally, a year later, on 12th October, the pair gave a new start to their life in front of their loved one, saying their 'I do.' Consisting of 250 guests, their stunning stylized wedding was held outside Nashville.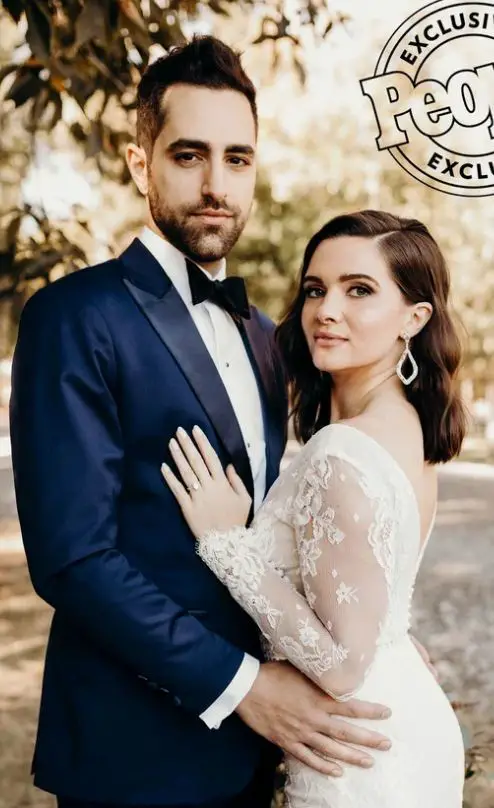 Katie Stevens and husband Paul DiGiovanni as seen during their wedding day on 12th October 2019 (Photo: people.com)
Interestingly, in honor of her lover's late mom, the actress had a very emotional and thoughtful surprise on the auspicious occasion. In the groom's custom-made outfit by BJ Gray of Grayscale suit, she ordered the designer to sew a piece of his late mother in law's wedding dress in the inside pocket of the jacket.
Likewise, Katie could be seen donning long-sleeved white Flora gown with L'Dezen jewels to accompany her looks.
Also, she paid tribute to her family by wearing a veil that belongs to her mother during the ceremony. After the formal reception, her partner's bandmate Martin Johnson and John Keefe( from his band Boys Like Girls) gave an exceptional performance for the groom and bride.
Family Life Of Katie Stevens
Born on 8 December 1992, in Southbery, Connecticut, Katie Stevens is an actress and a singer. She is known for her participation on American Idol and her roles in hits like The Bold Type and Faking It.
She is the daughter of Mark Stevens, her father, and Clara Francisco, her mother, and also has a brother named Ryan. 
She has a tremendous amount of love for her parents, and an example of that was seen when she shared an adorable snap of her holding hands of her father on the occasion of International Father's Day.
Spent Quality Time With Dad On Father's Day:- Alexa Nisenson Age, Parents, Boyfriend, Now
She loved her mother equally, as she shared a similar sort of collage on her Twitter to wish her mother on the occasion of International Mother's Day.
She certainly has a huge amount of love for her family!