Daniel Theis, the power forward and defensive specialist, made his NBA debut with the Boston Celtics in October of 2017.
After spending most of his life in Germany, moving to Boston must have been challenging for Daniel and his family. But, thanks to the organization taking care of its players, the transition was much more manageable.
Early Life & Career
Daniel Theis was born in Salzgitter, Germany, on 4 April 1992. He grew up in the care of an older brother named Frank Theis. The two siblings have an age gap of 10 years. Frank, too, used to play basketball and wanted to be like Michael Jordan.
Daniel, on the other hand, was in love with soccer in the beginning, but his family wanted to change his passion for basketball. His father offered to purchase everything he needed if he decided to pursue basketball. Daniel reluctantly agreed, but a significant reason for the change was the desire to become like his brother.
Daniel followed his brother everywhere for his matches. And, any free moment Daniel would get, he would start shooting jump shots.
Though Daniel may or may not have finished college, it is known that he graduated high school in Germany.
Eventually, Daniel turned into the athletic hunk with a height of 6 feet and 8 inches (2.03m). And, when he turned 18 years old, the athlete joined the second-division team in Braunschweig, further progressing to the first division.
Daniel was living and playing in Bamberg when Boston Celtics expressed interest in him. He signed the deal, starting his career in the NBA.
Another Boston Celtics Player:- Jaylen Brown NBA Stats, College, Contract, Salary
His distinct tattoo on his right arm makes it easier for fans to spot him amidst other players.
Wife & Family
Through Daniel's Instagram, one can find out that he is married to his sweetheart Lena Theis, who also holds German nationality. The two lovebirds tied the knot on 20 June 2014.
The husband-wife duo shares a beautiful daughter, born on 27 March 2016. The lovebirds gave named their lovely daughter, Laila.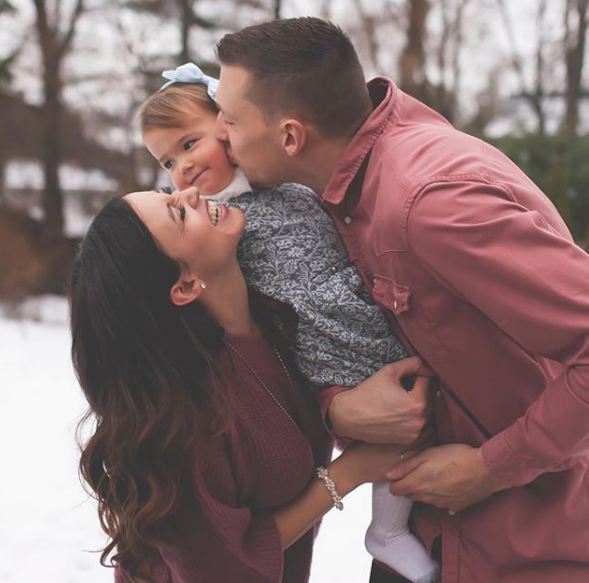 Daniel Theis with wife Lena Theis and daughter Laila in 2018 (Photo: Lena Theis' Instagram)
The family is often seen going on vacations and having a perfect time on different occasions through the couple's Instagram handles.
But the family's happiness does stop there. Daniel's wife, Lena, shared an extraordinary picture on 18 October 2019 on her Instagram handle. The photo showed the husband and wife glammed up at Shamrock Foundation Gala 2019. But something that instantly caught the eyes of their fans is the baby bump Lena proudly showed off.
Yes, the duo is pregnant with their second child. But, when the baby is due, or the gender of the baby is not revealed yet. Hopefully, everyone will be able to witness the gender and name of their baby soon.