Finnish TV host-reality star Sauli Koskinen is a well-known figure in Finland. But, once he started dating a famous singer, he became an international sensation overnight.
Although Sauli is no longer together with his then-boyfriend, he still maintains a close friendship with the former partner. Meanwhile, is the reality TV personality dating anyone at the moment?
Former Boyfriend, Dating Status Now
Though Sauli has an identity of his own, he is mostly recognized as the ex-boyfriend of American singer/former American Idol contestant, Adam Lambert. The former couple started dating in November 2010, but their relationship only caught the limelight when they got arrested together in 2011.
Sauli and his Whataya Want From Me hitmaker ex-boyfriend were indulged in a couple's fight at a local gay club called DTM (Don't Tell Mama) in December 2011. The brawl, which was more physical than verbal, witnessed former Miss Helsinki Sofia Ruusila get a blow to her face from Adam.
No Shame In Being Gay:- Openly Gay Lance Bass & Husband | Wedding, Net Worth & More
Both Sauli and Adam were arrested at the location and were released after only a few hours. The couple immediately worked their issues out and even issued a public apology for the incident.
By Christmas 2011, the two were back together again; they also celebrated the festival with Sauli's family.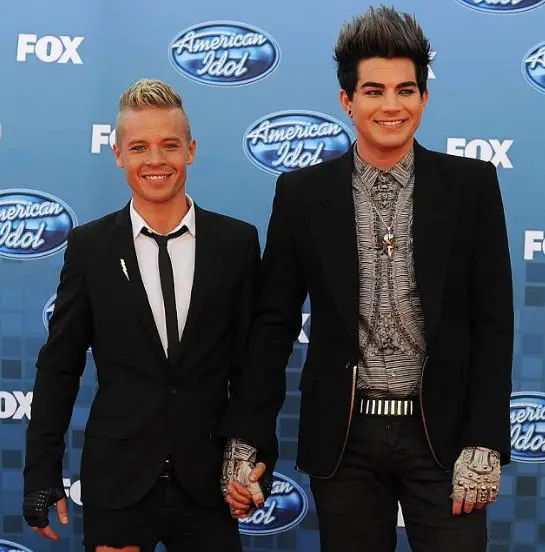 Sauli Koskinen(right) and Adam Lambert at an event hosted by American Idol (Photo: GettyImages)
At the time, it seemed like the duo was inseparable. But, as everything has its expiry date, so did their relationship. The former lovers bid farewell to their romance in 2013 after three years of dating and cited their busy schedule as the reason for their separation.
While Sauli and Adam remain good friends despite their split, Adam, who has a net worth of $25 million, eventually moved on with his life and is dating model Javi Costa Polo at the moment.
Meanwhile, Sauli is reportedly single.
Sauli Koskinen Age, Family, Net Worth
Sauli Koskinen was born in Hyvinkaa, Finland on 28 March 1985 as the son of Osmo Koskinen. His father works in a trading company, where he had also worked for a while.
His family, aside from parents, consists of two older sisters including a twin sister named Sara.
Sauli, who possesses a Caucasian ethnicity, is a Finnish by nationality.
Discover:- What Is Steffiana de la Cruz Nationality & Ethnicity? Bio & Children Info
A TV host by profession, Sauli is a reality star, who has participated in shows like Big Brother Suomi. He won the 2007's season of the TV program. Further, he has been featured in several other shows including Saulin Paras Kaver, Sauli and Niko's Best Clips, Tutka, and Dancing on Ice Finland.
The TV presenter - who stands at an average height of 5 feet and eight inches - has also accumulated a substantial fortune for his career. However, the amount of his net worth is still under review, although it's supposed to be a few million.