Entertainment
Katrina Pierson Dusts Off Failed Married Life! An Affair To Forget It All?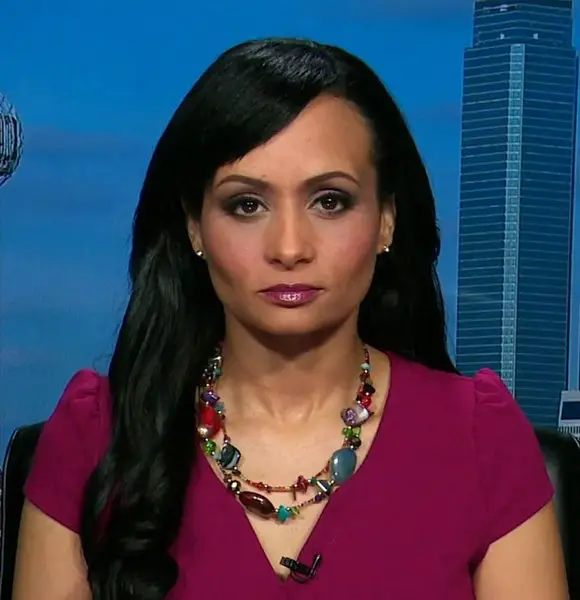 Communications consultant, American tea party activist, Katrina Pierson had her share of ups and downs in life. She is proceeding forth in her career all firm but experienced a failed marriage as far as her personal life is concerned.
A failed marriage indeed should have caused Katrina some distress, but as the time has passed by, Katrina now has baffled her fans, as the rumor regarding her affair with a new guy swirls around the media. 
But is the rumor true? Has she found love again dusting off her failed relationship? Stay till the end and find that out!
Katrina Pierson In Affairs Long After Failed Married Life
The rumors came to light about Katrina and Anthony Scaramucci, an American financier, after they were spotted having dinner at Trump Hotel's BLT Prime restaurant in Washington on 1 August 2017.
They were then suspected to be dating each other, as the reports stated that the two were secretly dining together at the hotel.
Katrina with rumored boyfriend Anthony (Photo: Gossipcop.com)
Later, Katrina then tweeted about rumors of her dating affairs with Antony in a sarcastic manner. She wrote,
How does one "secretly" dine at the #TRUMP hotel??  #MAGA
Similarly, talking to Gossip Cop, Katrina cleared the air regarding the speculations made between Anthony and her. When asked about the truth behind the relationship rumors, Katrina stated,
"We are NOT dating.Never dated, won't be dating. We are political friends and media colleagues."
Meanwhile, the next day after the duo was spotted having dinner, Anthony was reported to be dating another lady, a FOX News anchor Kimberly Guilfoyle, which finally settled down the matter between Katrina and Anthony.
Talking about Katrina's past marital affairs, she was previously married to a guy named Christopher Pierson in 1997, a year after giving birth to their son in 1996. However, the two divorced just three months after tying knots, and the reason behind the split remains confined. 
She had struggled through a lengthy court conflict with her ex-husband over custody of their son. She even accused the judge in her custody case of having a political bias against her!
But that was what her past held. As of now, Katrina has not been encountered romantically with anyone. She possibly might be dating somebody out of the limelight, but that's just a mere speculation until Katrina sheds light on the subject.
More About Katrina Pierson
Katrina Pierson, 41, who serves as the national spokeswoman for Donald Trump's presidential campaign, was born on July 20, 1976, in Kansas, United States of America.
Talking about her family, she belonged to a lower middle-class family including her African father and an American mother. She was even given away for adoption due to poverty but was brought back later.
At the age of 20, she got arrested for stealing $168 from the J.C Penney store in Taxes. The incident indeed left an impact on her life as Katrina later expressed that her mistake helped her make her life better. 
After the realization, she did several jobs in a short period. After completing her graduation with the bachelor's degree from the University of Texas at Dallas in 2008, Katrina worked with inVentiv Health Incorporated.
Later, she started her career as a practice administrator in Baylor Health Care System from July 2009 to August 2011. In the year 2009, Katrina worked as an activist at Tea Party Movement. She also worked as a director of corporate affairs for ASG Software Solutions until the end of 2012. 
With her contribution in different professional fields, Katrina has secured sound finance to her name, which reflects in her net worth of $500 thousand.
Think we're missing something? Do let us know in the comment section below!