Entertainment
Katrina Weidman Married & Settled Or Engaged In Casual Dating? Status Now
Paranormal investigator, Katrina Weidman became a fan favorite when she appeared on the TLC's paranormal show, Paranormal Lockdown...Katrina has not disclosed many details about her mysterious partner, but...Katrina is a married woman...where is the husband?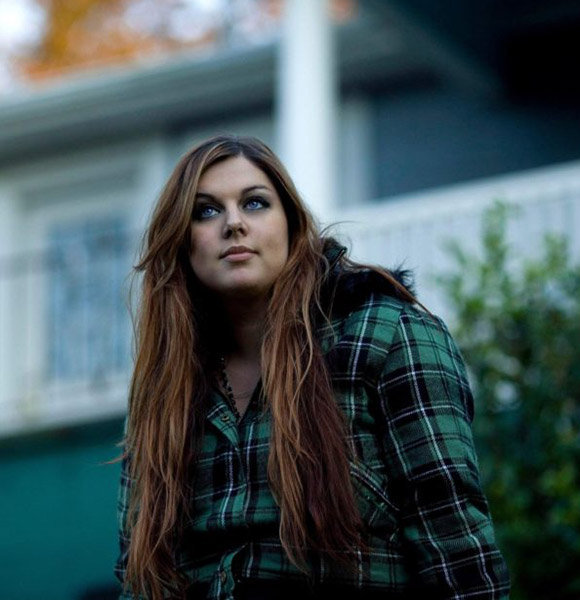 Paranormal investigator, Katrina Weidman became a fan favorite when she appeared on the TLC's paranormal show, Paranormal Lockdown. The show features Katrina and her co-host, Nick Groff getting locked down in a possible haunted location for 72 hours.
But, what has more amazed the fans is the personal life of Katrina and her dating profile.
Katrina, who often posts ciphered quotes regarding her love life on social media, has made many fans wonder if the investigator is dating in real life.
Mysterious Dating Life; Getting Married In The Future?
Katrina has been taking a casual approach while mentioning her love life. Although she has hinted about having a boyfriend several times and also revealed his face on one occasion, Katrina has not disclosed many details about her mysterious partner. 
You May Also Like:- Has Zak Bagans Married His Fiance? Also Talks About Thoughts On Demons And Haunted House
On 6 January 2016, she posted an Instagram picture of a man calling his her boyfriend.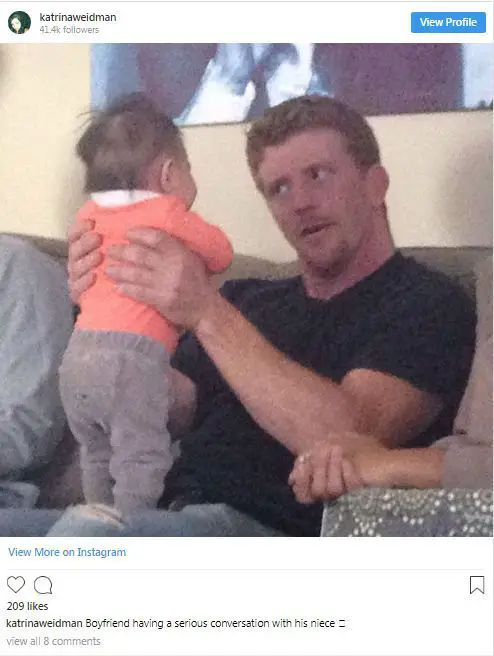 Katrina displays her mystery boyfriend on 6 January 2016 (Photo: Katrina Weidman's Instagram)
However, this wasn't the first time Katrina had talked about her life. Nearly six years before revealing the face of her mystery boyfriend, she had posted a cryptic message about her married life on Twitter, which is open for interpretation to this day.
On 24 May 2010, she wrote in the tweet,
"Got married a few months later and were married for 20 years....I guess when you know you know <3"
Well, it's not apparent if the tweet was meant as a joke or if it was a code when decoded could unlock the mystery of time and space, as clearly one can't be married for 20 years if one was about to marry after a few months.
And if her claims are true and Katrina is a married woman, where is the husband? Did she feed it to the demons?
See Also:- Frances Conroy and All The Quires Related To The Accident That Caused Her One Eye To Be Different Has Been Revealed
On one of her another tweet, Katrina mentioned that she had her first crush at the age of three with a boy named Marky, who according to her is now a member of a cult.
Katrina even disclosed that she had her first boyfriend named Justin when she was in the second grade.
"My 1st was Marky when I was 3 :) He's in a cult now RT @LDG22381 young love. I had my first boyfriend in second grade. His name was Justin"
Although Katrina has not talked much about her boyfriend, she hinted in a tweet that her furtive boyfriend could be a native of Ireland.
When a fan asked Katrina and her co-star, Nick Groff to explore Northern Ireland for possible paranormal investigations, she mentioned that her boyfriend had many family members living there. But, she added that her family had a curse that originated from Ireland. In the post tweeted on 6 January 2017, she wrote,
"Would love to! My boyfriend still has a lot of family over there & my family has a curse that goes back to ireland"
With Katrina concealing much information about her partner, it can only be concluded that she has not yet reached the place in the relationship where she can openly flaunt about her boyfriend. At the moment, she is engaged in a casual dating and may take some time before deciding if the romance is worth all the troubles.
Supportive Family In Paranormal Career
Katrina, who grew up in Bucks County, Pennsylvania, has always got the support of her family when it comes to her career in the paranormal.
The Paranormal Lockdown host first got involved in the supernatural during her college years when she joined the Paranormal Research Society (PRS) and worked as the case manager taking interviews of eyewitnesses. 
Don't Miss:- Carlos Correa Engaged To Girlfriend Is Dream Come True! Wife-To-Be Biggest Fan
Katrina later co-hosted the documentary drama, Paranormal State in 2007, a show which showcased the works of PRS. The 36 years aged paranormal investigator joined Nick Groff on the show, Paranormal Lockdown in 2016.
Most recently in January 2017, Katrina and Nick investigated a Bellaire, Ohio home which is claimed to be one of the most haunted houses in America. 
Katrina had her first experience with the paranormal when she was a little girl of age 4. Katrina claims that her older sister saw a girl in her bed, who she assumed was Katrina but when she went downstairs; she saw Katrina playing with a puzzle downstairs.
Katrina reveals that her sister also saw a manly figure in their first home on several occasions. She further claims that her mother's side of the family has been prone to several such experiences, due to which they accept Katrina's life choices.