Entertainment
Kelly Baldwin Bio, Relationship, Net Worth, Joey Fatone
Kelly Baldwin and Joey Fatone were once a power couple in Hollywood. Their marriage was often praised for its longevity and romance. But, as all things end, the same fate waited for the screenwriter and her singer-actor husband.
Joey filed for divorce on 13 May 2019 in Orange County, Florida. Then, the former NSYNC member spoke on the matter at the Critics' Choice Real TV Awards on 2 June 2019.
"I was, at one point, married, and now I am separated, going through a divorce."
While neither Kelly nor Joey has revealed the reason for their split, fans speculate that his girlfriend is the root of all dismays falling on Kelly.
And, fans might not be wrong to assume so as divorce rumors surrounding the once happily married couple were already surfacing in August 2013. However, Joey's girlfriend was out of the picture back then as the two's extra-marital affair started only in October 2014.
But, conclusions can be derived that Kelly and her husband were unhappy for an extended period, although they chose to ignore their differences for the well-being of their two daughters.
Now, that the pair have opted the legal route of divorce, Kelly - age 42 - can finally move on with her life. However, Joey hasn't shied away from flaunting his girlfriend in public as he did back on 2 June 2019; he took Izabel as his plus one at the Critics' Choice Real TV Awards.
Married Life; Kids Plus Daughter's Autism
Kelly Baldwin and Joey Fatone were high school sweethearts, and unlike many such couples, their relationship didn't end in college. The pair were already parents to a daughter named Briahna, born on 21 March 2001, when they decided to get married.
Equally Successful Lovers From High School:- Rugby Player Brogan Watt On Course to Get Married to his High School Sweetheart Emma Bone
The wedding, which took place in September 2004, was a low-key ceremony attended by very few guests. Meanwhile, the match between the six feet (1.83 m) height actor and his shorter wife looked perfect to the spectators' eyes.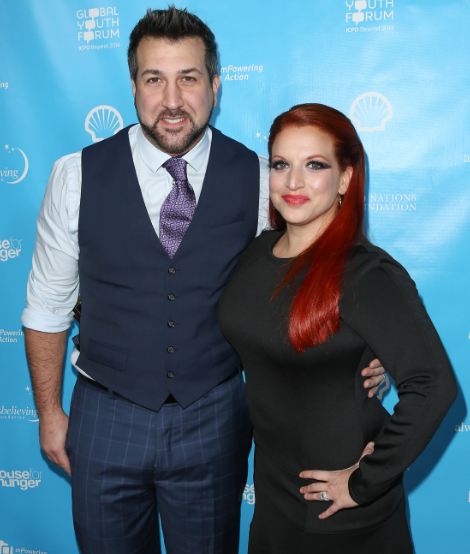 Kelly Baldwin's husband Joey Fatone filed for divorce on 2 June 2019 (Photo: People.com)
Nearly six years after the wedding, the couple welcomed their second proof of love, a daughter named Kloey Alexandra Fatone, on 11 January 2010.
Kloey suffers from high-functioning autism, which was diagnosed sometime after her birth. Briahna, on the other hand, is a healthy teenager who graduated from high school in May 2019.
Celebs With Autism:- Ron Funches Parts With Girlfriend In 2017, Was Once Married, Tinder Love, Autism
As of today, Kelly is focused on raising her daughter, but with the impending divorce, it's not going to be an easy task.
Kelly Baldwin Bio: Age, Net Worth
Kelly, a Florida native, was born on 6 June 1997 to middle-class parents. The details of her siblings are yet to be revealed. Kelly works as a screenwriter, but most of her works are not publicized.
Like other aspects of Kelly's life, her net worth is also a mystery. However, she supposedly makes $78,119 per year. In the event of a divorce, she will own a significant portion of her husband's net worth, which amounts to $14 million.