Entertainment
Ron Funches Parts With Girlfriend In 2017, Was Once Married, Tinder Love, Autism
Ron Funches Parts With Girlfriend In 2017, Was Once Married, Tinder Love, Autism American Comedian Ron Funches revealed in 2015 that he met his girlfriend the modern way, swiping her profile right. But the modern way didn't end here, as the famous comedian chose another social platform, Twitter to talk about his dating experience. We all know that he has a son from his previous wife with whom he separated in 2012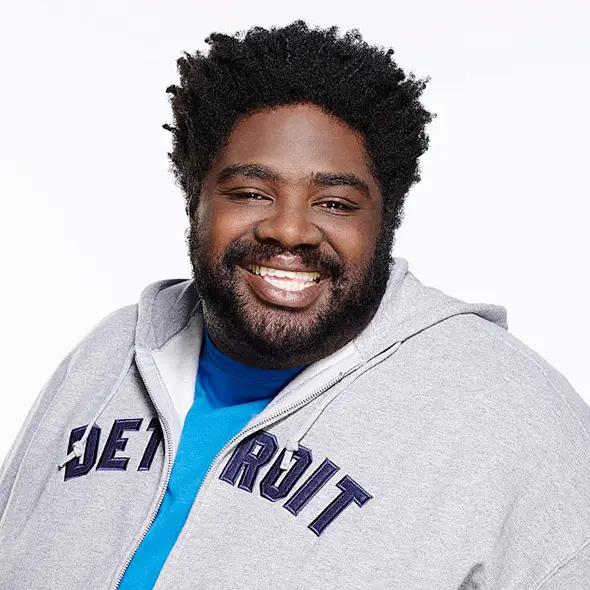 Quick Information
Dating/Affair

No

Official Site

ronfunches.com

Eye Color

Black

Hair Color

Black

Hair

Short

Weight Loss

100 Lbs (2016)

Weight

N/A

Height/ How Tall? 5' 9" (1.75 m)
High School

McKay High School

Career

2006–present

Net Worth

$500 Thousand (Estimated)

Date of Birth Mar 12, 1983
Gay

No

Ex-Wife

Name Unknown

Divorce/Split

Yes (Once)

Relationship Status

Single

Son/s

Malcolm Funches

Sister/s

1

Ethnicity/Race

African-American

Zodiac Sign

Pisces

Profession

Comedian

Nationality

American
How do you expect to find the love of your life? Is it like the normal way, you meet someone, you go on a couple of dates, and you eventually fall in love? Or is it the modern way? You look at their pictures and bio; you swipe right if you like them and they go left if you're not convinced. 
With the increasing popularity of online dating, we wonder if celebrities are into it as well. And with stars like Britney Spears, Hillary Duff and Ronda Rousey creating a real Tinder account, a famous comedian also found love through the famous dating app. 
American Comedian Ron Funches revealed in 2015 that he met his girlfriend the modern way, swiping her profile right. 
But the modern way didn't end here, as the famous comedian chose another social platform, Twitter to talk about his dating experience.
Four Way Love: Son, Marijuana, Comedy, Wrestling
We all know that he has a son from his previous wife with whom he separated in 2012.
An avid wrestling enthusiast, Ron has never remained shy talking about his autistic son, who loved Oreos and bacon for breakfast, according to one of his 2015 interview. 
"[As a parent] you know this isn't healthy, but if I don't [give you Oreos and bacon], you'll slam your head against the wall," Ron says. "When he was young, it was just about getting him to eat at all. That was scary, and he was very underweight."
Spending time with his son playing video games and assisting him to do his homework isn't Ron's only concerns in life. 
Ron's love for cannabis and video games combinedly is a deadly combination through which he extracts humor out of things and infuses them into his comedy.   
It's just fun to play, like, Peggle. I don't know if you've heard of Peggle? You shoot little dots, and there are unicorn farts, and— it's like pachinko mixed with Bubble Bobble, I guess, in a way. It's real fun to play when you're stoned.

Most games are fun. I like Red Dead Redemption just to hang out and smoke pot.
And when asked about racism, Ron, who made positive jokes about his son autism in his stand-ups, handled the matter with subtle humor, stating.
"It's fun to challenge people's stereotypes and remind people that we're all people and we all have the same fears and desires."
The American actor even headlined "Cannabis Comedy Tour," an eight-city event, sponsored and organized by Leafly back in July 2016.
Wannabe Gay
Ron's unique delivery and lovable demeanor make him irresistible and believable while on the stage. And when he kissed Michael Ian Black on the set of the Comedy Central comedy series,"The Meltdown," it was amazingly funny.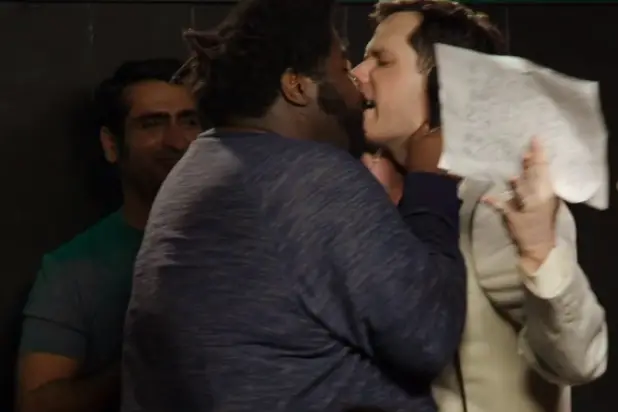 Caption: Nothing a little kiss can't fix. Ron Funches kissed Michael Ian Black on The Meltdown (Photo: thewrap.com)
In 2015, Ron even shared a smooch with fellow Undateable's cast member Rick Glassman for a video.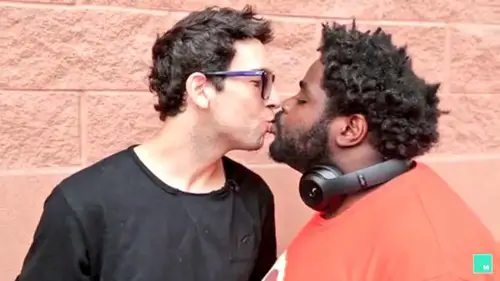 Caption: Nothing But love between colleagues. Ron Funches shares a smooch with fellow cast member Rick Glassman (Photo: seriouslyomg.com)
Likewise, when he tweeted that he had feelings for Dave Franco (American actor James Franco's brother and his Get Hard costar Alison Brie then-fiance), it was once again a hilarious movie. 
Dating Life, Girlfriends
In an interview with Pheonixnewtimes.com in March 2015, Ron officially revealed for the first time about his girlfriend. 
When the interviewer asked him whether he resembled with his insecure character Sally from American sitcom Undatable in real-life, Funches said,
Yeah, definitely a little bit. I'm not really a big one-night-stand type of guy. I have a nice girlfriend now, but it took me a while to get her, so I'm going to hold onto her for as long as I can.
In the interview, he also added that his mom, son and his girlfriend made him laugh in his life. 
Later in October 2015, he revealed to People magazine that he met his girlfriend on Tinder. Then, he also shared dating tips via a video, stating, 
"I think for me, it's just been about being confident in myself and just being happy with who I am and that you don't have to just chase every girl that looks good, you know, because sometimes they're not a good match for you and then you end up like (expletive) your ears when you didn't want to or wearing a jacket that you shouldn't wear because it's not your style."
The interviews with People and Pheonixnewtimes were the two instances where the California-born comedian publicly talked about his dating life seriously.
Other than that, Ron's girlfriend related Twitter posts and stand-up comedy jokes made us more confused. 
Dating In 2014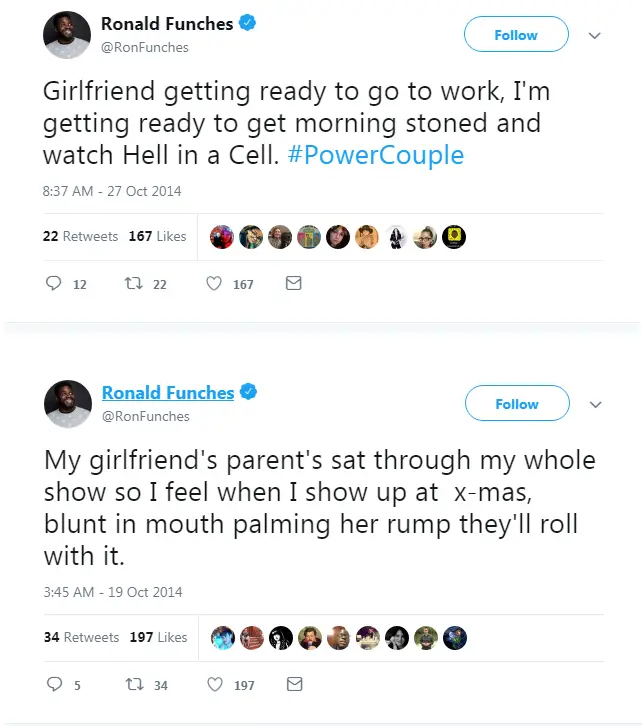 Was she the same girlfriend whom he met on Tinder?
Singles Related Posts in 2015, 2016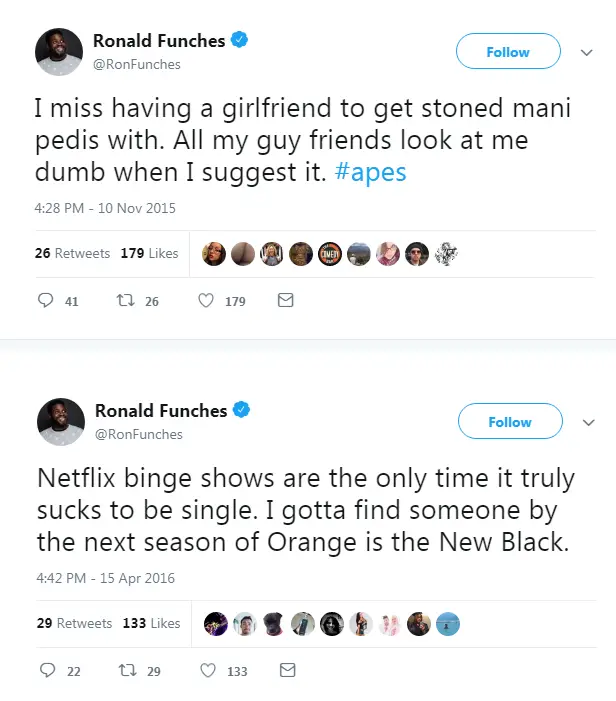 Was he really single in 2015 and 2016?
New Girlfriend In 2017?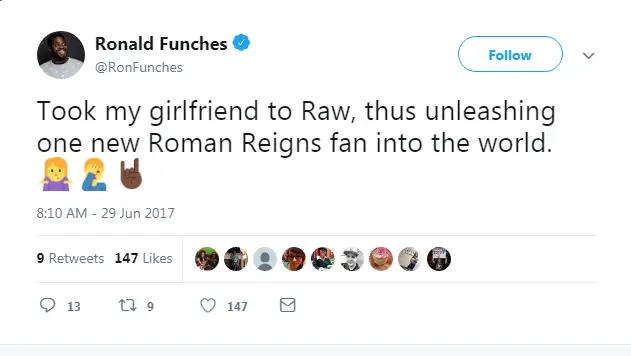 Who was the new girlfriend?
Break-Up In Late 2017?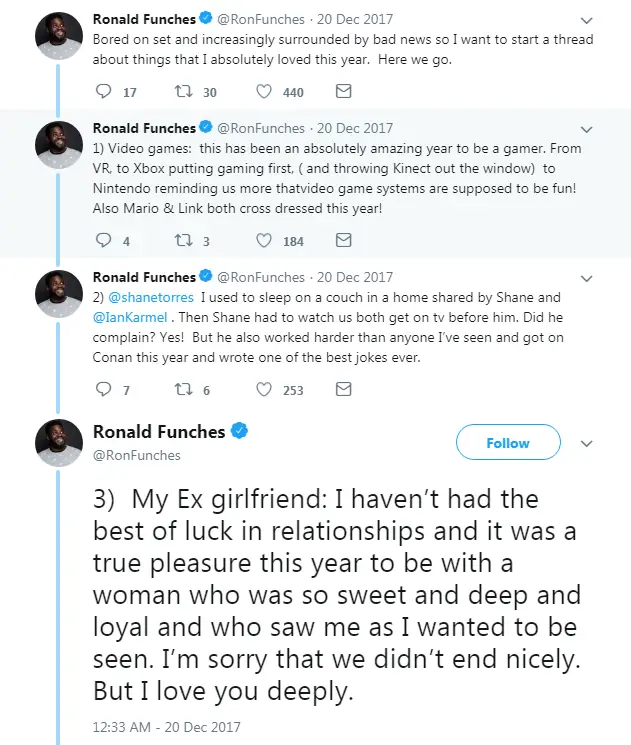 Ron and his ex-girlfriend didn't end on a nice note (Photo: Ronald Funches' Twitter, 4)
Previously, in an interview with oregonlive.com in 2012, Ron had expressed gratitude towards his ex-wife, stating,
"I give her much respect and love for making it as far as she did, it's not easy to be married to a comedian who will be gone 15 days out of the month, and breaking even, moneywise."
Ron current relationship status remains unknown, but it is known fact that he currently lives in Los Angeles with his son.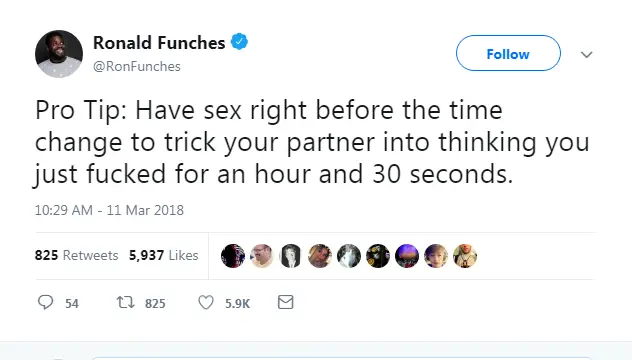 Ron Funches' pro dating tips for rookies (Photo: Ron Funches' Twitter)
Surely, it's hard for someone to date a busy comedian, but Ron would entertain you with his pro tips.   
Ron Funches' Career
Ron was a series regular on NBC'S Undateable from 2014 to 2016. It got canceled after three seasons. From 2013 to 2017, the Conan show frequent guest also appeared on American late-night panel game show @midnight.  
Former junk food scientist Ron Funches also appeared on big screen alongside Kevin Hart and Will Ferrell in 2015 American movie Get Hard. 
Likewise, former Kroll show writer Ron appeared alongside famous actress Venessa Hudgens on Action Comedy Series Powerless in 2017. Also in 2016, he provided voiceover for his character Sharzod Home: Adventures with Tip & Oh in American animated series Home: Adventures with Tip & Oh.
In 2020, the famous comedian will pitch his voice for the character, Sal in the movie Underlings. 
In 2012, Ron left Portland and moved to Los Angeles as one of the most renowned comedians in the Portland's comedy scene. 
That year, he decided to finally say goodbye to Portland and go big in his career. It was also the year he had separated with his wife, with whom he used to live in Salem looking after their son.  
Son Diagnosed With Autism, Started Comedy 
Their son, Malcolm, was diagnosed with Autism when he was 2. As a loving father, Ron gradually came up with adequate strategies and therapies to raise him.
Ron has a special place in his heart for autistic kids. The comedian was a kid himself when he first became interested in comedy. 
He grew up watching shows such as I love Lucy and Benny Hill. Then, he used to live in Chicago with his social worker mother and younger sister, who would get married in 2018.
At age 13, the comedian who has lost 100 lbs, moved to Salem from Chicago and started studying at McKay High School, where he was placed in AP English. 
According to Ron, the high school was mostly white. Later in his early 20's, he did many jobs, including head cashier at a Grocery Outlet and bank call center representative at a bank before pursuing a career in stand-up comedy, making anti-stereotypes jokes. 
The birth of his son, age 12 in 2016, worked as a catalyst for the comedian in his life soul searching process. He was 22 when he decided to pursue comedy and work on his strengths since he thought it would be a great example for his autistic son as well as make them rich. 
Soon afterward, he started searching places to perform standup and started auditioning. 
Buy the tickets of Ron's upcoming performances via his official site www.ronfunches.com.