Kelly Olynyk with a wife and children by his side...any prospect of getting married... Columbia and finished college from... Columbia and finished college from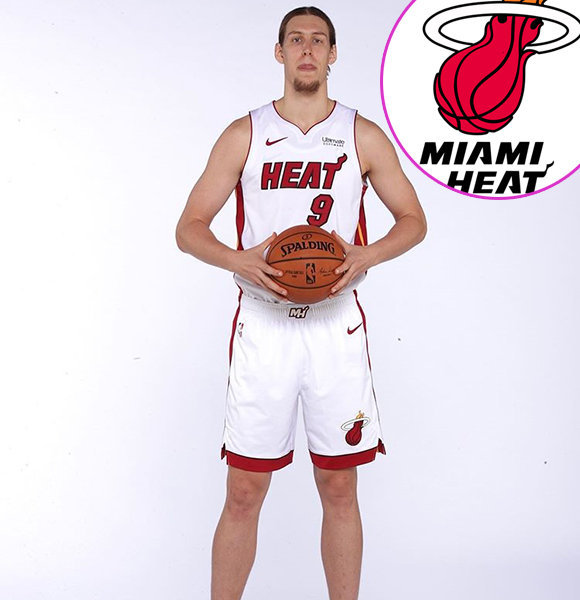 Canadian born NBA player Kelly Olynyk's personal life rarely makes any news in the media. Although he is an established high profile player today, he has managed to keep himself away from the prying eyes of tabloids from digging up his dating whereabouts. 
But, dating back to his starting days in NBA, he did slip in some hint on the way. And, it seems the athlete could have used a hand to hold that day. Nevertheless, questions still remain if he managed to find his muse in the long run.
Low Key Dating Life, Still Single?
Due to Kelly's extreme transparency of solely his professional life, many news outlets have failed to dig up enough clues on his girlfriend or any prospect of getting married.
Moreover, in 15th February 2014, he had revealed about being single through a tweet that read,
"Great team wins! Big play after big play by multiple guys! I can't ask for more! No valentine but the win will do just fine!"
Although years have gone by since the statement, it did suggest that he found solace in Valentine's Day by his win against another team that day.
Wished Fans Valentine's Day :- Does Alessandra Garcia Have Dating Affair or a Boyfriend? It'd be a Surprise if She Doesn't
Today, it seems he isn't hurrying on settling with a wife and children by his side. Even if he is dating someone, for now, it's apparent through his social media handles that he isn't the one who likes to flaunt his love life among the public.
Age, Family Background
Kelly was raised in Scarborough suburb of Toronto, where he was born on 19th April 1991. Growing up, his parents Ken and Arlene Olynyk had a significant influence on Kelly's career since both of his parents' jobs revolved around the basketball arena.
His father Ken was a professional basketballer player during college and even coached the sport for more than 40 years.
Likewise, Kelly's mother worked for more than 27 years as a basketball official for Canada and Metro Atlantic Athletic conferences. She also served as the scorekeeper for the Toronto Raptors team.
Canadian Basketball Player :- Jamal Murray Girlfriend, Dating, Parents, Family
As a result, it won't come as a surprise Kelly wanted to be a basketball player from a very young age. After all, growing up in the family of professionals, he took a liking to the sport. Talking about his decision to pursue a career in basketball, he shared,
"My family was a basketball family and just being ingrained in the game and growing up around the game I fell in love with it."
Besides, the player isn't the only prolific athlete in the family. His sister Maya Olynyk (already married) plays at the guard position for the University of Saskatchewan's basketball team.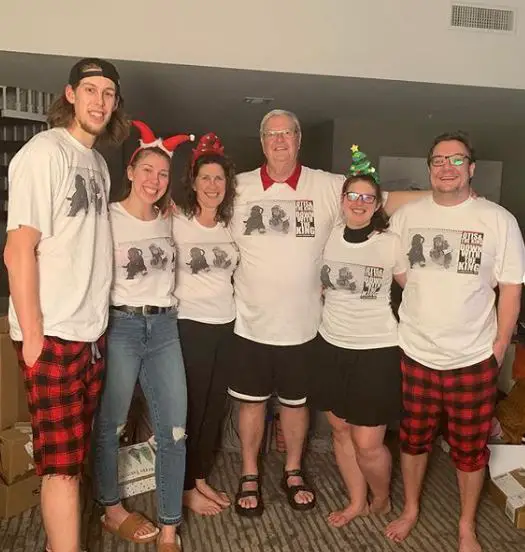 Kelly Olynyk with his father Ken (middle), mother Arlene (third from right), sisters (Maya & Jesse Olynyk) and brother in law Derek on 25th December 2018 (Photo: Kelly Olynyk's Instagram)
Although Kelly's other sister Jesse didn't take up a liking for basketball, she did play for the Canadian National Rugby Team alongside wrestling.
Interesting Facts About Kelly Olynyk 
Kelly possesses an impressive height of 7 feet (2.13 meters) that comes in handy in the field.
He attended South Kamloops High School, located in British Columbia, and finished college from Gonzaga University in 2013.
In 2018,  the NBA icon donated his hair to Wigs for Kids, a charity that makes wigs for children who have lost their hair due to medical conditions like burns and Chemotherapy.
In 2017, Miami Heat signed him for four years with a contract of whopping $50 million.