Ken Giffery Jr. and girlfriend-turned-wife got married in...of the three children, his first...turned 49 years of age in...boasts a net worth of...stands in the height and weight of...recorde surpassed in 2019 by...owns a range of shoes which go...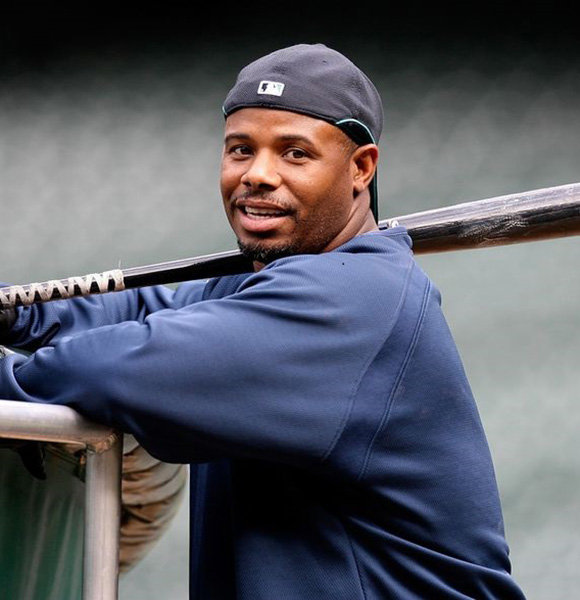 The name Ken Giffery Jr. often gets mentioned next to baseball greats Barry Bonds, Willie Mays, Hank Aaron, Babe Ruth, and Sammy Sosa.
An iconic baseball figure throughout the 90s and early-2000s, Ken gained legend first with Seattle Mariners and later with the MLB side Cincinnati Reds. Named league's MPV AL in 1997, he is a 13-time MLB All-Star.
Retiring from the sports in 2010, Ken ended his iconic career with 630 home runs, 1,836 runs batted in, and a .284 batting average. In addition to garnering seven silver slugger awards and ten gold gloves, he bagged four American League home run titles.
Wife, Married & Children
Ken's retirement was due to his declining on-field performances, more so than the desire to spent more time with his family. Nonetheless, the decision to hang up the boots help solidify his already blooming married life.
At the time of his retirement, Ken and girlfriend-turned-wife Melissa Gay were already a married item for 18 years. After tying the knot in 1992, the duo went on to raise three children together.
With Three Kids:- Sally Bretton Married Life Talks: Furtive Spouse, Parents Of Three Children
The former Seattle Mariners player and his wife welcomed their firstborn Trey around January 1994. Two years later, the duo got blessed with a daughter named Taryn. Feeling the need to add another dynamism to their family, they then adopted Tevin.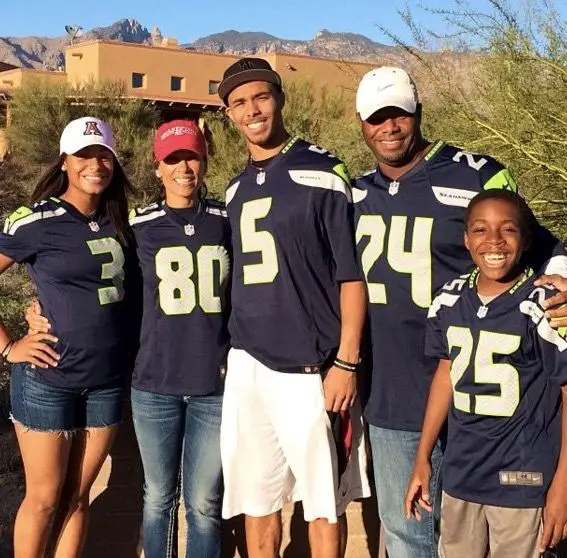 Ken Griffey and wife Melissa Gay with their children Tevin, Trey and Taryn circa pre-2019 (Photo:- fabwags.com)
Together with Melissa, Ken encouraged their children to take up sports. Of the three kids, Trey became the rightful heir to his legacy after getting drafted by Seattle Mariners in 2016.
Age, Height & Weight
With his draft, Trey became the third generation Griffey member to play in the MLB. Back in 1989, Ken and his father Ken Griffey Sr. created history by becoming the first father and son duo to feature in the major league matches at the same time.
Born in Donora, Pennsylvania, forty-nine years old Ken is set to turn 50 years of age on 21st November 2019. His parents had named him George Kenneth Griffey Jr.
With Same Name:- Ken Marino Wife, Gay, Net Worth, Children
Dubbed "The Kid" by his admirers, Ken won the 1987 U.S. high school baseball player of the year award. He opted not to go to college and got drafted straight out of high school.
Boasting six feet three inches height (1.90 m) and 103 kgs weight, Ken was the living embodiment of the title "Protege."
Shoes & Net Worth
During his rookie MLB year, Ken found difficulties adjusting to spotlight and fought depression as a result. On his return home that year, he attempted to commit suicide by swallowing 300 aspirin pills. To everyone's surprise, he survived the debacle.
The stated incident was a negligible bleep in Ken's otherwise celebrated career. As an MLB star, he reportedly earned $150 million in career earnings. A 2010 report places his net worth at around $85 million.
A Nike-sponsored athlete, Ken owns a range of shoes. His sneakers go on sale anywhere from $130 to $325 on Amazon.
Fellow Nike Athlete:- Alex Rodriguez & Jennifer Lopez Got Engaged
Until 2019, Ken held the record for the highest percentage of votes in the Baseball Hall of Fame's induction history. Fellow MLB veteran Mariano Riveria surpassed him by getting elected unanimously.