Entertainment
How Kenny Chesney Garnered His Net Worth? Details On His Earnings
Kenny Chesney is one of the wealthiest country singers in the world and is loved by country fans for his entertaining songs and presence. Best known for songs No Shoes, No Shirt, No Problems (2002), There Goes My Life (2004), and American Kids (2014), over 30 of his songs have been labeled Gold or Platinum by the Recording Industry Association of America (RIAA).
Active in the music industry since 1991, Kenny is a prominent figure that has contributed much to country music.
Net Worth
According to celebritynetworth.com, Kenny has a net worth of $190 million.
Earnings
The majority of Kenny's wealth comes from his tours. In 2017, he was ranked #2 on the world's highest-paid country stars by Forbes and reportedly made a total of $42.5 million that year alone.
Country Singer Ben Hoffman's Net Worth:- Ben Hoffman Wife, Girlfriend, Gay, Net Worth
The country artist's biggest tour was Trip Around the Sun, which lasted from 21 April 2018 to 25 August 2018. The tour sold 1.289 million tickets and earned an astonishing $114.3 million.
Kenny draws a huge following to his tours and concerts. His Spread the Love trek in 2016 was his only tour that didn't sell over a million tickets, falling short by roughly 90,000 tickets.
Kenny Chesney's Past Marriage With Renee Zellweger
American Kids singer was previously married to Oscar-winning actress Renee Zellweger. They met during NBC's tsunami relief telethon in January of 2005. He was a fan of hers even before they met. He wrote his hit song, You Had Me From Hello (1999), after watching Jerry Maguire (1996), which starred Renee.
The two hit it off immediately after their meeting and began going out soon after. Things moved very quickly, and they tied the knot on 9 May 2005. Only 35 close friends and family attended the private ceremony held at St. John in the Virgin Islands.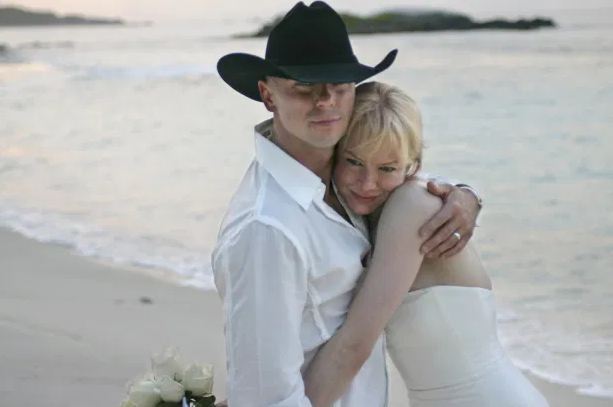 Kenny Chesney with ex-wife Renee Zellweger on 9 May 2005 (Photo: Page Six)
However, the relationship ran its course just as quickly, and the duo separated after just four months of tying the knot. The marriage was annulled on 20 December 2005.
Kenny Chesney's Gay Rumors
The country singer's split from his wife birthed rumors that he was gay. The fact that Renee had cited the reason for the split to be "fraud" on the legal documents demanding the annulment of their marriage fueled the speculations even more. He addressed the topic and discredited the rumors. He told the following to Anderson Cooper on 60 Minutes.
"It's not true. Period."
The Jerry Maguire actress also chimed in and clarified that 'fraud' was simply legal language and not the reflection of Kenny's character.
More On Kenny's Gay Rumors:- Renee Zellweger Married Status, Boyfriend, Plastic Surgery & Family
Later on, she and the country star released a joint statement which said that their split was due to "differences" and "The miscommunication of objective of their marriage."
Girlfriend
The No Shoes, No Shirt, No Problems singer dated Amy Collen after his split with Renee. Amy was named Miss Tennessee in 2005. The two broke up two years later after he was allegedly sighted with Jenn Brown, an ESPN broadcaster.
After his split with Amy, there were several rumors regarding his romantic life. Allegedly, he dated Miss Carolina Jamie Hill, Miranda Lambert, and Mary Nolan.
Facts On Kenny Chesney
Kenny was born on 26 March 1968 in Knoxville, Tennessee.

He stands at a height of 5 feet 5 ½ inches (1.66 meters).