Kenton Duty is an American actor most recognized as the swashbuckling European exchange student Gunther Hessenheffer in the Disney series, Shake It Up.
The Disney prodigy is one of the emerging acting sensations - who lit up the entertainment industry by his role of a young Jacob in the hit TV series, Lost, in 2010.
Gay Or Dating Girlfriend?
Kenton Duty was surrounded by a lot of gay rumors following his role as a stereotypical gay student in Shake It Up.
However, all the shadow of doubts were cleared when the actor opened up on his relationship with Mosley Agin. He posted a picture with his girlfriend on Valentines Day 2018 to showcase his affair.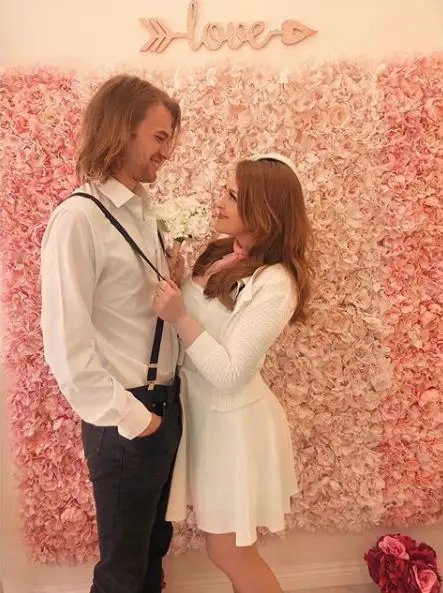 Kenton Duty and wife Mosley Agin at their wedding ceremony in July 2019 (Photo: Kenton Duty's Instagram)
After dating for a year or two, the couple exchanged the wedding rings on 1 July 2019. Now, the couple are looking ahead to start a family of their own.
Kenton Duty Bio
Kenton was born on 12 May 1995 in Plano, Texas. He was raised by his parents alongside his younger twin sisters: Jessica and Rebecca.
The actor boasts Caucasian ethnicity and stands at the height of 6 feet 4 inches (1.95m) with blond hair and green eyes. 
At the age of nine, his parents suggested him to join the summer musical theater workshop to help him feel comfortable in front of an audience for school presentations. It was during this time he noticed his love for musical theater.
Must See:- Scott Wolter New Show, Wife, Net Worth
Luck was also in his favor as he went onto meet a casting director, who asked him to audition for his first stage play A Christmas Carol. The same year, he got a chance in another important on-stage role in Ragtime. 
He slowly started auditioning for roles in LA before getting discovered at the Young Actors Studios by Hollywood talent agent, Cindy Osbrink. She invited him to audition in a position in California, and the rest was history.
Then, the Texas native appeared in numerous commercials for McDonald's, Walmart, and Mattel. However, his big breakthrough came in 2010 in the hit TV series Lost, where he played the mysterious character of a young boy named Jacob. 
After that, he featured in Disney's Shake It Up from 2011-2012. The TV star also appeared in movies like Crazy On The Outside and My Name is Khan.
As of now, Kenton is 24-year-old. He is active in humanitarian works and even helps in raising charities against bullying and funds for victims of natural calamities.
Net Worth, Earnings
Kenton Duty is a busy actor, indeed. He has all the bases covered whether it be acting, music or podcasting about fitness with his other half.
Also Read:- Liam O'Brien Wife, Cancer, Net Worth, Children
Before getting recognized as a young actor, Kenton played guitar and sang in the band KGMC Gigmasters with his friends. Then his career took a turn in acting, and he started appearing in shows like Cold Case and Last Man Standing.
As an actor in America, his salary is $50K per year. Additionally, from his songwriting job and fitness podcasts, he gathers a pretty penny, which takes his net worth around a million.