Scott Wolter's new show aired on...wife is a...owns a reported net worth of...biological dad worked as a...info about his age is...comes from a family of...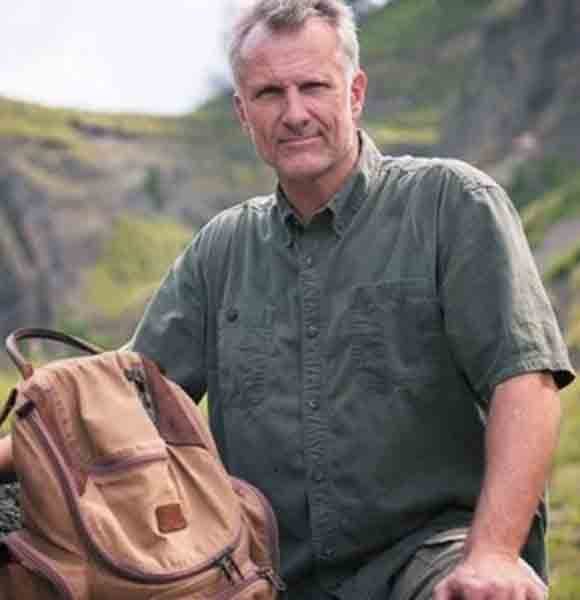 Based out of Minnesota, Scott Wolter is a forensic geologist and the founder/president of the American Petrographic Services. He is also the brainchild behind Archaeopetrography — a method used to understand the origins of stone ruins.
An esteemed researcher, Scott's most significant contribution is perhaps his work studying the concrete artifacts of the WTC following the Sep 11th terrorist attack.  
However, fans recognize him as the host of H2 series America Unearthed.
New Show Or New Network?
In 2009, Scott appeared on the documentary titled Holy Grail In America as Kensington Runestone expert. It provided the blueprint for the show, American Unearthed.
Picked up by A&E Networks Channel H2, America Unearthed premiered in December 2012. Amid success, the series got canceled after three glorious seasons in 2016.
H2's decision got met with public outcry. Some devastated fans even went as far as assuming the series' host's death behind the cancellation. To clear the air, Scott took to Twitter and placed his two cents on the matter.
Shows That Returned:- NBC Cancelled Timeless (Again), Will It Get Renewed After Series Finale?
To the fans' rejoice, Travel Channel announced that it would air the season four of America Unearthed in May 2019. Additionally, the network shared about acquiring all three previous seasons of its new show.
Following the announcement, an elated Scott called Travel Channel the best home for the series.
Produced by Committee Films, America Unearthed - the new Travel Channel show with the same old title - would see Andy Awes, Daniel A. Schwartz, and Maria Awes take on the role of executives.
Net Worth Details
With the news of America Unearthed finding a new home, Scott's expertise faced scrutiny.
For years, the researcher-turned-TV host boasted about holding an honorary master's degree in geology from the University of Minnesota-Duluth. When some weary journalists did the digging, neither his name nor his educational credentials were available in the school's records.
Degree In Question:- Giorgio Tsoukalos Wiki, Wife, Net Worth, Ethnicity
Back in 2014, Scott recieved criticism for scheduling a convention appearance next to Frank Joseph, a former Nazi and convicted child predator.
Controversy aside, Scott's works as America's foremost forensic geologist has proven a lucrative endeavor. Though there lacks an accurate estimation of his net worth, it likely surpasses the seven-figure threshold.
Books including Lake Superior Agate, Ettringite: Cancer of Concrete, Amazing Agates: Lake Superior's Banded Gemstone and From Akhenaten to the Founding Fathers: The Mysteries of the Hooked X contribute to his ever-so-growing net worth.
Wife & Family
Scott is a published author, a revered forensic geologist and a beloved TV show host. Above all, he is a family man.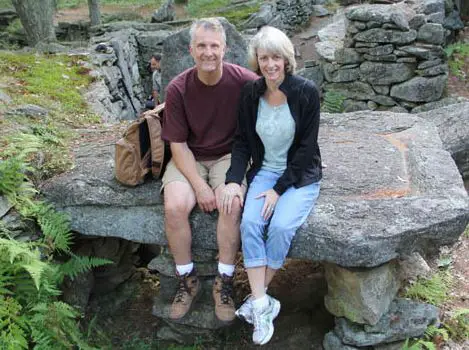 Scott Wolter with wife Janet in an out-door setting circa pre-2016 (Photo:- karlaakins.com)
The "Hooked X: Key to the Secret History of America" author and his wife Janet are co-researchers. Labeling her as the genius in the family, he once credited his wife for bringing calm, reasoned output and feminity into their work.
The married duo are parents to a son named Grant and a daughter, Amanda. Grant - who got engaged in June 2018 - is also hands-on in their research. Although skeptical, Grant's input gets valued by his celebrity dad.
Bio Uncovers Age
As someone who potentially profits by hiding his background, Scott rarely speaks on his childhood and upbringing. Besides the fact that his biological father was a pilot, not much information is available on his parents.
Equally Elusive Bio:- Pilar Rubio Bio, Age, Wedding, Sergio Ramos
Scott's age is a mystery too. But going by the pictures online, he could be in his 50s. He celebrates his birthday on 21st December every year.