Entertainment
Kevin Perry Wiki, Age, Dating, Girlfriend, Ethnicity, Parents
If Tik Tok were a vast constellation, there's no denying that Kevin Perry would be its brightest star.
Since setting up his Tik Tok account under the username @kevboyperry, the California native has accumulated over 1.2 million fans. Meanwhile, he boasts over 31.7 million hearts on the said platform.
His journey to international stardom began around October 2018 when he posted his very first video, which became viral overnight. He credits a challenge by Ryan Trahan for his decision to take up Tik Tok.
Building on the success of his first ever clip, Kevin began to amass more fans with every release. His comedic personality eventually helped him transcend Tik Tok and gain popularity on other social media platforms including Instagram and YouTube.
On the former, he boasts over 166 thousand followers. Meanwhile, around 87 thousand fans subscribe to his YouTube channel. In December 2018, Kevin released his first ever single entitled "Maybe You Don't Understand." 
A close inspection of Kevin's wiki shall reveal some crucial details about him! 
Wiki - Age, Birthday & Parents
Born in 2001, Kevin - now age 18 - grew up in Mission Viejo, California. Because he refrains from commenting on his parents, his family life is somewhat a mystery.
New Wiki At Live Ramp Up:- Madison Haschak Wiki, Boyfriend, Parents
An Aquarius by birth sign, he celebrates his birthday on 5th February every year. Other notable celebrities, who share the same birthday as the Tik Tok star include soccer players Cristiano Ronaldo and Neymar.
Essential Details: High School & Height
One would find it hard to believe, but Kevin wasn't always the most popular kid. His six feet height didn't make him a standout.
A student at Mission Viejo High School, his Tik Tok exploits made him one of the essential personnel after his videos began to go viral. Early on, he struggled to maintain a connection with anyone as the conversation with him would inadvertently turn into Tik Tok related topic.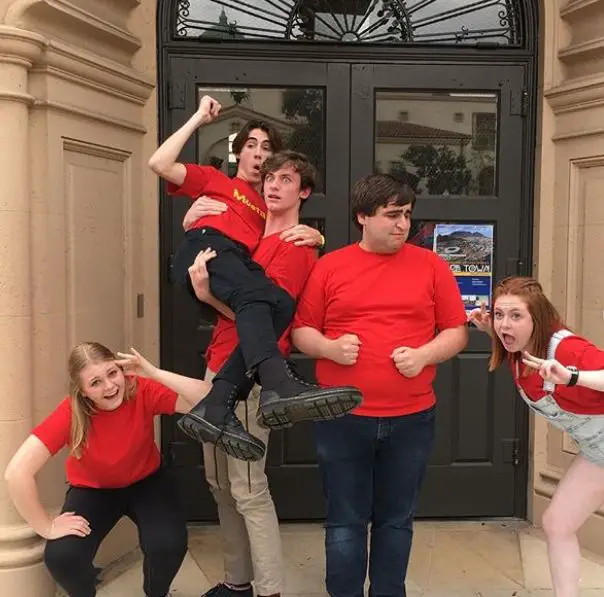 Kevin Perry celebrates second place win with Comedy Sportz circa March 2019 (Photo:- Kevin Perry's Instagram)
Nevertheless, he formed an improv team called Comedy Sportz with his school friends. In 2019, the group clinched a second place at an improv competition held in Fullerton, California.
Dating Anyone? Girlfriend In The Picture?
Not only did Tik Tok assist him in gaining worldwide fame, but also helped Kevin amass a substantial female following, who would give up everything to be his girlfriend.
Using his boyish charm and equally enthralling sense of humor, the Viejo California-native can convince any woman into dating him on a whim. 
With The Same First Name:- Proud Gay Kevin Abstract Dating Bliss - Boyfriend With Sharpest Jawline
That said, he seems to be content with not dating anyone at the moment. Now a senior at school, the 18-year-old is perhaps focusing on securing admission at a top-level college.
Either way, the future looks bright and secure for Kevin, who at this point, is trying to evolve from the "boy next door" image into that of an international phenom.