Entertainment
Death of Hollywood Icon! Kirk Douglas Had A Remarkable 103-Year Journey
The name Kirk Douglas needs no introduction...was active onscreen since the 1950s...lost his life at the age of 103...after the news of his death...connection he shared with his wife of more than six decades...his children...estimated net worth of...birthday on 9th December...of his top movies include...came from a low-income family and a poor neighborhood...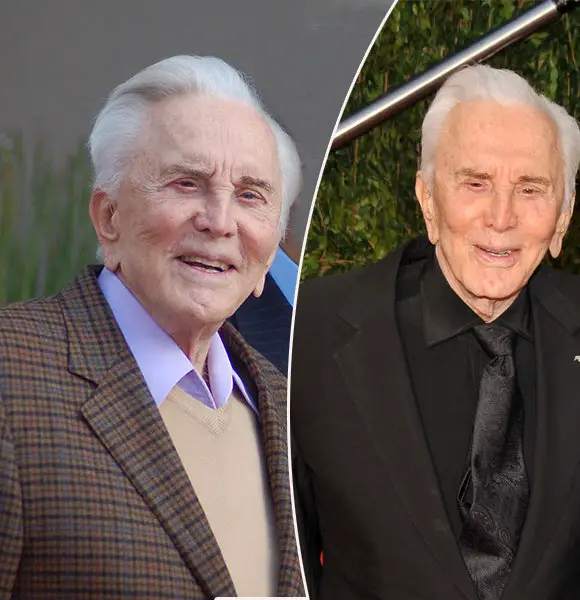 The name Kirk Douglas needs no introduction. The late actor, who was active onscreen since the 1950s, came from the ghettos. But, through acting, he rose to become an actual superstar legend filling his life with fame, recognition, and wealth.
He acted in many movies that varied from comedy to Westerns to thrillers such as Spartacus (1960), Ace in the Hole (1951), The Vikings (1958), and 20,000 Leagues Under the Sea (1954).
Kirk Douglas' Death
Unfortunately, on 5th February 2020, Kirk lost his life at the age of 103. His son, Michael Douglas, confirmed the news to People magazine through a statement that read,
It is with tremendous sadness that my brothers and I announce that Kirk Douglas left us today at the age of 103. To the world, he was a legend, an actor from the golden age of movies who lived well into his golden years, a humanitarian whose commitment to justice and the causes he believed in set a standard for all of us to aspire to.
He added,
...But to me and my brothers Joel and Peter he was simply Dad, to Catherine, a wonderful father-in-law, to his grandchildren and great grandchild their loving grandfather, and to his wife Anne, a wonderful husband.
Following the demise of the Hollywood legend, many celebrities rushed in to express their condolences. Tributes came pouring in from actor George Takei, comedian Mark Maron, Mitzi Gaynor, Danny DeVito, and Star Wars actor Mark Hamill.
Kirk Douglas' Age, Birthday & Early Life
Kirk Douglas was born on 9th December 1916 at Amsterdam, New York, as Issur Danielovitch Demsky. He was born to Bryna (Sanglel) and Herschel Danielovitch, who were Jewish immigrants from Chavusy.
Explore Another Veteran Actor:-Bruce Dern Net Worth, Spouse, Daughter
Though Kirk came from a low-income family and a poor neighborhood, he always excelled in his studies and was a strong athlete.
During his time at St. Lawrence University, he used to wrestle competitively. But, when he realized that an acting scholarship could potentially be an escape from his ragged life, he found himself entering into the American Academy of Dramatic Arts with the said scholarship. 
Through the academy, Kirk started his career in acting. However, he was only seen in some small Broadway shows before he joined the United States Navy in 1941 and served his nation during World War II until 1945.
He went back to working in the theater and eventually went on to become Hollywood's one of the most cherished actors.
Wife & Children
Kirk was also known for the strong connection he shared with his wife of more than six decades, Anne Buydens.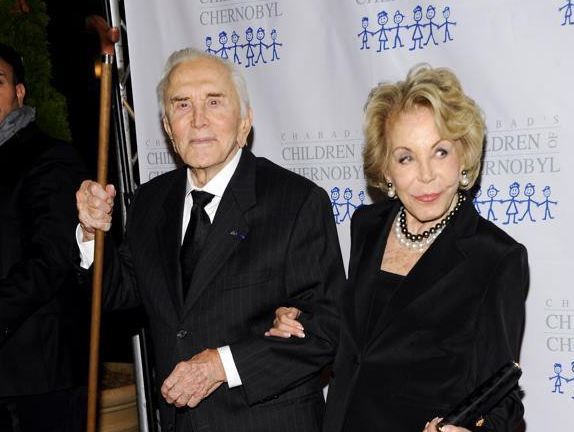 Kirk Douglas and his wife Anne Buydens were happily together for more than six decades (Photo: medium.com)
The two first met in Paris in 1953 on the sets of the movie, Act of Love. Though Anne declined Kirk's approach, they eventually got together and tied the knot on 23rd April 1954. 
They had two children together: Peter Douglas and Eric Douglas; Eric met a tragic and untimely death when he was 46 years old.
Check Out Another Hollywood Star:- Quentin Tarantino Wife, Baby, Family, Net Worth
Other than Anne, Kirk was married to Diana Douglas from 1943 to 1951. The former couple shared two children: actor Michael Douglas- who has a son named Dylan Douglas- and Joel Douglas. 
Movies
As a celebrated actor in Hollywood, Kirk Douglas played in numerous movies and even earned several Oscar-nominations.
Some of his top movies include Out of the Past (1947), Champion (1949), Paths of Glory (1957), Last Train from Gun Hill (1959), In Harm's Way (1965), and The War Wagon (1967).
Net Worth
From working in the movie world for a long time, he collected a total net worth of $60 million.