Entertainment
Kristen Soltis Anderson's Married Life With Husband Is A Beauty To Eyes; Shared A Rare Picture From Wedding Day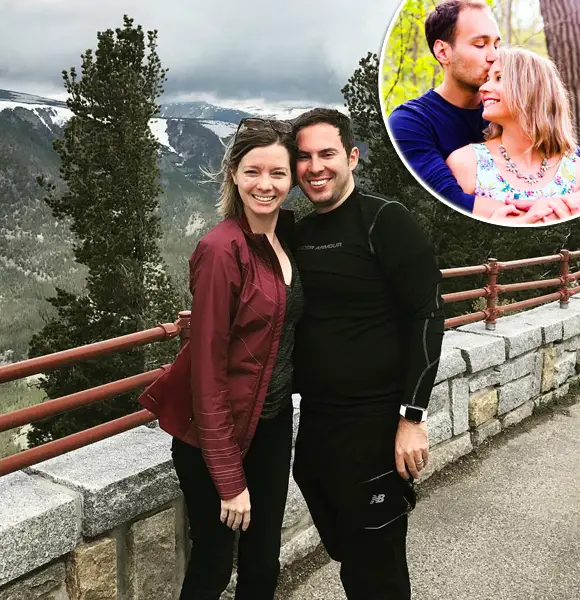 Beauty with brains is a nifty combination, and a TV personality, Kristen Soltis best exhibits this niftiness. She is the one who believes and always tries to be a reason for the change.
The beautiful TV personality isn't just Kristen Soltis, but she has another name glued with her, and it's of her husband, Chris Anderson. Thence, she prefers to be called Kristen Soltis Anderson. 
The couple shares a beautiful marriage life after their long dating relationship and together prove the relationship to be one of the successful marriages. Today, let's take a look at the married life of this couple along with the details of their relationship.
Happily Married To Her Husband; Wedding Anniversary 
Kristen Soltis Anderson is a serious career personality, who works for change to drive wrong things away and introduce the right part. We know her not only as a TV presenter but also as a writer and pollster.
She often speaks out her opinions regarding the political issues as a strategist. Besides, she is an excellent writer and has written for magazines and has many books published in her name.
Don't Miss:- Adam Thielen Contract Terms, Career & Season Stats Update; Details On Salary & Injury
Kristen, on the other hand, has a significant role to play in her daily life. She owes a greater responsibility to one person, and he is none other than her husband, Chris Anderson.
She and her husband Chris met in 2007 and began dating shortly after. Five years later, their long dating took a huge flip when they tied the knot on April 28, 2012, in a grand ceremony among their friends and families. The couple lives in Washington D.C. these days.
In 2017, the couple celebrated the fifth year of their marriage, and Kristen took the opportunity to share a picture of their wedding ceremony on Instagram.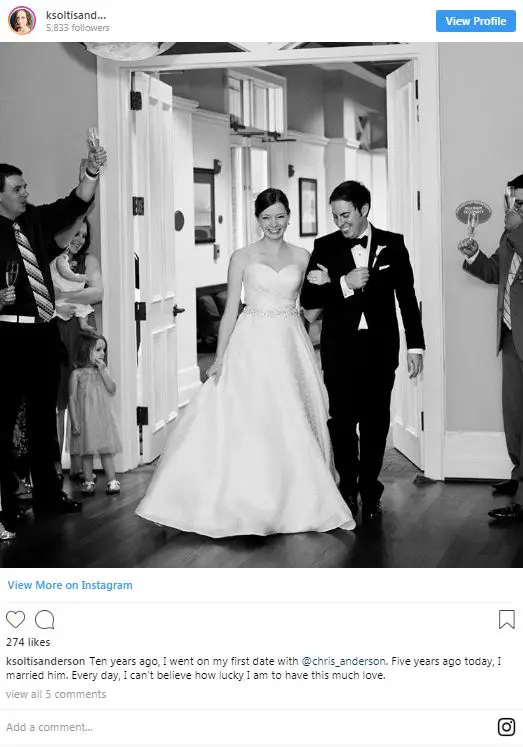 Kristen shares a throwback photo on their 5th wedding anniversary (Photo:- Kristen Anderson's Instagram)
Speaking of wedding, Kristen couldn't help but marvel over Princess Eugenie's wedding dress when the latter got married in 2018. Much like her, Princess Eugenie had also worn a backless wedding gown. On Instagram, the 34-year-old wrote:
"I was so, so glad to see @princesseugenie wearing an (absolutely gorgeous!) dress that showed off her back surgery scar today! I did the same at my wedding, because it's a part of who I am!"
A month after sharing the throwback photo on the occasion of their fifth wedding anniversary, Kristen flaunted an adorable image on Instagram, where she was expressing her love through a kiss that made Chris blush.
Discover:- Andrea Savage Is Married! Compares Real Life and On-Screen Husband And They Are Kind Of Same
The couple never spends their time ideally, and they mostly visit places for a good reason; spending time with each other. Although it has been a long time since the two got married, they haven't come up with their plans regarding conceiving a baby.
However, the couple may be planning something, just keeping their plans to themselves.
Last June, they chose their holiday destination as Yellowstone National Park, and Kristen instantly shared one of the images of their stay at Vista Point during their way back from the national park.
And most recently, the pair was seen enjoying a concert by Michael Giacchino at The John F. Kennedy Center For Arts. Likewise, Kristen and her husband also attended Captial One Arena to enjoy "Game Of Thrones Live."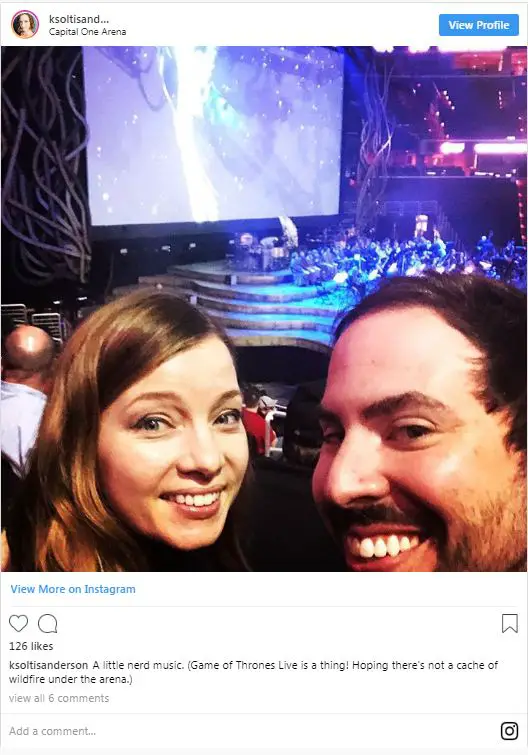 Kristen and her husband at Capital One Arena (Photo:- Kristen Anderson's Instagram)
The happiness in the life of Kristen didn't just come easily; she has faced an unfortunate moment as well. She was once involved in news related to LGBT community, which initiated a wrong rumor of her being a lesbian.
Read Also:- Karl Glusman Is Engaged! Girlfriend & Fiance Zoe Kravitz Flaunts Ring
But all those stories shut when she married Chris, and now they seem like they were never on the highlight before!
Kristen Soltis Anderson's Wiki-Like Bio Including Height
Kristen Soltis Anderson, who stands tall at the height of 5'5," was born on February 22, 1984, in Orlando, Florida. While she doesn't like to reveal much about her parents, her career highlights her from the rest people.
She graduated from The University of Florida with B.A. in Political Science and did her M.A. in Government from The Johns Hopkins University. The activist is currently engaged in a research firm Echelon Ruffini, and she is even the co-founder of the enterprise.
The University of Florida Alum is also the author of The Selfie Vote: Where Millennials Are Leading America (And How Republicans Can Keep Up). Additionally, she has made the list of Time's "30 Under 30 Changing The World." In 2016, Kristen appeared on Elle's Most Compelling Women In Washington list.
Today, the 34-year-old works as a columnist for the Washington Examiner. Previously, she has made appearances on shows such as Morning Joe, Fox News Sunday and Real Time With Bill Maher, to name a few.