Entertainment
Kwon Alexander [49ers] Injury Details, Brother, Contract & Salary
Kwon Alexander is an American professional football...plays as a linebacker for...born on 3rd August...studied at Oxford High...played college football for...entered the 2015 NFL draft...killed by a bullet to the chest...X factor that clutched the victory...San Fransisco 49ers signed Kwon...for $54,000,000...pectoral muscle got torn...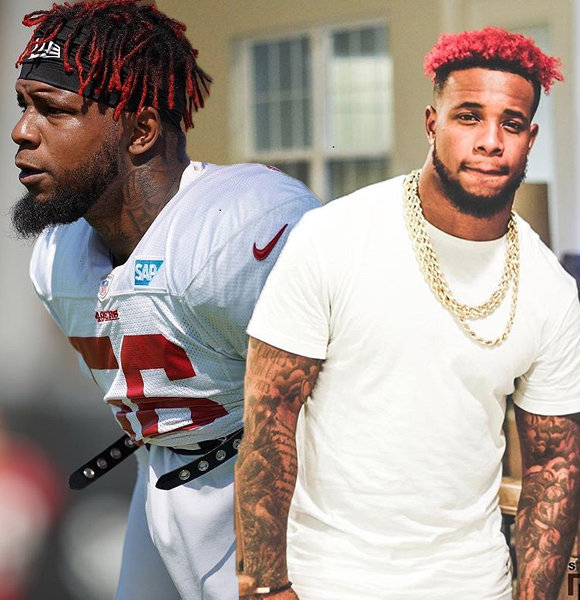 Kwon Alexander is an American professional football player. He plays as a linebacker for San Fransisco 49ers.
Ever since his professional debut in 2015, he has performed brilliantly. Even in his rookie year, he had made spectacular plays that pushed his team to victory. Unfortunately, he seems to be stricken with bad luck as both 2018 and 2019 saw him unable to complete a season because of injuries.
Read on to find out about Kwon's injury, recovery and more.
Bio And Brother's Death
Kwon Alexander was born on 3rd August 1994. He studied at Oxford High School in Oxford, Alabama. He then attended the Louisiana State University (LSU) from 2012 to 2014. He played college football for LSU and had a very good sophomore and junior season. 
Kwon entered the 2015 NFL Draft after his junior year and began his professional career. He was selected by the Tampa Bay Buccaneers in the 4th round of the draft. The Buccaneers were doing fine and Kwon's performance was stable as well. Unfortunately, just prior to the start of week 8, his brother Broderick Taylor II was killed by a bullet to the chest in Anniston, Alabama.
Kwon played the match against Atlanta Falcons less than 48 hours after the death of his brother. Contrary to what many thought would happen, his performance was absolutely stellar. He had 1 interception, 1 fumble recovery, and his then career-high 11 tackles. The Buccaneers won the match 23-20 in overtime and it would be an understatement to say that he was the X factor that clutched the victory.
Kwon dedicated the win to his late brother and the match is still remembered by many Buccaneers fans to be an emotional one.
Career And Contract
Kwon played for the Tampa Bay Buccaneers for four years and appeared for a total of 46 games, all of which he started. He had an impressive 380 tackles, 6 forced fumbles, and 6 interceptions during his time with the Buccaneers.
About Another Buccaneer Player:- Jerramy Stevens Expecting Twins With Wife Hope Solo | What Is He Doing Now?
On 13th March 2019, the San Fransisco 49ers signed Kwon Alexander as a free agent alongside Dee Ford.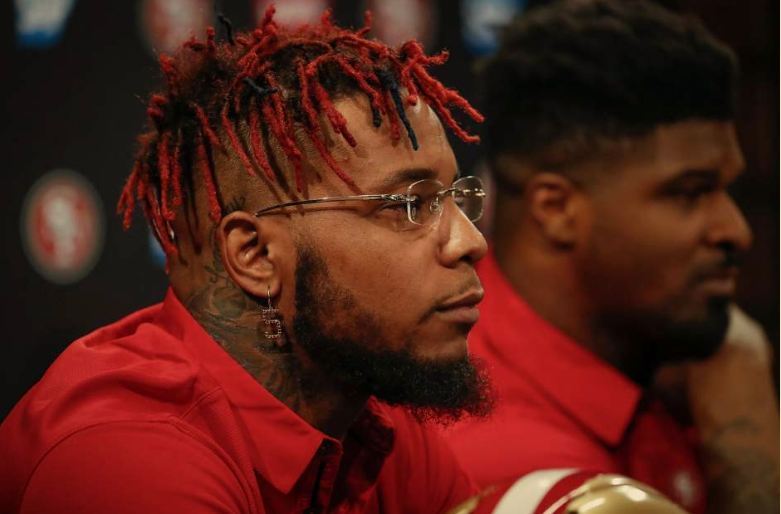 Kwon Alexander and Dee Ford being introduced as new additions to San Fransisco 49ers on 14 March 2019 in Levi's Stadium, Santa Clara (Photo: Jim Gensheimer)
The 4-year contract was for $54,000,000. It also included $4,000,000 signing bonus, $13,500,000 average salary and $27,000,000 guaranteed.
Injury
After having played just 8 games for his new team, Kwon had to enter the injured reserves. His pectoral muscle got torn when playing against the Arizona Cardinals on October 31. The San Fransisco 49ers did get a 28-25 win against their longtime rivals but had to let go of their starting linebacker for the season (or at least a part of it).
Another NFL Injury:- Eagles' WR Nelson Agholor Injury Update, Contract & Personal Life Info
Kwon underwent surgery on the 4th of November 2019 and started his rehabilitation shortly after. His plan was to return before the end of 2019 and it seems like his rehabilitation is on track for him to be able to do that.
Interesting Facts
Kwon has a height of 6 feet 1 inch (1.85 m) and weighs in at 227 pounds (103 kgs).

He was offered scholarships by 25 colleges by the end of his sophomore year.

He played running back instead of a linebacker when he first started playing football.