Entertainment
LaBrant Family Net Worth, House, Story | Everything You Need to Know
LaBrant Family, better known as The LaBrant Fam on YouTube, is a loving family based in America.
The family consists of parents: Cole LaBrant and Savannah LaBrant, and their daughters; Everleigh Soutas, Posie Rayne LaBrant. Keep on reading to find more out about them.
Channel Formation Story 
Earlier The LaBrant Fam channel was known as Cole&Sav, but Cole and Savannah changed it to its current name as they became a family. 
For those unaware, Cole is a former Vine star known for Dem White Boyz, while Savannah is a photographer and Instagrammer. As the pair started dating, they launched their YouTube channel, Cole&Sav in 2015. 
Explore:- YouTuber Boogie2988 Married Status, Girlfriend, What's His Real Name?
They would date for two more years before getting married in July 2017. The union brought three people together as Everleigh Soutas is Savannah's daughter from another relationship.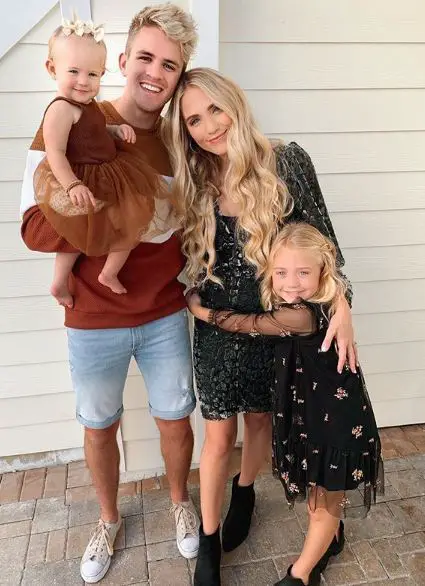 LaBrant Family in November 2019 (Photo: Savannah LaBrant's Instagram)
Increasing the blended family, the couple's daughter, Posie Rayne LaBran, was born on 28th December 2018. Thus, the channel name came about as the family became complete. 
How Much Is LaBrant Family's Net Worth?
The LaBrant Fam is one of the most prominent family YouTube channels. The channel boasts over 10 million subscribers. Further, it fetches a monthly income between $16.2K - $258.6K, which converts to a monthly average between $194K - $3.1M. 
Moreover, the family has another YouTube channel titled Everleigh Rose, which mainly features their elder daughter Everleigh opening toys. The secondary channel is also very succesful, with over two million subscribers. 
For You:- How Much Is Simply Nailogical Net Worth? Her Real Job, Married Status
Everleigh's channel fetches an estimated monthly income of $3.1K - $50K, which counts an average of $37.5K - $600K yearly. 
Besides, the YouTube scene, the whole family is active on Instagram. Almost all four members boast millions of Instagram followers. For instance, the youngest Posie boasts over one million Instagram followers. 
With such vast numbers of followers, the family earns a lucrative amount of money from brand deals. Breaking down, Cole and Savannah's net worth, he boasts $2.5 million while his wife is not far behind with $2 million. 
The sucessful couple even brought a new house in 2019. 
Facts On LaBrant Fam Including Their Ages
Cole and Savannah are set to welcome another baby in August 2020. 

Savannah (born on 2 March 1993) is three years older than her husband Cole ( born on 21 August 1996). 

Born in 2012, Everleigh Rose celebrates her birthday on 14 December. 

Everleigh Rose's biological father is Tommy Smith, who goes by the name tommysmith____ on Instagram. 

Savannah was a single mother when she met Cole. She had just come out of a bad relationship with Tommy. 

While proposing Savannah, Cole included her daughter too and proposed her. He wrote vows for both of them. 

Savannah started dancing as a two-year-old; her daughter Everleigh has followed in her footsteps. 

Cole has five siblings; a sister named Lily and brothers Luke, Jack, Clay, and Tate LaBrant.