Entertainment
Lady Leshurr Dating; Plenty Partner Talks Suggests Boyfriend, Revealed?
Grime rapper Lady Leshurr has been writing poetry since she was six years old. By age 14, she had transformed herself into a full-fledged emcee with a critically acclaimed mixtape Needle In A Haystack under her belt.
However, it was her Queen Speech series of songs that turned relatively unknown Leshurr into an international icon. Since her break-out release, the Birmingham native has managed to delve into acting all the while maintaining her status as a touring act.
For all her musical content, rumored lesbian Leshurr has remained relatively mum about questions about her dating life with partners. All that changed when the Wonky hitmaker opted to come clean about her sexuality in the 2018 Gay Times interview.
At Age 29 Lady Leshurr Opens Up About Her Sexuality
Like her idols Ashley Walters, Lisa Maffia, and Missy Elliot, the Grime emcee too couldn't exempt herself from being perceived as a lesbian in hiding!
Born Melesha O'Garro, Lady Leshur inherited her love for music from her parents, who belonged to the Carribean Isle of St Kitts. She often credits her parents love for reggae for inspiring her to pursue a career in music.
Read Also:- Slim Jesus Dead Or Alive Dilemma; Rapper's Real Name & Actual Net Worth
Following the release of her debut mixtape Unleasuur under her current moniker in 2009, the twenty-nine-year-old has dropped a handful of projects as well as starred as a featured guest in numerous artist's singles.
Throughout her reign as the Supreme Female Emcee of Grime, a dark cloud surrounding her sexuality had always allowed followed her. Breaking free from the shackles of gender identity, Leshurr finally came forth as pansexual in September 2018 interview with Gay Times.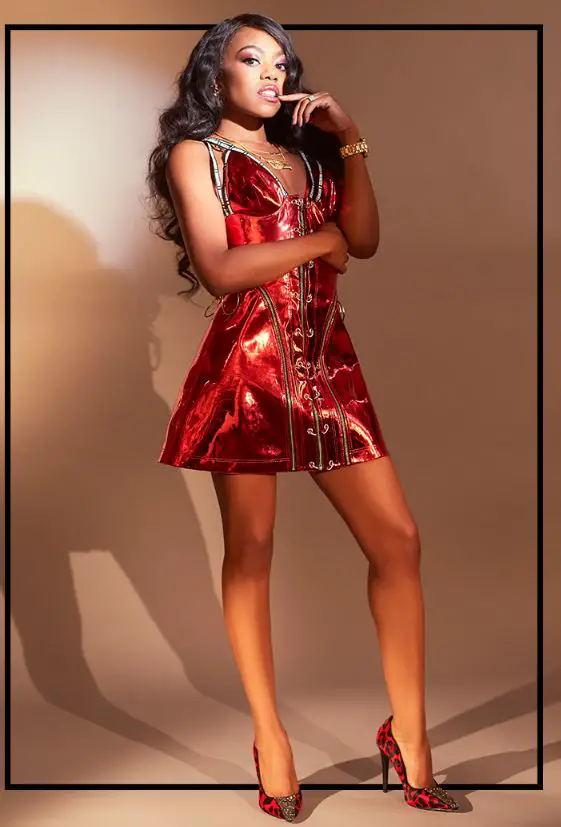 Lady Leshurr posing for her Gay Times cover shoot (Photo:- gaytimes.com)
The How We Roll rapper professed a sense of relief upon the revelation. She summed up her experience of coming out as pansexual by quipping:-
"I'm just happy that I don't have to hide anything anymore, I am free. In life you have to tell the truth, you have to feel comfortable in your own skin and now I feel so comfortable in my own skin."
Believe it or not, Leshurr new-found identity is a result of fellow musician Khelani's making. She explained:-
"Kehlani introduced me to the term pansexual. I had never heard of it and after reading her tweets, I felt like everything she was saying applied to me. I researched it and was like 'That's me, That's what I am'. I like everybody."
When asked what had taken her so long to come forward about her sexuality by Gay Times' reporter Shakeena Jhonson, Leshurr blamed her former manager who told her that "coming out wasn't a good look."
Don't Miss:- Young M.A Dating Girlfriend At Age 26? Lesbian Rapper Real Name & Facts
Since breaking from her former shell as a closeted pansexual, Leshurr has marked the watershed moment by releasing a single titled Black Madonna. Also, the 1 Day actress has three touring gigs - Machester Academy 2 (30 Nov 2018), Olso Hackney (11 Dec 2018), & St. Paul's Bay (2 May 2019) - lined up so far.
Lady Leshurr's Thoughts On Dating, Lesbian Partners & Boyfriends Via Twitter
Lady Leshuurr's exploits on the mic have earned her a fortune!
With a reported net worth of more than $500 thousand to her, she's easily the most prominent female rapper to make it out of the UK grime scene. Has her professional success permeated through her personal life as well?
Despite the reflective nature of her raps, the Bun Up rapper has steered away from the topics of dating, partners, lesbian romance and everything in between in her lyrics. That said, there was a time when Leshurr used to take to Twitter to vent on the very matter.
She once joked about dating her cat. And in a separate instance, she defined lesbian as "a woman doing man's job better." But for the most part, Leshurr had cleverly drawn a parallel between music and her ultimate partner.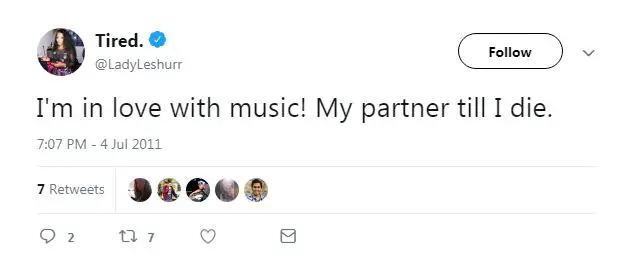 Lady Leshurr reveals her "partner" (Photo:- Lady Leshurr's Twitter)
Like many of her rap collegues, the Queen's Speech wordsmith uses her Twitter handle to vent her frustration about her non-existent dating life. Back in 2011, she tweeted:-
"These are the times when I need a partner to take care of me when I'm ill and drained like this."
Leshurr, at times, can also be reflective with her tweets. Before her coming out as pansexual, she contemplated - or better yet - asked her followers if they would still listen to her music if she came out as gay.
Interesting:- Hilary Duff & Boyfriend Welcomes Their First Baby, Daughter Banks Is Love!
Almost nine years later, the answer is still a resounding yes.