Entertainment
Young M.A Dating Girlfriend At Age 26? Lesbian Rapper Real Name & Facts
Young M.a born to the real name of...is an American rapper. Coming to limelight with hit debut...she is open about her sexuality and the fact that she is a ... the rapper is currently dating..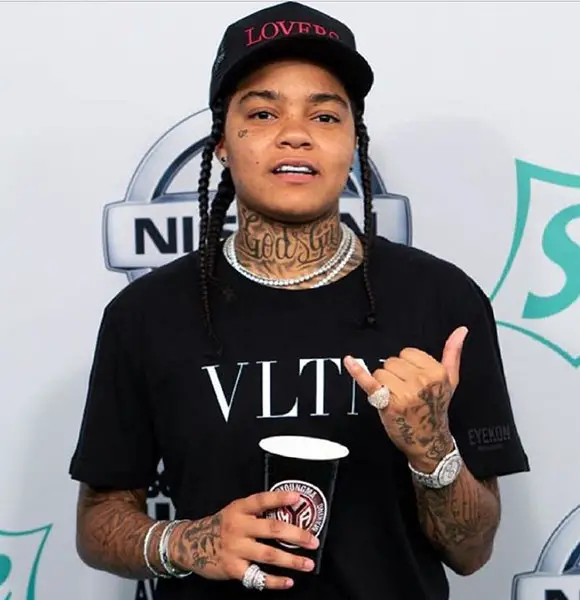 An up and coming rapper, Young M.A, with her outstanding music compositions and a unique rapping style, has not allowed her sexual identity to be the only criteria for her recognition.
Born on 1992 in East New York, the rapper's journey to fame and success has been nothing less than extraordinary. With a self-chosen business name of Young M.A, the rapper has undergone a lot of ups and downs in life to reach the stage with a lot of openness even about her sexual preferences. 
However, dating hasn't been an easy ride in the park for the upcoming sensation, with various turbulences arising in her path!
Bio Reveals Real Name, Age and Family Info
Running her business with a unique name of Young M.A, there were some eyebrows lifted when her real name was revealed.
Born on easter section of Brooklyn Borough with the name Katorah Kasanova Marrero, the PettyWap singer spent most of her childhood without both her parents by her side, after her father was sentenced to a long-term jail sentence when she was just one year of age.
You May Also Like: Hannah Hart Engaged To Girlfriend! Lesbian Love Creating A 'Buzz'
A love for rhymes from an early age, Young always had the full support of her mother and brother for her career choice. However, tragedy struck the rapper in 2009, when she faced depression after her elder brother was killed in a gang-violence in Pennsylvania.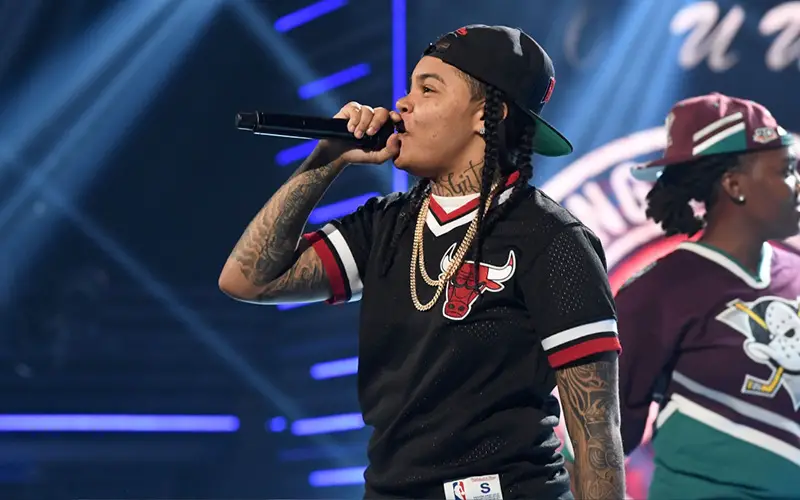 Young M.A clicked during one of her shows. (Photo: rapdose.com)
In a cover story interview with The Fader in 2017, the rapper recalls the saddening incident,
"It just made me transform into, life is just fu***d up, I didn't understand it, I didn't know why it happened. To lose him put me in a real lonely position, because this is somebody I always knew, who was right there with me, walking me to school."
Facing depression, the Brooklyn-born rapper has since then established herself as a prominent rapper in the music industry with some counseling classes and her self-determination to thank for.
However, this wasn't the only struggle the rapper has had to face in her still young career. With a tomboyish nature ever since her childhood days, Young faced intense confusions regarding her sexuality growing up.
Don't Miss: Mike Sherm Wiki: Everything From Age, Girlfriend To Parents, Net Worth
In an interview with Glamour in 2018, the New York rapper revealed her struggle with femininity and opening out to her mom about her sexuality,
"I had one little phase when I was trying to be girly between 15 and 17. I was lost. I didn't know what I was trying to do. I wasn't happy. I was a boy all my life growing up, and then I was just like: Maybe this is a phase. Maybe I should try to be a little more girly, for my mom's sake"
Nevertheless, the rapper ever since coming out as a lesbian has received much love from both her family and fans all over the world. With her official debut single titled 'Ooouuu', receiving a brilliant response, the rapper stands today with a whopping net worth of $2million, at a tender age of 26.
Lesbian Rapper Dating Girlfriend?
After confirming herself as a lesbian, Young has had to go through some ups and downs in her dating life just like her personal life. With an established name in the industry, the rapper has had to face some gold diggers claiming to be lesbian just to associate their name with her.
In her prior YouTube videos, the rapper is seen putting her views about girls pretending to be lesbians for the sake of attention,
"All y'all fake lesbians out there, it's not cool. It's really not. It's not a trend"
However, Young did had a spell of settled personal life, when she was dating DJ and model Tori Brixx. The lesbian rapper made her love for the Torri very clear with her gifts and social media comments on her posts.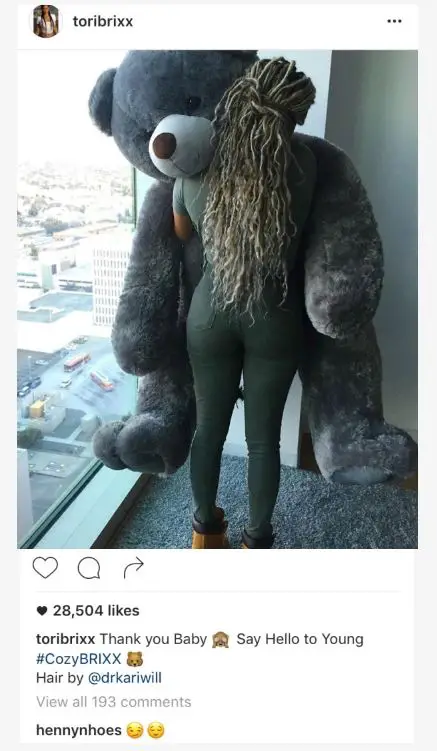 Young M.A gifting her commenting on her girlfriend's thank you post. (Photo: bossip.com)
Talking about her relationship with Torri with Ibtimes in 2017, the rapper revealed they had been going out since October 2016.
"A lot of people didn't know we been dating for a minute."
The two also appeared on several public functions together including a game show on VH1.
Everything seemed perfect before Young faced an unimaginable heartbreak after her partner left her for a man. Tori left Young in 2017 and started going out with rapper Rich The Kid, leaving Young to deal with a major heartbreak.
Similar: Rumored Gay/Lesbian Missy Elliott Hints On All Notion, 'Work It' Rapper Has Girlfriend?
A very secretive star preferring to keep her personal life private, Young has since then managed to keep all her relationships low-key. However, her success is not hidden from anyone as the rapper continues to climb the ladder of success in the music industry.