Entertainment
Who Is Larenz Tate's Wife? All the Romantic and Career Details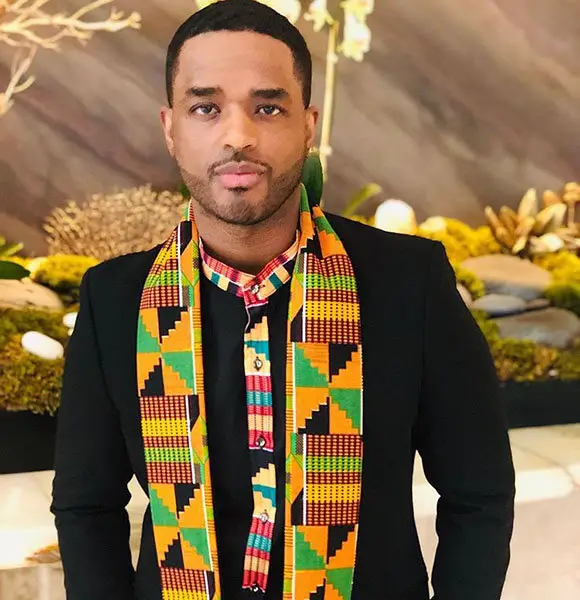 American actor Larenz Tate became popular as Bart "Black Shawn" Johnston in the TV series, Rescue Me (2007-2011). 
But, that is not the only reason the star attracts the audience. With a successful marriage of more than a decade with his beautiful wife, Larenz Tate has been blessed in both the aspects of his life, romantic and career.
Who is Larenz Tate's Wife?
Larenz Tate has been married to wife Tomasina Parrott since 30th November 2006. If we talk about how they met, the star describes,
"We met almost 20 years ago at All Star Weekend in Oakland [in 2000], when Vince Carter did the crazy dunk,"
Talking about his partner, Tomasina is an actress who has appeared in movies, namely Lucky Numbers (2000), Rock Star (2001), and Along Came Polly (2004).
She was also part of TV shows like The Drew Carey Show (2001), Cedric the Entertainer Presents (2002), and Las Vegas (2005).
The couple has been married for more than a decade, and when the star visited ESSENCE's Yes, Girl! podcast, Tate shed some light on how he views his wife and his role as husband. Stating
"I like to believe I'm a really good friend to my wife," he said. "I think friendship is important. I see her as my queen. There's a level of respect. We've always built our relationship on the principles and standards that work for she and I. We take the best of things from other people we've seen, family and friends. But at the end of the day, it's what works for us."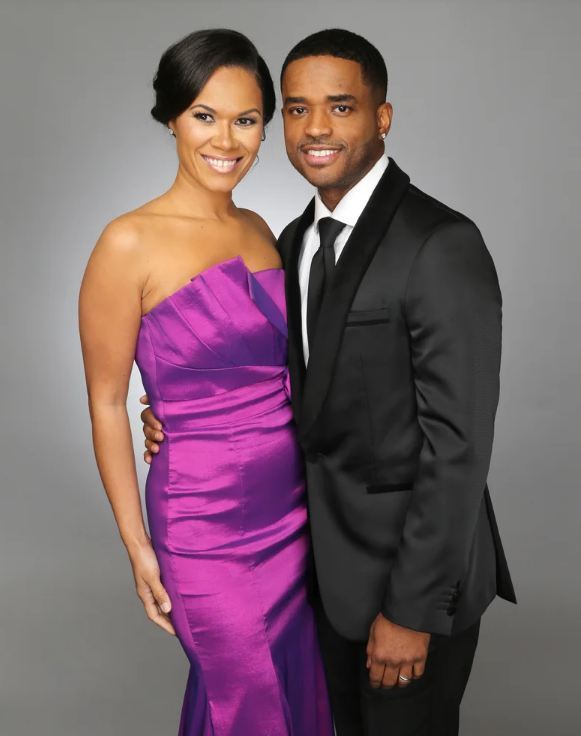 Larenz Tate with His Wife Tomasina Parrott (source: essence.com)
Adding to the happiness, the husband and wife two share four kids together. They are blessed with four boys Miles Xavier Tate was born in 2006, Zander Tate who was born in 2008, Zion Tate was born in 2013; and the couple has not revealed the name of their youngest.
Career and Net Worth
After Larenz's debut in 1985, he portrayed a series of minor roles in TV shows like Hunter (1987), Frank's Place (1987), and Sonny Spoon (1988). He continued with similar one/two episodes roles in TV shows like Amen ( 1988), 21 Jump Street (1989), and The Wonder Years (1989). 
Actor Career Insight:- Burgess Abernethy
Finally, in 1994, he landed the show South Central, where his role spanned 15 episodes, and after that, his big break came in 2007 with the project Rescue Me. 
Along with TV shows, Larenz's acting credit includes movies like Beta Test (2016), Deuces (2016), and Girls Trip (2017). Recently the star is working on M.D. Is for Mr. Doula as Michael Goodman and Untitled Akon/JoJo Ryder Project, which are in their pre-production stage.
He was also a part of R&B singer Ashanti's music video titled Rain on Me in 2003
With more than 50 acting credits to his name, the star has successfully accumulated a net worth of $2.5 Million, according to Celebrity Net Worth.
More on Larenz
Standing at the height of 5 feet 7½ inches (1.71 meters). Larenz was born on 8th September 1975 in Chicago, Illinois. His parents are Larry and Peggy Tate.
Belonging to the entertainment industry, Tate also has two elder brothers, Larron Tate and Lahmard J. Tate, who belong to the same working field as actors.
Starting a family legacy, the three brothers are founders of the production company Tate Men Entertainment. 
Similarly, the siblings also run The Tate Bros. Foundation- a nonprofit organization that works for anemic (person lacking sufficient healthy red blood cells in the body) children. 
Adding on, Larenz's brother Larron is an actor and a producer. His acting gigs include TV shows like Street Justice (1992), Doogie Howser, M.D. (1992), and Quantum Leap (1990). 
Moreover, as for his producer credits, Larron has worked on movies, namely Business Ethics (2019) and Back to the Goode Life (2019). 
Celeb With Famous Brothers:- Marcus Dobre Family
Like Larron, Lahmard is also an actor-producer. His acting credit includes TV series, namely All American (219-2020), Power (2020), and Unsolved: The Murders of Tupac and the Notorious B.I.G. (2018).
Witnessing the star's rising career, we cannot wait to update you guys more on him!